10 Father's Day Gifts That Cool Dads Will Love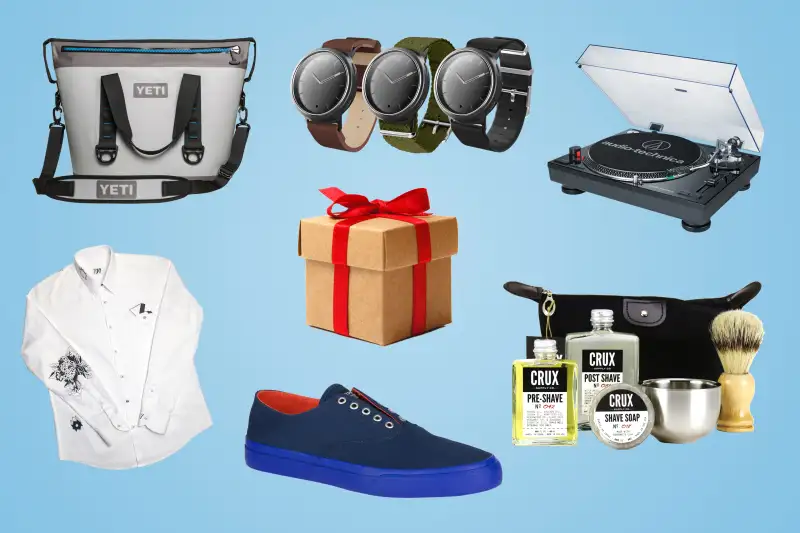 Photos courtesy of brands and Getty Images
Father's Day is just around the corner, and Americans are spending more than ever on dads, according to the National Retail Federation. And we're not just buying for our own fathers: Last year, a little more than half bought presents for a dad or stepdad, while 28% bought Father's Day gifts for their husbands, almost 10% bought for a son, and 5% even bought Father's Day gifts for friends.
In other words, there are probably some pretty cool and wonderful dads in your life — ones who would appreciate being acknowledged on Father's Day. Here are some ideas for what to get them.
Let someone else get him the monogrammed tongs-and-spatula set. The awesome "smoking gun" from Breville ($100) takes backyard barbecuing to the next level by infusing food with natural applewood or hickory smoke.
Elevate his preppy-chic style with these bold-soled shoes. Part of a partnership between boat-shoe stalwart Sperry and menswear brand Jack Spade, these canvas kicks ($75) in classic navy add a pop of unexpected color to keep things interesting.
Who's the coolest? Whoever shows up with this new, soft-sided cooler from the masters of chill at Yeti. In 20-, 30- and 40-liter sizes, this might look like a wimpy tote bag, but the leakproof Hopper Two line ($299-$399) is as tough and rugged as its hard-shelled counterparts.
Out of juice? Griffin's PowerDock Pro ($130) is made to handle all of his gadgets; this USB charger can bring up to five devices at once back to life, and its charging bays are big enough to slide a phone or tablet in without needing to take off the case first.
Courtesy of Griffin Technology
No matter what dad's taste in music, it's guaranteed to sound better on this Audio-Technica turntable ($299). It was rated the best in a new Wirecutter roundup for its easy of use and sound quality. The USB connection means he can finally digitize all those old Cat Stevens LPs too.
Courtesy of Audio-Techinca
Whether he's embraced beard life or keeps it smooth, this all-natural, old-fashioned shaving kit ($90) from artisan grooming-supplies company Crux Supply Co. has everything it takes to send stubble packing.
Courtesy of Crux Supply Co.
After everything you put him through, this is pretty much the least you can do: Send him a full-sized bottle of craft bourbon every month with Mouth.com's subscription. Choose three, six or 12 months of artisan-distilled booze ($67-$75/month), depending on how much hell you raised as a kid.
If he wouldn't be caught dead in a plain dress shirt, let him try this one on for size. From the custom shirt-makers at Tony, this hand-printed oxford's ($286) playful pop-art graphics rendered in bold black just might be enough to relegate that ratty college T to second-favorite status.
Courtesy of Spring at shopspring.com
If he's a serious cook, he probably already has gadgets galore — and an embarrassing "Kiss the Cook" apron that has probably seen better days. This professional-grade apron, made with 12-ounce denim and soft leather straps right in the U.S. of A. ($100), will hold up to years or even decades of tinkering in the kitchen or out by the grill.
Courtesy of Hedley & Bennett
Here's a smarter smartwatch: Misfit's sleek Phase model looks like a regular watch but tracks steps, sleep and coordinates with its app to deliver call and text notifications. Get the version that comes with a trio of extra bands ($199) to make the Phase appropriate for everything from playdates to date-dates.
We've included affiliate links into this article. Click here to learn what those are.