Feel thankful about losing money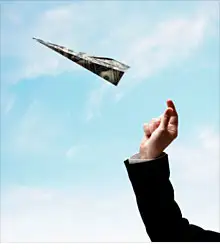 My colleague Alexis Jeffries and I had fun reporting a recent story called "Five Ways To Pump Up Your Income," which ran in the December 2009 issue of Money. Who couldn't use some ideas right now on how to make more dough?
As Alexis recently blogged, many of the ideas we came up with didn't make it into the final piece. But there's an idea that did make it into the article -- lending money to friends, families and strangers through so-called peer-to-peer networks -- that had a surprising aspect that we didn't cover in the piece. What we learned was this: People who lend money directly to others in need feel a sense of satisfaction that goes well beyond the interest they earn -- or don't earn -- on the money they lend.
The idea behind sites like Prosper.com, Lending Club and Virgin Money is that peer-to-peer lending can be both financially and socially rewarding. The credit crunch has made it tougher for people to borrow money, and if you've got cash, you can lend it out for a higher rate than you're getting in a bank account earning 0.5% or less today. Loans typically are capped at $25,000 and borrowers must meet certain minimum credit scores.
Now, there are some people who argue that the average returns you get on the money lent out are overstated. And the SEC cracked down on the lending clubs last year, deeming their offerings investments that must be regulated by the SEC. Since these sites have only been around a few years, it remains to be seen how the business model will hold up during these economically difficult times. But when I spoke to people who were actually lending money, I was surprised to hear how much satisfaction they got just from making the loans, even if the borrower defaulted on the loan.
One man I interviewed, a Chicago-area tech sales executive named Jack Reidy, lent $10,000 to 100 borrowers with varying credit scores starting in May 2008 (the loans have three-year terms). Reidy was first attracted to the idea after reading an article in BusinessWeek about Prosper. Fed up with his savings earning less than 1% at the bank, he decided to give it a whirl. "I like the idea of helping others in need," he told me. Out of Reidy's 100 loans, 75 are being repaid on schedule, 16 are paid off and nine are in default. "A lot of the people in the higher risk categories I gave money to are students," he said. "I thought I'd be upset if someone didn't pay, but I consider it a gift now." And how is he doing on his investment? He had hoped to earn 17% but he's averaging 8%. "I went into this aiming for a higher return, but I'm averaging 8% on the money I invested," he said. "That's a lot better than what I was earning in my bank account, and I'm helping people. So I'm pretty happy."
Not everyone is going to feel good about losing money, and this should only be done with money that you can afford to lose. But we've all lent money to family and friends without expecting to get the money back -- and certainly without any interest. Which made me wonder: Just how many people out there who are lending money this way are feeling good about it and earning a good return?
Add More Money to your favorite RSS reader. Subscribe at http://rss.cnn.com/moneyfeatures.rss.