A Classic Hot Spot for Low-Price Fashions Was Just Reborn as Web-Only Retailer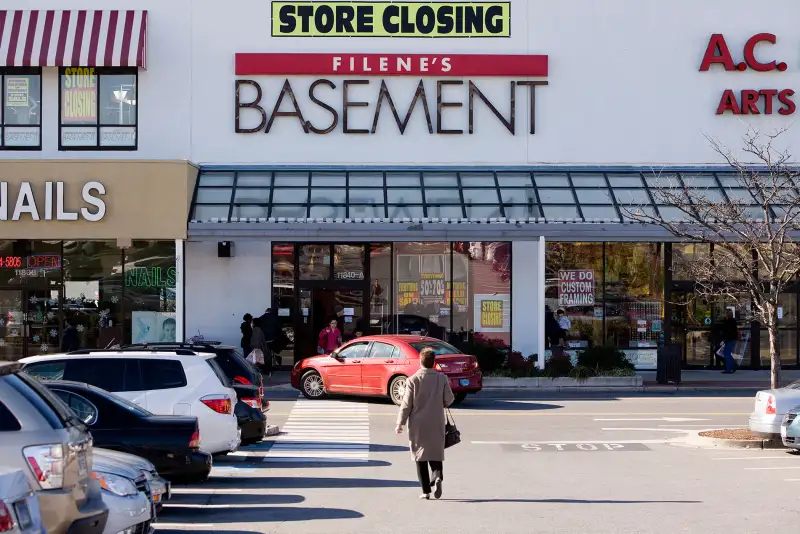 Kristoffer Tripplaar—Alamy
Discount department store Filene's Basement closed the last of its stores a few years ago, but just opened its doors to shoppers once more. Except this time, the doors are virtual.
The retailer announced Sept. 24 that "the Basement" will be available online at FilenesBasement.com, offering over a million items at the low prices shoppers used to expect from the original department stores.
Like its brick-and-mortar predecessors, the online shop sells name brand and designer apparel for men, women, children, as well as a selection of shoes, beauty, bridal and home goods. Shoppers can expect to find shoes from brands like Nine West, Sam Edelman, and Vince Camuto for under $40; dresses from Liz Claiborne, Nine West, and French Connection for under $30; and men's dress shirts from Calvin Klein and Kenneth Cole for under $20.
But one of the best gems of shopping at the Filene's website lies in its free shipping on all orders, no minimum purchase required. Even top discount stores like T.J. Maxx don't offer that to their online shoppers, requiring a minimum spend of $89, before taxes.
While the store was once noted for its bridal selection and hosting the Running of the Brides, a massive one-day sale on wedding gowns, the current online collection is limited, just 17 gowns.
The company has built additional personalization options into the new site that it hopes will attract customers and give it an edge over competitors. Shoppers can take a "style survey" upon entering the site that will help the store filter through items to display ones that theoretically best fit the shopper's style. It is also a great way, of course, for Filene's to track customer spending behaviors.
Despite such efforts, the store faces a stiff fight ahead for American shoppers' dollars. Filene's heritage and name recognition give it an advantage over most newcomers, but whether that will be enough to carve a niche for itself in the crowded discount retailer market remains to be seen.
Most of its traditional customer base now turns to retail giant TJX. The company that owns T.J Maxx, Marshalls, HomeGoods, and their overseas counterparts T.K. Maxx and HomeSense. TJX sees annual sales of more than $27.4 billion. Sales increased 50% in six years, and retail consultant Howard Davidowitz told Fortune that the brand is "the most consistent, most powerful apparel retailer in the United States."
As if squaring off with T.J. Maxx wasn't enough of a challenge, the shop needs to contend with other similar stores like Century 21 and Nordstrom Rack, as well as online-only flash deal purveyors such as Gilt, HauteLook, and Rue La La.
But perhaps the biggest sign of the times and shifting retail market comes from the company that just moved into Filene's former flagship Boston store: Irish retailer Primark, which chose the spot for its first U.S. shop.
"Fast fashion" shops like Primark, and its better-known peers Zara, H&M, and Forever 21 all favor a a model that rapidly adopts designer looks for cheap, thanks to highly efficient production models. Meaning shoppers can find runway looks a couple weeks after they debut for a tenth of the price.
This leaves fashionable shoppers with two options: comb through designer discount sites like Filene's or Gilt for last season's castoffs, or go to H&M and buy a copy of this season's styles for less than $30.
Filene's will need to work on presenting a compelling site stocked with even more compelling deals that makes the argument to shoppers that they don't want a copy of designer items, and they don't want to browse T.J. Maxx for those brand name discounts.