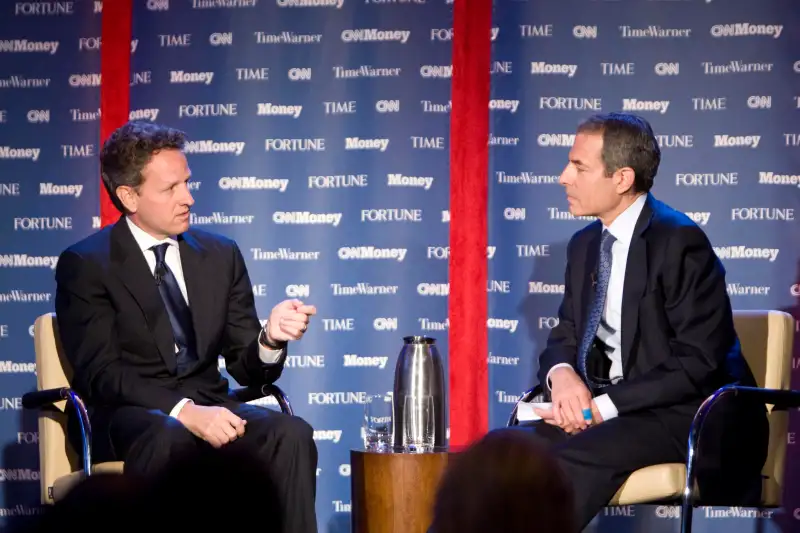 There's no doubt that Treasury Secretary Tim Geithner is a busy man these days. But he's not too busy to get his own coffee.
At 8:30 a.m. Monday -- a half hour before he was scheduled to speak at the Time Warner Economic Summit -- Geithner pulled up in a dark blue SUV around the corner from the Time Warner Center in midtown Manhattan. From inside a Starbucks across the way, I watched Geithner pop out of the back seat and walk briskly across 60th Street into the Starbucks, followed by two men (presumably his security detail). The line was at least ten people deep. But Geithner stood by himself in the queue with everyone else and focused on his BlackBerry until it was his turn to order and pay. If anyone recognized the Treasury Secretary, they didn't make a fuss.
I wasn't nosy enough to find out what Geithner likes for his morning caffeine fix, but when he showed up to be interviewed by Time magazine's managing editor, Richard Stengel, Geithner was still clutching his cup o' joe. The caffeine must have helped Geithner stay sharp as Stengel tried to get him to reveal details of the financial market reorganization plan that President Obama is unveiling on Wednesday. Saying he didn't want to pre-empt the President's speech on Wednesday or his own testimony before Congress on Thursday, Geithner wouldn't discuss any details of the proposed changes, even though reports are already leaking out about reforms the administration would like to make.
But Geithner did say that the reorganization will focus on the core issues that lead to the financial markets meltdown, namely lack of oversight and basic gaps in consumer protections. When Stengel asked how the changes might better protect consumers, Geithner likened the financial market changes to the kind of reforms we saw a few weeks ago when Congress passed a major credit card bill eliminating some of the most egregious practices of card issuers. "Consumer credit was the focus of lots of bad practices -- not just poor underwriting and poor disclosure but a fair amount of predatory behavior," said Geithner, "and we want to change that." Whether or not you believe that Geithner and the Obama administration's plans will really help consumers, it's heartening to hear it from a Treasury chief down-to-earth enough to get his own coffee.
- Donna Rosato