How I Saw 'Hamilton' for Just $50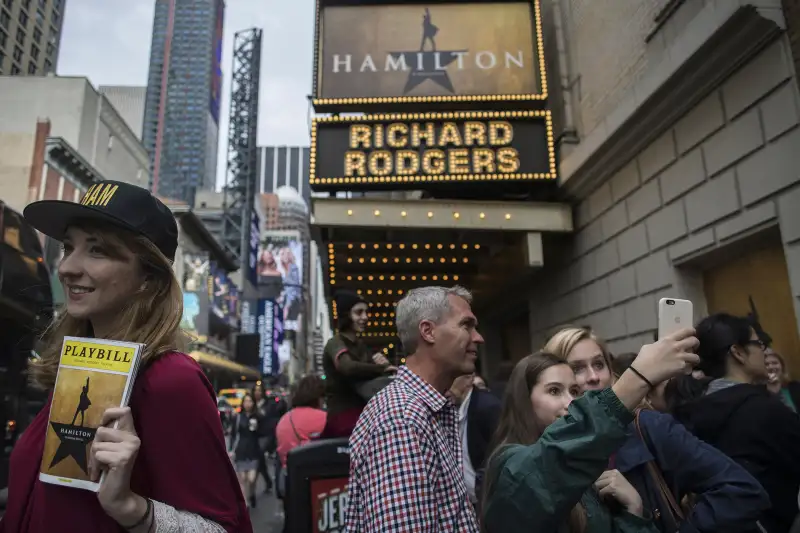 Victor J. Blue—Bloomberg via Getty Images
Everybody knows New York is expensive. But as a lifelong resident, I've started to feel that many once-accessible pleasures—a museum visit, dinner at a nice (not even four-star!) restaurant, a set at a jazz club—have gotten out of reach. So I don't take advantage of the city's charms as much as I'd like. And when I do splurge, I often end up feeling that the expense just wasn't worth it.
With one exception. Over the past decade, I've managed to see dozens and dozens of plays. Most cost less than $50—and many have been inexpensive as $10 or even free—thanks to the magic of theater subscriptions. While the particulars vary, typically these programs require an upfront membership fee, usually between $50 and $150, which entitles the subscriber to a season's worth of tickets (3+ productions) at a substantial discount. (Some places let you advance-purchase the entire slate.)
This hasn't necessarily saved me money in the long run—after all, I probably wouldn't have purchased individual tickets for every production I ultimately attended. But it has benefited me in other ways. For one thing, I get to feel good about supporting a local cultural institution. Theater companies, like most arts organizations these days, are struggling. Subscribers assure a steady stream of income.
But more than that, it has allowed me the thrill of discovery. Because subscribers commit to shows as much as a year in advance, we never know exactly what we're going to get. Often we're seeing new plays and works-in-progress, being performed in front of an audience for the first time. Sometimes they are surprising and exciting; one in every batch is usually a clunker. But that's the beauty of it: You put yourself in the artists' collective hands and hope for the best.
That was my attitude a few years ago when I sat down for a little show called "Hamilton." Back in 2014, it had not yet grown into the juggernaut that it is today. Last week the producers announced they were raising the top ticket price to $849. Brokers are selling seats for the final performances before creator and star Lin-Manuel Miranda leaves the show in July for as much as $10,000.
The ticket price when I saw the show as part of my subscription to the Public Theater: $50. And that's a big part of why I keep plunking down my subscription fee year after year. Because you never know when the next "Hamilton" will come along.