The Hidden Danger in Apple Stock
Money is not a client of any investment adviser featured on this page. The information provided on this page is for educational purposes only and is not intended as investment advice. Money does not offer advisory services.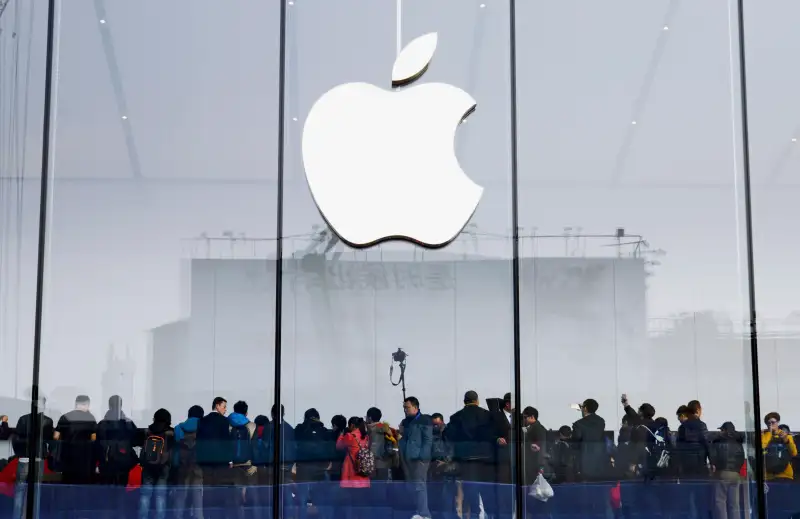 China Stringer Network—Reuters
Investing in Apple today seems like a smart bet by many measures.
The company broke records for the most profits for any business in a single quarter—ever—earlier this year. With nearly $180 billion in cash, management has plenty of cushion against setbacks—like, say, if the new Apple Watch doesn't sell as well as projected. And while Apple has been criticized for not sharing that cash with shareholders as much as peers like Microsoft do, recent signals from company leaders suggest they may announce a hefty dividend hike as early as this month.
Certainly, there's plenty of cause for investors to favor cash-rich companies like Apple, says Thomas McConville, co-portfolio manager of the Becker Value Equity fund, which holds Apple stock.
"A company having lots of cash is like a person having lots of savings," McConville says. "If a person loses a job, savings help to weather the storm. Cash helps a company protect itself from shocks and keep investing in value-creating activities."
But, he says, the devil is in the details of how exactly a company invests in activities—and whether those enterprises actually add value.
New projects and products can make or break a company, and it can be especially risky for a business to step out of its wheelhouse. Apple's wheelhouse is making the best-looking and best-functioning advanced consumer tech products, says McConville.
That's at least partly why some critics are skeptical about whether the rumored Apple car is the right new venture for the company.
"As an investor, I want to see that any product extension they announce fits under their umbrella," McConville says. "If they get into vehicles, creating onboard technology and displays is a good fit, since visual appeal and functionality are top concerns. But if they were going to try to design seat brackets? Well, that's probably not the perfect fit."
That makes sense. Then again, traditional automakers already seem enthusiastic to team up with Apple—and with all that cash, the tech giant could easily just buy a company with more experience creating car parts like seat brackets. So what could go wrong?
Well, cash-rich companies have lots of buying power, says Don Wordell, portfolio manager of the RidgeWorth Mid Cap Value fund. And, as the saying goes, with power comes responsibility.
"Companies that are simply too big to grow organically can grow inorganically by buying others," he says. "But that creates risk. Cash can be as much of a liability as an asset."
So, for example, it worked out well when Disney bought Pixar for $7.4 billion nine years ago. That acquisition led to a spate of successful movies, a stronger brand, and happy investors who have seen total returns of more than 300% since 2006.
But when Quaker bought Snapple for $1.7 billion in 1994, it bungled the brand's marketing campaigns and relationships with distributors; after just 27 months, Quaker sold Snapple to a holding company for about $300 million—less than a fifth of its purchase price. The whole affair left Quaker with a damaged credit rating and dragged its stock price flat during a period when the rest of the market was on fire.
Hindsight is, of course, 20/20. But a key quality investors should watch for is how patient and thoughtful a company's leaders seem to be before deploying resources.
"Too much cash can burn a hole in management's pocket and cause them to make a bad acquisition," says McConville.
Apple's record of acquisitions and product launches is not without flops. Among other failed products, there was Apple's 2007 Bluetooth headset, which was discontinued after two years because it couldn't compete with third-party devices. And although the company has invested millions over the years in acquiring mapping companies, like Placebase and Poly 9, Apple has still not succeeded in creating a mapping application that competes with the likes of Google Maps.
Of course, Apple's top executives have made plenty of successful moves on behalf of the company in recent years, and sales of core products like the iPhone are still breaking records. But strong is not invincible, and if its new wristwatch doesn't take off, Apple will soon be looking to throw cash at developing its next big product.
Investors would be wise to keep an eye on how, exactly, that cash is spent.