3 High-Tech Ski Gadgets Worth Buying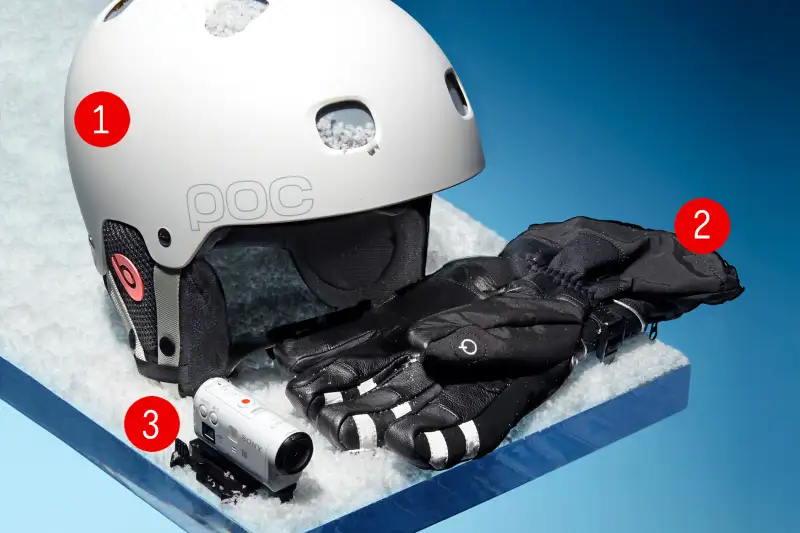 A nifty gadget can improve any day on the slopes, but don't let the steep sticker prices send you sprawling. You can find these top tech-enhanced picks on Amazon for up to 27% off. Websites such as REI, evo.com, and the Ski Monster also offer deals in their outlet sections.
1. POC Receptor Bug Communication Helmet
Price: $240
Enliven your brain bucket with built-in Beats headphones. POC's aurally enhanced helmet lets you make and take calls and listen to music as you're plowing through powder, all while offering state-of-the-art puncture and impact protection. The well-padded helmet features two overlapping shells that include ventilation panels that open to keep your head from overheating—or close when the temperature drops. Also included: a detachable goggles clip and a bankers brim to keep your face dry.
2. Beartek Snow Bluetooth Gloves
Price: $180
They look like ordinary ski gloves, but interchangeable Bluetooth modules let you use your phone or camera (GoPro brand only) while your hands stay nice and toasty. Touch the button built into the left glove's thumb to the buttons on the fingers to control power, photos, music, phone calls, and a whole lot more. Be sure to practice before you're on a run.
3. Sony AZ1 Action Cam Mini
Price: $250
With prices that can reach $500, a weatherproof, wearable camera can easily bust your budget. Sony's affordable option nicely holds its own against more geeked-out options. This one is light as snow (just 1.7 ounces) and has a great sensor for capturing HD video of your ride. You control the action with your smartphone. A waterproof, shockproof case is included.
For more of Money's technology reviews, go to Money.com/tech.