Online Banks Are Lowering Payouts on Savings Accounts. Here's Why — and Where to Find the Best Deals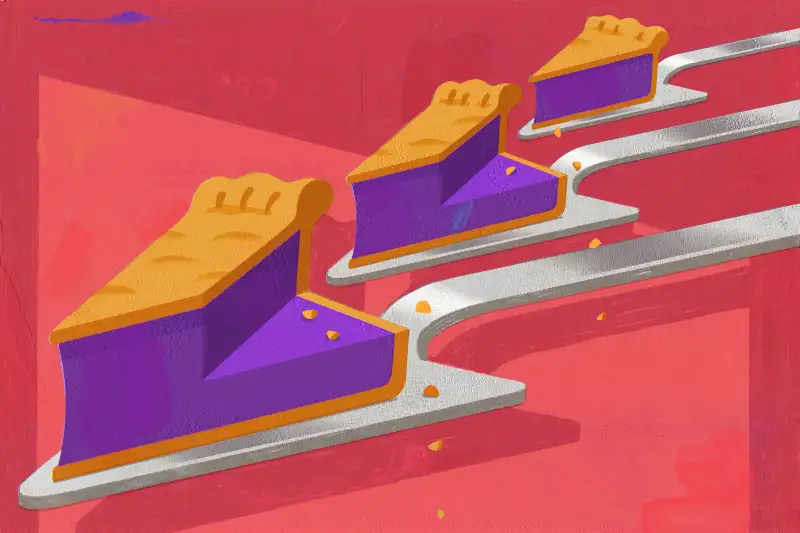 Illustration by Pete Ryan for Money
Last month, the Ally Financial — winner of Money's 2018 award for best online bank — sent an unusual message to its customers: Interest rates on its popular high-yield savings account would be going down.
Shortly afterwards Marcus, Goldman Sachs's online bank, did the same.
That's bad news for savers since those lenders, along with a handful of other fierce competitors, spent much of last year repeatedly raising rates, in a battle to win customers. The result was that, after years of stingy returns, rates on the most attractive high-yields savings accounts recently topped 2.4% in 2018, even beating the stock market. (The S&P 500, by contrast, lost 4.4% for 2018.)
What why the sudden turnaround? The answer has to do with the Federal Reserve which said earlier this year that it would be unlikely to raise rates further in 2019, and may in fact soon cut them.
Don't despair, say experts. While savings account payouts may gradually come down, you'll likely still be earning more than you were just a few years ago, and, with a little searching, you can find banks offering great deals.
Here's what you need to know:
Why Rates Could Fall
For much of the past several years savers have had the wind at their backs. The Federal Reserve, which sets the interest rates most financial institutions follow when calculating what to offer their own customers, had been steadily raising its benchmark Fed Funds rate, as the U.S. economy grew stronger and stronger. In fact, after lowering rates to almost nil in the wake of the financial crisis, the Fed hiked its target rate nine times between December 2015 and December 2018.
So far this year, the Fed has opted to halt any further hikes and keep the federal funds rate steady at 2.5%, the level it's been at since December 2018. And many experts predict the Fed will move to lower that rate this year, maybe as soon as this month, now that hiring appears to be slowing and Treasury bond yields are down.
Ally Financial was the first to react. On June 26, the bank cut its online savings rate to 2.1% from 2.2%, explaining: After a period of increases, interest rates are on the downswing and projected to fall further. These market conditions impact all kinds of things, from mortgages to CDs to savings accounts."
Shortly after, Goldman Sachs dropped rates on its Marcus high-yield savings account to 2.15% from 2.25%. Goldman Sachs said in a statement: "rates on certain products change based on market conditions."
Both banks remain among the top financial institutions offering the highest savings account yields on the market, according to an analysis by NerdWallet.
Why high-yield accounts are still a good deal
So far Ally and Goldman Sachs don't yet reflect a broad trend, says Greg McBride, Bankrate's chief financial analyst. But because banks typically lower or raise interest rates on savings accounts in close concert with the Fed's movements, it is likely other banks offering high-yield savings accounts will follow their lead, if the Fed acts as predicted.
Still, it could be worse. "Even if the Fed lowers interest rates, many savers are still far, far ahead of where they were a few years ago," says McBride. "This is hardly a sky is falling scenario. Savers are still earning returns above the rate of inflation," which is currently about 1.8%. This means the return you're getting for keeping your money in such accounts outpaces price increases on goods or services, preserving your spending power.
What's more, high-yield savings accounts pay interest rates about 20 times higher than the national average of 0.10% for all savings accounts, according to calculations by NerdWallet.
Where to find the best rates
High-yield savings accounts are unlikely to drop to that 0.10% average any time soon, according to experts. That's thanks to heavy competition, with direct banks, broker-dealers, fintech companies and the North American operations of foreign banks all vying to retain and attract new customers and their deposits.
"Competiveness is good for the consumer," says Adam Stockton, head of pricing strategy and analytics for Novantas, a bank consultancy firm. "Even if some banks decrease their rates aggressively, there could still be good options."
Indeed, at the time Ally and Goldman were slashing their rates, online investment company Wealthfront increased the yield on its cash account offering to 2.57%, the highest available on the market, according to Business Insider. Unlike traditional savings accounts, a cash account is linked to a brokerage account, though funds are eligible for FDIC insurance.
In addition, more than two dozen banks and credit unions currently offer savings account yields above 2%. Sites like NerdWallet and Bankrate do monthly roundups of the companies paying the highest rates, and as of July 3, VioBank and WebBank come up top with rates at 2.52% and 2.5%, respectfully.
One caveat: While it may tempting to swap your lender for another, especially if you use one of those banks that recently lowered rates, keep in mind there are several other factors to consider, ranging from fees to ATM usage to availability of human assistance. And, of course, these banks could change their rates at any time too.