5 Common Remodeling Projects That Don't Pay Off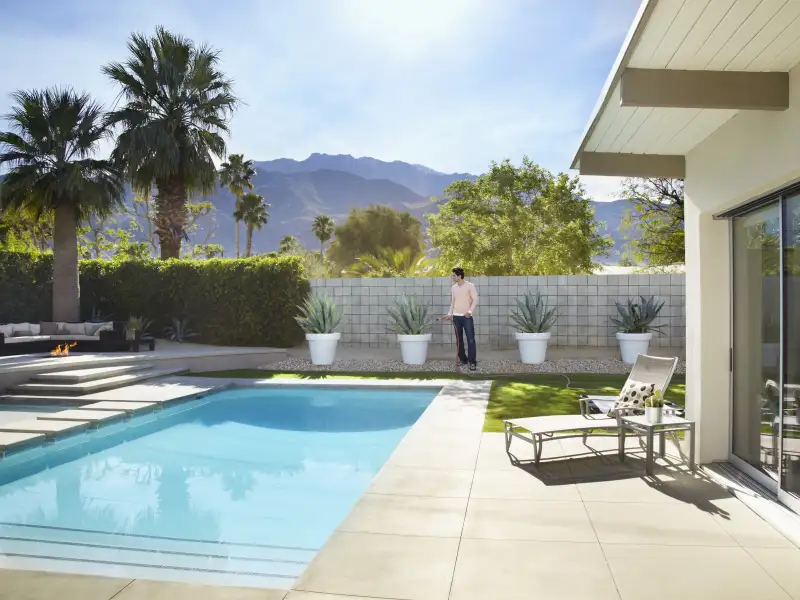 Blend Images/Trinette Reed—Getty Images
The goal for many owners when they make home upgrades is to increase the functionality, beauty and value of the space. Of course many upgrades, such as updating the kitchen, check all three boxes. Yet sometimes homeowners want to add features to the home that provide enjoyment and whimsy, and simply assume the updates will add perceived value when they eventually sell. Unfortunately, that isn't always the case. Some renovations might be seen as unattractive or too expensive to upkeep – thus becoming a project that detracts, not adds, to the home. So before you start calling contractors and scheduling appointments, make sure you understand if the project will add value to the home, or if you'll be paying purely to enjoy it.
Here are five projects that may not increase the value of your house.
1. Adding a swimming pool
Swimming pools are nice for hot summer days and occasional dips, but you may be surprised to learn that a pool often doesn't add much value to your home. Here's why: they are a high-maintenance, costly feature that not all buyers appreciate. You have to pay to maintain and heat it- plus it could be a disaster if a family has small children. Also considering how much they cost- anywhere from $10,000 to $100,000- plus annual maintenance, the tab runs high for a specialized activity. That said, in certain parts of the country a swimming pool is expected, such as Arizona and Florida. Thus before installing one, understand its value in your local housing market, and keep in mind that the next buyer may not appreciate it as much as you do.
2. High-end upgrades
Pricey stoves, refrigerators and other appliances are attractive, but if a kitchen is fancier than most others in the neighborhood you're not doing your home any favors. Why? The prospective buyers attracted to that neighborhood may not be willing- or able- to fork over for the upgrades. They also may not consider them necessary. Thus when you do eventually sell, the value of your home will be held down by the surrounding properties. If you are unsure about how much to spend on a particular project, read through our budget articles and return on investment articles.
3. Too much carpet
Carpet may feel more comfortable than hardwood, tile or other solid surface flooring, but before you start using it to cover the latter, consider the value. Carpet can easily look dingy, traps allergens, and doesn't have the longevity of wood floors. Typically prospective homebuyers like to see solid flooring – in fact, many home buyers would love to know if any valuable flooring can be salvaged underneath carpeting. Thus if you already have a solid flooring surface, invest your money into refinishing the current hardwood floors and tile, instead of covering it.
4. Rooms that are too specific
Buyers browsing mansions may expect to see a bowling alley, wine room, yoga studio or craft room. For everyone else living in a typical single-family home, though, you'll want your rooms to have a clear purpose where a wide audience can envision living. Thus if you have a recreation or another bonus room, it's a good idea to make sure it can serve a common purpose (such as watching television) and isn't so specific that a prospective homebuyer wouldn't know what to do with it. For example, if you are using your extra bedroom as an art or photography studio, it doesn't make sense to renovate it to better serve its current function. The next buyer likely will want it for a guest room. Got questions? Home stagers are experts at helping homeowners see their home through the eyes of a potential homebuyer.
5. High maintenance landscapes
Everyone loves a beautiful garden, but not everyone wants to maintain a landscape that requires a large amount of money and time. Spending every weekend on yard upkeep, or paying someone to do it, just doesn't sound attractive to the average home owner. The same may be said for complex water features, since some buyers may be concerned about both the conservation and cost of water. Thus it's a good idea to have a healthy and well manicured yard that has curb appeal, but don't go so far as to install such extensive landscaping that all prospective buyers see is a huge headache.
More from Porch:
Preparing an Interior Design Budget
Budgeting for your Front Door Remodel
Anne Reagan is the editor-in-chief of home improvement website Porch.com.