7 Money Saving Tips for Homeowners This Season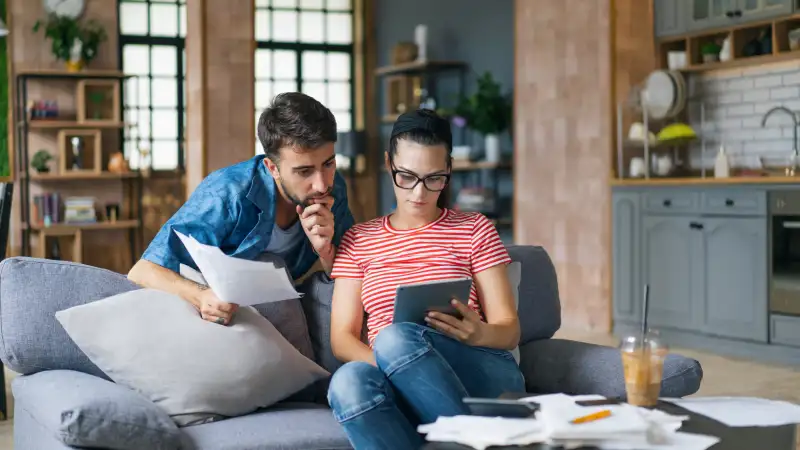 If you're a homeowner looking for ways to save money and make the most of your hard-earned dollars, you've come to the right place.
We've broken down 7 ways that can help you reduce costs around your home, and keep more money in your pocket.
1.) Avoid paying thousands on home appliance repair costs
A broken refrigerator or air conditioner could end up costing you thousands of dollars in repair costs, and put you and your family in a bad situation.
A home warranty can be your savior in situations like these, by helping you pay for surprise repair and replacement costs, so you don't get stuck footing those expensive bills.
A home warranty from Choice Home Warranty gives you 24/7 access to a nationwide network of over 15,000 certified technicians, so you can rest easy knowing that a trusted professional will act swiftly to get your home appliances back up and running as quickly as possible.
For a limited time, get $50 off plus your first month free when you sign up for a single payment home warranty plan with Choice Home Warranty.
2.) Go solar and cut your electricity bill
Is your energy bill weighing you down each month? Going solar could significantly cut your home's electricity costs, and reduce your reliance on fossil fuels.
SunPower's complete home solar systems are designed to give your home more power for potentially bigger savings. Their systems include a 25-year industry-leading warranty, covering performance, labor, and parts. They also offer flexible financing options starting as low as $79/month.¹
Plus, you could get a $1,000 rebate² and qualify for a 30% tax credit³ for owning or leasing a SunPower system.
Get your free solar estimate now
3.) Save big on your energy bill by replacing your home's windows
Poorly installed windows drain your home's energy and account for a significant percentage of a home's heat loss and gain.
Replacing your home's windows with Renewal by Andersen's certified energy-efficient windows could save you money on your energy bills, and help your home stay warmer in winter and cooler in summer.
Renewal by Andersen offers special financing options, as well as a fully transferable 20-year limited warranty, meaning decades of energy cost savings.
For a limited time, when you buy one window or entry/patio door, receive 40% off on the second one, plus an additional $200 off on your entire order.⁴
Get a free window replacement quote
4.) Take advantage of big savings on a new mattress
Are you in need of a new mattress or looking to upgrade?
Purchasing a new mattress can be expensive — there's the price to have it delivered and set-up, as well as the labor required to have your old mattress and foundation removed.
But when you buy a Saatva mattress, you can check these expenses off your list! Saatva provides free in-room delivery and setup, as well as free mattress and foundation removal.
They also offer big savings — up to $500 on select mattresses, in addition to a 365-night in-home trial, lifetime warranty, 24/7 customer support, and special financing options.
5.) Eliminate expensive gutter cleaning costs
Hiring a professional to clean your home's gutters multiple times a year could add up to thousands of dollars in the long run. And cleaning them on your own can be a tedious, messy, and potentially dangerous task.
Companies like LeafFilter offer a professionally installed solution that could ensure your home's gutters remain clear and clog free, and is backed by a lifetime, transferable warranty.
LeafFilter's award-winning and patented Micro-Mesh technology, in addition to their top notch customer service, has earned them recognition as the top rated gutter guard on the market with 75,000 plus reviews on Trustpilot.
6.) Lower your homeowner's insurance premium by getting home security
If insurance companies are willing to give you a lower rate on your homeowner's insurance just for installing a home security system, it's a good sign that these systems could help deter a break in.
That is why if a burglary takes place in your home while an ADT-monitored security system is armed, ADT will help pay up to $500 of your insurance deductible.
ADT Home Security offers a range of customizable home security systems, as well as smart automation devices to help you improve your home's energy efficiency, which could mean paying less on energy bills.
ADT-monitored home security systems start at ~$1/day,⁵ depending on the plan and your home's unique needs.
7.) Don't let pests drain your bank account
Pests like rodents, termites and cockroaches can damage the structure and integrity of your home, and end up costing you thousands of dollars.
Even if there is no visible pest infestation in your home now, getting regular inspections and treatments can help identify any early signs of pest activity on your property, and prevent infestations in the future.
With over 95 years of experience, Terminix® Pest Control provides 365 days of protection for seasonal pest threats — meaning when the season changes, the pests they target do too. And, if pests come back between treatments, Terminix provides ongoing service to your home at no additional cost.
Choose from four different service bundles and save up to an average of $375 depending on the plan.
Schedule a free pest inspection
¹
For qualified customers. Monthly payments will vary, based on system configuration and financing option chosen.
² Rebate Terms: Before rebate costs will vary, depending on system specifications. Rebates cannot be combined with other offers. This $1,000 VISA Reward card rebate is only available to customers who purchase a new, complete SunPower Equinox system or customers who upgrade their current SunPower system (purchased at least one year prior to upgrade) with at least 3 additional panels and/or upgrade their system with SunVault Storage. Rebate may not be applied to quotes on existing SunPower proposals or past purchases, or on new homes with SunPower solar pre-installed. Please check with your SunPower installation contractor to confirm participation with this offer. Rebate form must be completed and submitted to SunPower within 90 days of the installation date, along with required documents. Visit http://www.SunPowerRebate.com to submit your rebate form. Allow 6-8 weeks for processing. Other terms and conditions apply. Void where prohibited. Reward Card: SunPower Visa Reward Card issued by Pathward, N.A., Member FDIC, pursuant to a license from Visa U.S.A. Inc. No cash access or recurring payments. Card can be used everywhere Visa debit cards are accepted. Virtual card can be used everywhere Visa debit cards are accepted online, or phone/mail orders. Card/Virtual card valid for up to 6/24 months; unused funds will forfeit after the valid thru date. Terms and conditions apply.
³ Eligibility Requirements: Must own your home and complete the home solar estimate form on this site. Please be sure to notify your SunPower installation contractor that you may qualify for this offer during your free solar evaluation. Incentives, rebates, and tax credits are subject to change and SunPower does not warrant, guarantee or otherwise advise its partners or customers about specific tax outcomes. Consult your tax advisor regarding solar tax credit and how it applies to your specific circumstances. Please visit dsireusa.org for detailed solar policy information.
⁴ DETAILS OF OFFER: Offer expires 9/30/2023. Not valid with other offers or prior purchases Buy one (1) window or entry/patio door, get one (1) window or entry/patio door 40% off, and 12 months $0 money down, $0 monthly payments, no interest when you purchase four (4) or more windows or entry/patio doors between 6/23/2023 and 9/30/2023. 40% off windows and entry/patio doors are less than or equal to lowest cost window or entry/patio door in the order. Additional $200 off your order, taken after initial discount(s), when you purchase by 9/30/2023. Subject to credit approval. Interest is billed during the promotional period, but all interest is waived if the purchase amount is paid before the expiration of the promotional period. Financing for GreenSky® consumer loan programs is provided by federally insured, federal and state chartered financial institutions without regard to age, race, color, religion, national origin, gender, or familial status. Savings comparison based on purchase of a single unit at list price. Available at participating locations and offer applies throughout the service area. See your local Renewal by Andersen location for details. MHIC #121441. VA License #2705155684. DC License #420215000125. Los Angeles and Orange County License #990416. License MN:BC130983/WI:266951. Excludes MN insurance work per MSA 325E.66. PA License#170810. License #RCE-50303. CA License CLSB #1050316. Central CA License #1096271. OR License #198571. WA License #RENEWAP877BM. WA License #RENEWAW856K6. All other license numbers are available upon request. Some Renewal by Andersen locations are independently owned and operated. "Energy Star" is a registered trademark of the U.S. Environmental Protection Agency. "Renewal by Andersen" and all other marks where denoted are trademarks of Andersen Corporation. ©2023 Andersen Corporation. All rights reserved. RBA 12222.
⁵ $99.00 Customer Installation Charge. 36-Month Monitoring Contract required at $36.99 per month ($1,331.64). Form of payment must be by credit card or electronic charge to your checking or savings account. Offer applies to homeowners only. Local permit fees may be required. Satisfactory credit history required. Certain restrictions may apply. Offer valid for new ADT Authorized Dealer customers only and not on purchases from ADT LLC. Other rate plans available. Cannot be combined with any other offer.
The information provided on this page is for educational purposes only and is not intended as investment or financial advice.