How Manny MUA, a 27-Year-Old Beauty Influencer, Built His Makeup Empire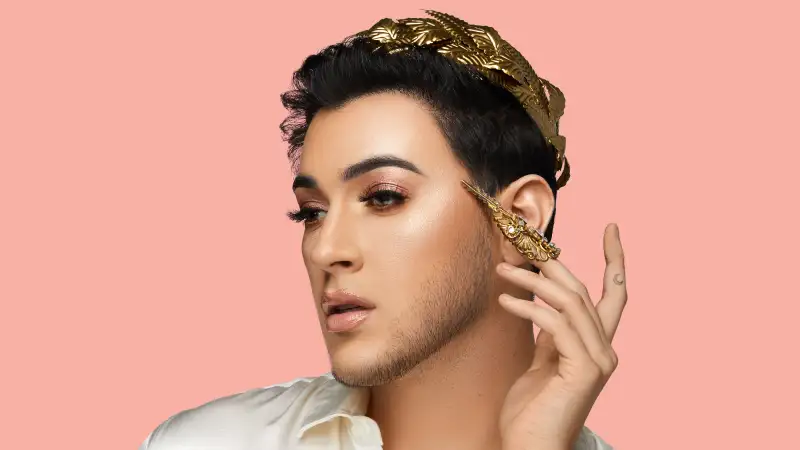 Manuel Gutierrez, aka Manny MUA to his fans, is one of the world's foremost makeup experts on social media. He has nearly 5 million subscribers on his YouTube channel, where he offers cosmetics tutorials to men and women, and 4.6 million Instagram followers, where his average photo has around 200,000 likes. But Gutierrez isn't content to stop there: He also recently launched his own beauty brand called Lunar Beauty, selling lipstick, lip gloss, and makeup palettes.
Along the way he set another record accomplishment: Gutierrez was the first ever male star to partner with Maybelline for an advertising campaign, showing off his mascara skills alongside fellow makeup personality Shayla Mitchell. So how did this 27-year-old break into the beauty business?
Manny's unlikely beginning
Gutierrez started his career far away from the world of beautifying himself or others. He was trying to go to medical school.
"I actually almost did go to medical school," he told Money. "I got my B.S. in health science and I wanted to continue. I wanted to be a plastic surgeon. But along the way when I found makeup and started working at Sephora and MAC, it clicked for me. It was something that I was really happy about. It was a passion. I was like, 'Okay, well, this has to happen for me.'"
That period after his undergraduate studies turned out to be a crucial time. Gutierrez always had an interest in "something creative," but he says, "I couldn't draw, I couldn't paint. I was an athlete growing up and really into school." Without a creative outlet, he didn't know what to do next. But after dressing up in drag for the first time at 21, which was also his first experience with makeup, he says he made up his mind: "This is really fun."
Doubling down on social
While working the counter at makeup companies, Gutierrez also focused on providing accessible makeup tips to an online audience — and saw his social media following begin to rise.
"I was working at MAC, and I remember I told myself, if I can hit 100,000 [YouTube] subscribers, I would be able to leave," he says, since the revenue coming in from YouTube ads would allow him to quit his day job. It wasn't an easy transition: "I remember when I quit, I just stopped going, and I was like 'Oh my God, I'm so scared, what do I do?'"
But looking at the amount of money he was bringing in, he pushed on. And he even brought his mom and dad into his business, despite the fact that it had been difficult for him to come out as gay in a very religious family.
"I never really knew I was gay. That's like the funny part about it. I had no idea. I just knew I was different from the other boys. I wanted to play with dolls. And being gay was bad. So I never really wanted to even think that I was," he says. "It was hard." Now, years later, everything's different. "Luckily, I work with my parents full-time, so it's really cool."
A leader in the industry
In tandem with rising popularity, Gutierrez is blowing up expectations of what it means to represent cosmetics and be a self-described "boy beauty vlogger." He's one of few male leaders in a female-dominated industry, and he sees that as an advantage.
He is quick to give credit to his peers though. "There's so many other amazing men in makeup, too. And it's just really nice and refreshing to see representation," he says. "I feel like I fill a niche because I don't shave my face. I'm not trying to look like a female. I don't wear heels, I don't wear nails, I don't do any of that stuff. It's just literally a man who enjoys makeup. And even though my audience is predominantly women, it's teaching how to do feminine, really pretty makeup."
With the launch of his own makeup line Lunar Beauty for "men, women, and everyone in between" Gutierrez wants to upend how we look at cosmetics, providing options for everyone at every price point. By the looks of his initial launch, he's off to a good start: items ranging from $17 lip gloss to a $112 "collection bundle" are already sold out. Gutierrez says he doesn't have any outside investors, and he's self-funding the venture.
Dealing with the critics
He admits that a certain amount of backlash has worn him down, including a feud-like scandal involving other beauty personalities. "When I started out, I felt like, 'Oh, I'm fine. I have rhino skin,' but then stuff happens, and you're like, 'I'm affected, I'm sad.'" Separating Manny MUA the personality from Manny the off-screen human, he adds, has been extremely helpful.
Gutierrez is also using his influencer status as a force for good, raising money in support of St. Jude Children's Research Hospital and recently giving a makeover to one of his youngest fans, a 12-year-old in remission from cancer.
He wants to send a wider message to people: Makeup should be, well, fun. And it shouldn't be reserved for any one type of person.
"You can wash it off at the end of the day," he says. "People take it so much more seriously than it needs to be taken. And I think that if you have fun, if you're being creative with it, and you're doing it for the right reasons, why would you hate it?"