Why (and how) Americans born before 1968 are buying Gold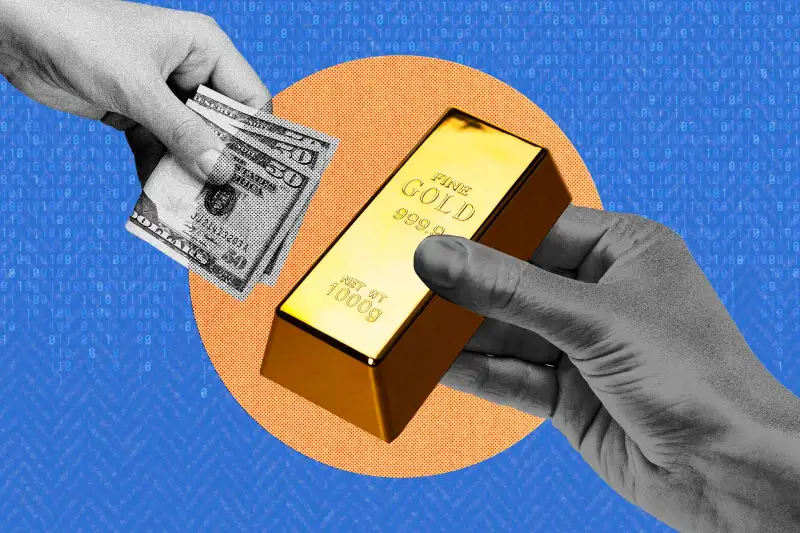 Eddie Lee / Money; Getty Images
Article Summary:
High inflation and a volatile economy are leading many Americans to diversify and protect a portion of their retirement savings with gold.

Gold can be purchased through "Self-Directed IRAs," funded by transferring assets from an existing retirement account, tax-free.

To open a Self-Directed IRA, most work with a specialized Gold IRA company such as

American Hartford Gold

with a minimum investment of $5,000.
Why are more people buying Gold?
After a lifetime of hard work, the last thing you want to worry about is losing your retirement savings. In the face of record inflation, a volatile stock market, and an uncertain economy, it's crucial to safeguard your assets.
Many Americans are taking action and diversifying their retirement savings with potentially more stable assets such as gold.
Hedge against inflation:

For generations, gold has been used as a 'safe-haven' asset to protect against turbulent times. Historically, precious metal prices rise during market downturns and shield against both inflation and recession.

Diversification:

By diversifying your portfolio with gold, you are creating a potential buffer against volatility and risk. Gold-backed IRAs help fulfill a well-diversified retirement strategy, and if the market crashes or other securities lose their worth, gold could protect the value of your retirement account.
How are people investing in Gold?
Many people are diversifying their retirement funds by investing in gold through a "Self-Directed IRA." Unlike a traditional IRA, a Self-Directed IRA allows individuals to invest in a broader range of assets (including gold) while benefiting from similar tax advantages as a standard IRA.
Step 1: Open Your Self-Directed IRA
To open a Self-Directed IRA, many people typically work with a reputable Gold IRA company such as American Hartford Gold. Their team of specialists can guide you through every step of the process, ensuring a smooth and efficient setup of your Gold IRA.
Step 2: Fund Your Self-Directed IRA
You can fund your Self-Directed IRA by simply rolling over or transferring assets from an existing retirement account, such as a Traditional IRA, Roth IRA, Thrift Savings Plan (TSP), 401(k), 403(b), or 457 accounts. These rollovers are tax-free, allowing you to protect the value of your assets without investing any additional money.
Once your Self-Directed IRA is funded, you can start buying gold as part of your retirement savings right away. You remain in control of your account, and can decide on when to buy or sell.
Getting started
Diversify your portfolio in the face of soaring inflation and a volatile economy. Learn how gold-backed IRAs can protect your assets and give you peace of mind.
To learn more about how to buy gold through a Self-Directed IRA, see American Hartford Gold's secure website and enter your name & email where it says free guide.
The information provided on this page is for educational purposes only and is not intended as investment advice.