How to Save the Most Money at Bars, According to Bartenders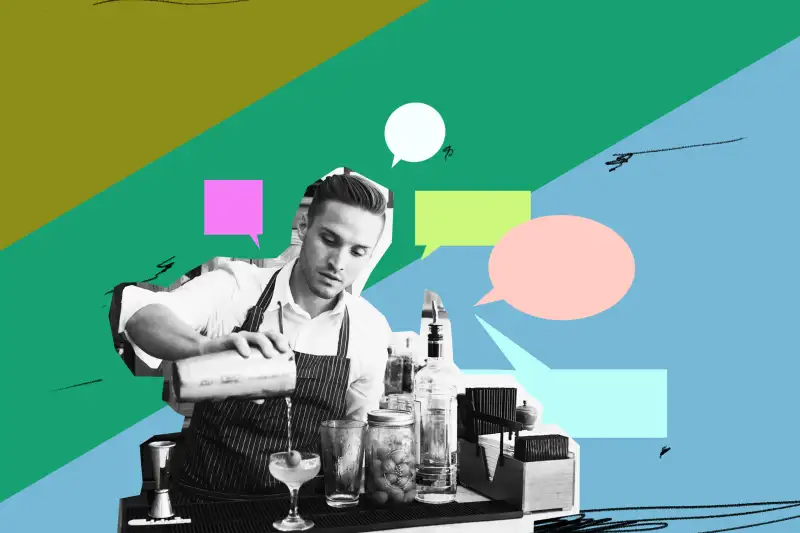 Illustration by Lixia Guo; Getty Images
Did those cocktails from last night leave a few extra, unexpected digits on your credit card?
(And, uh, maybe those drinks merrily offered to your friends — hey, put it on my tab! — didn't help.)
Navigating the cost of going out, whether to a sophisticated cocktail bar or your favorite dive down the street, isn't as easy as it might seem.
This is especially true if you're ultimately trying to have fun and not think about finances, and if you're not seasoned at figuring out the maze of a drinks menu, which somehow always looks a little fuzzier as the night rolls on.
To see if it's possible to save money on one of most people's biggest expenses (without swearing off drinking altogether, which is always an option), we talked to those who know best: bartenders themselves. Here, they share their own tips and strategies for going out — without going over-budget.
Well, well, well.
"Happy hour of course is the first thing that comes to everyone's mind, but there are other ways to find good deals," says Meredith Hayman, cocktail director at R6 Distillery in El Segundo, California, who's also worked behind the bar in the Los Angeles area for over 13 years.
"Check out the well offerings [also known as house or rail liquors because they're the go-to spirits used by staff]," she says. "Every bar offers these and they are typically around $10 and often what they use in their cocktails anyway. Talk to them and ask what's in their well."
Be honest, and servers will frequently be honest in return about which well options are worthwhile or not — and when you land on a promising option, you can request it in a standard cocktail.
Happy hour doesn't have to be so obvious.
Happy hour mostly exists to lure in new customers and increase foot traffic during off-peak hours with large-volume orders. It has advantages (the discounts!) and disadvantages (the crowds!), but one perk is the ability to squeeze a few dollars off more experimental items.
"There are some interesting takes on [happy hour], especially in wine bars, where they use reduced pricing as a means to have their guests try different grape varietals and move out of their comfort zones, which I am all for," says Frank Caiafa, beverage director at The Stayton Room at New York City's Lexington Hotel. This can also apply to new tap beers or a house cocktail the head bartender is tweaking. If you're willing to try something new, resist going to your default order and read the list from top to bottom.
Fall back on the shot-and-beer specials — or the wine bottle list.
"In more divey spots, where I am wary that I will get a good cocktail, a shot and beer can go a long way," Hayman advises. Otherwise known as boilermakers, these supreme deals deliver exactly what's listed and pack an alcoholic punch. They may or may not be advertised, but just ask your bartender to see what's available.
Also "check out the wine bottle list," Hayman adds, especially if you're a discerning wine fan at a place with a decent list. "Don't be scared. You can get a bottle for $40, and that is four drinks right there." It's not always easy, but estimating what you might drink at the beginning of the night — and what your drinking partner's plan is, too — can save you both some money.
Go with draft beer...
Draft beer, or beer delivered directly from the keg, is the prize of any brew fan. It also makes the most monetary sense. "Choose draft when you can. There's less overhead for the bar and the brewery," Hayman advises, so the quality is higher for the price. "You also get a better beer, since it's been dispensed from the tap. Think tap soda over bottled soda."
...but don't limit yourself anywhere on the menu.
If the draft list is sparse, look into all the offerings including canned and bottled beers (especially the former, which cost less to produce and can present amazing deals) to find something you think you'll love.
The same goes for spirits. You may find that the standard liquor pour and that premium brand you've wanted to try are only separated by a few dollars.
Remember that you're allowed to ask questions.
A nice cocktail bar is more expensive than a sports bar, and that's by design. In a high-end establishment, especially in a city with a high cost of living, "be prepared to spend $13 to $18 a cocktail," says Hayman.
But there's a bonus: "You tend to get an expert along with it. Here you find the cocktails geeks, the hospitality experts, the ones that make this their career, their focus, their purpose," Hayman says. "There is no question they can't answer and you leave feeling that the cost was well worth it." And while it's not reflected that way in your checking account, isn't it true a cocktail you adore at least feels less expensive?
About that infamous "buyback."
The "buyback," or the practice of getting a drink for free from your bartender, is mythical and poorly understood. You should never expect it just because you bought three beers or unloaded your thoughts about the latest season of Succession. But it can feel like a gift for those who do get it — and those people are always good patrons.
"The best way to get a buyback is to smile, be patient, and use your manners. At the end of the day, bartenders are human beings with feelings and emotions," says Justin Campbell, bar director of The H.Wood Group, which is behind LA spots like Bootsy Bellows and The Nice Guy.
So don't annoy your bartender by bragging about who you know. Don't touch the garnish dishes. And don't be obnoxious. Instead, be an amiable regular, because as Hayman succinctly puts it, "Many places reward you for your loyalty."