How the 1% Pays to Skip TSA Security Lines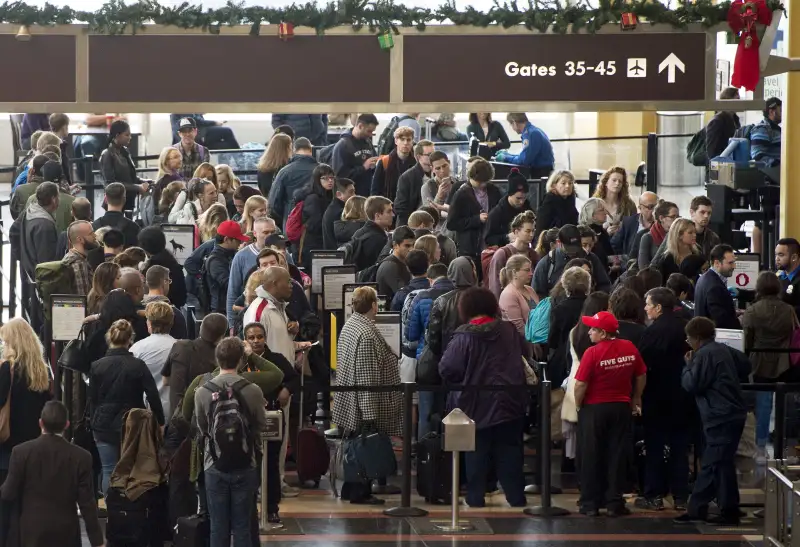 SAUL LOEB—AFP/Getty Images
During a summer when the rest of us are spending hours in airport security lines and sometimes missing flights, the 1% are skipping to the front and the airlines are happy to help them.
The four major airlines and many smaller ones have programs that allow fliers to pay their way out of security lines, according to Bloomberg. These include different ticket tiers, since first-class passengers often have separate lines. But there are also many carriers that allow fliers to buy the privilege a la carte. These perks -- which are separate from the pre-screening program run by the Transportation Security Administration -- range in price as little as $10 at JetBlue to $179 for a year-long subscription offered through Delta.
While not necessarily new, well-to-do passengers' demand for special treatment has been soaring amid increased wait times, according to the report. The programs' have also come under more scrutiny, with some observers raising pointed questions about the programs' fairness.
Read More: American Airlines Isn't the Only Company Drastically Devaluing Customer Loyalty
"Buying your way to the front of the line -- that has nothing to do with the level of security," Ben Nelson, a former U.S. Senator from Nebraska, told Bloomberg. "Why should you have other folks stand in longer lines for a federal government program, the TSA?"
In other words, it's clear airlines should have the right to choose the order in which passengers board planes. Allowing the wealthy to embark first may be tacky, but that's a business decision airlines must grapple with as ticket sellers. On the other hand, since the TSA lines are a government security measure, the case is arguably very different. One Harvard Business School professor interviewed by Bloomberg likened the practice of whisking high-paying passengers to the front of security lines to allowing people who drive Cadillacs to skip ahead of Honda and Toyota owners in the line at the DMV.
Unfortunately, for the majority of us, airline wait times are only getting longer. A report out in May suggested that as many as 70,000 passengers missed flights this spring as a combination of more travelers, more carry-on bags, and fewer-than-expected passengers signing up for the TSA's pre-check program led to unexpectedly long security lines.
Read next: The Markets are Panicking Over the Brexit Vote. You Shouldn't
And air travel's segregation by social class is only getting more brazen. Late last year Los Angeles International Airport, commonly known as LAX, approved a plan to build a special terminal where celebrities and the wealthy will enjoy their own entirely private passport and security lines for a price of $1,500 to $1,800 per flight.
As business travel lobbyist Kevin Mitchell told Bloomberg: "If you're a movie star from Hollywood, there's no way you're going to the airport three hours in advance."