I Bought an Olive Garden Unlimited Pasta Pass and It's Going to Save Me $10,000. Here's My Master Plan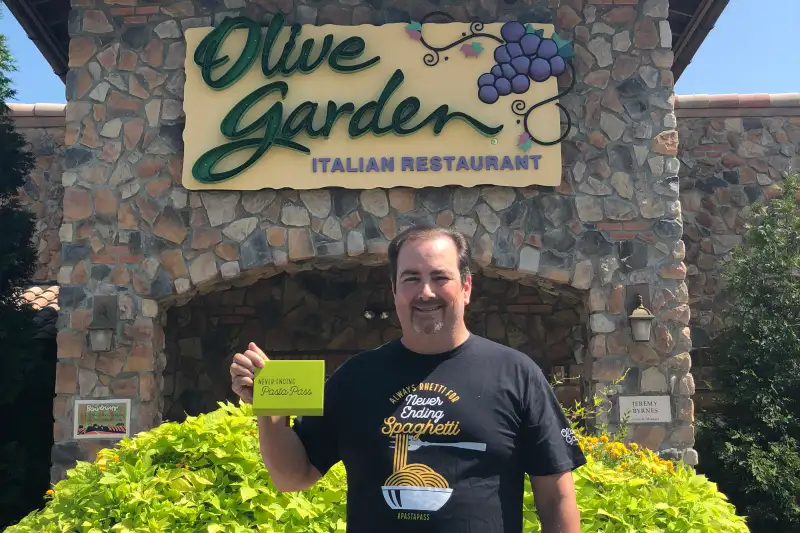 After three years of trying and failing to attain Olive Garden's coveted Never Ending Pasta Pass, Jeff Berman finally scored one last year thanks to luck and a solid internet connection. Once he got the $100 card—allowing him to eat as much pasta as he wanted, whenever he wanted over the eight-week Never Ending Pasta Bowl promotion period—he knew he had to do something special. So he started blogging about his adventures, documenting each highly customizable meal, from fettuccine and angel hair alfredo to a makeshift "triple threat" breadstick sandwich stacked with grilled chicken, crispy chicken, crispy shrimp, and sauces. He ate it all with a smile on his face — and became an Olive Garden all-star in the process.
"I didn't even know about the record until I was over halfway through," Berman, 36, told Money. He's referring to Alan Martin, aka the "Pasta Preacher," who ate 115 meals straight at the chain in 2014 with the inaugural pasta pass. "I did more research. I started getting some traction, and had people reaching out. I was thinking, I gotta step it up."
Berman achieved his goal, and then some: Doing remote IT work in Inverness, Florida, that provided flexibility in his schedule, he ate 140 meals in 56 days, saving a total of $2,164.89 at the Italian chain. He won the admiration of Olive Garden fans everywhere, and even traveled to grab a bite with Martin. Onlookers, however, were skeptical.
"Some people would say that's the most obnoxious thing on earth," Berman says. "I would agree. I'm as far away from normal as you can go. I've been wanting this for years. I've been going to Olive Garden since I was a little kid. One of my first dates was there. You really gotta love the craziness to do what I did. I really hope somebody this year beats my record."
Pasta Pass Mania
Olive Garden's annual Never Ending Pasta Pass is one of the hardest tickets around. The new round of 23,000 cards sold out in less than a minute this year, as they have before. But the restaurant added a twist, also offering 1,000 customers a $300 annual pasta pass that's basically a license for Olive Garden superfans to dedicate themselves to pasta 365 days a year.
Berman obtained the regular pass, though he won't be able to use it nearly as much this year since he'll be working in an office. But Martin, who's been gifted with pasta passes by Olive Garden since his first year, was lucky enough to snag the annual card online.
"I can't tell you how excited I am... I'm going to get $10,000 or $11,000 out of that card because I will eat there at least 10 times a week," says Martin, 53, who works as a minister in Burlington, North Carolina. "I'm the kind of guy who loves a free meal. I love a discount. I eat with a coupon everywhere I go, or I don't eat... I'm wound that way. I'm a normal guy — I'm not crazy, but I like a value."
Pasta 3 Times a Day, Every Day
The pasta pass may provide quite a deal, but that doesn't mean it's always easy. Both Berman and Martin ate at Olive Garden multiple times a day, every day to achieve their goals, helped by the fact that the chain has locations minutes from their homes. Martin estimates that he saved $1,837 his first year with the pasta pass (he even traveled to Italy on Olive Garden's dime another year).
"When the doors opened at 11 a.m., I got lunch at 11, then maybe when the kids were out of school, I would get a lunch with them. I'd eat there at dinner and then there were a lot of times I'd go back up around nine and eat again," Martin says, adding that he would generally rotate between tomato sauce and creamy alfredo. "The third week of eating on the pasta pass, your body is like, 'Okay, no more.' If you just go through that third week, your body will start dragging you to the Olive Garden... You can adjust to craving whatever you feed it."
Berman was insistent about switching things up every time he used his pass. He incorporated themes for each week of his blogged consumption, in the process discovering that he loves the mushroom sauce, which he wouldn't have otherwise tried. "It made me excited for the food," he says. "I never got bored."
How Pasta Pass Users Lose Weight
Berman dealt with another struggle last year. He had lost 70 pounds earlier in 2017, before getting the pasta pass, going from 220 pounds to 170. "I'm a big pizza fan, and I would eat a whole pizza to myself," Berman says. After getting into the habit of working out regularly and cutting back in his diet, "I didn't want to throw it away," he says.
So he stuck to a fairly strict regimen while using the pasta pass: He continued hitting the gym and allotted himself 2,600 calories a day (Olive Garden posts nutritional information for its food, which he diligently tracked). After a first meal that included complimentary breadsticks and soup plus a full-size pasta dish, "I didn't feel that great," he says.
He quickly switched over to ordering only a refill portion, which is significantly smaller in size, and avoiding the breadsticks for the most part. (Refills come with the pasta passes and the Never Ending Pasta Bowl deal, which any customer can order for $10.99 during the promotion period.)
Berman actually lost two pounds through the course of his two-month pasta saga. And Martin, a Southerner who's used to regularly eating barbecue and burgers, has similarly never experienced any ballooning in weight during his Olive Garden experiment.
"A lot of people have the perception that if you're eating Olive Garden, you're going to gain weight. But it's calories in, calories out," Berman says. "After finishing the pasta pass, I got my blood work checked, and everything was within the normal range. I was surprised."
That resulted in a lesson.
"One of the best quotes is from Oscar Wilde: 'Everything in moderation, including moderation,'" Berman says. "I was really trying to live that mentality."