I Actually Won a Home in One of Those Crazy Contests. Here's What Happened Next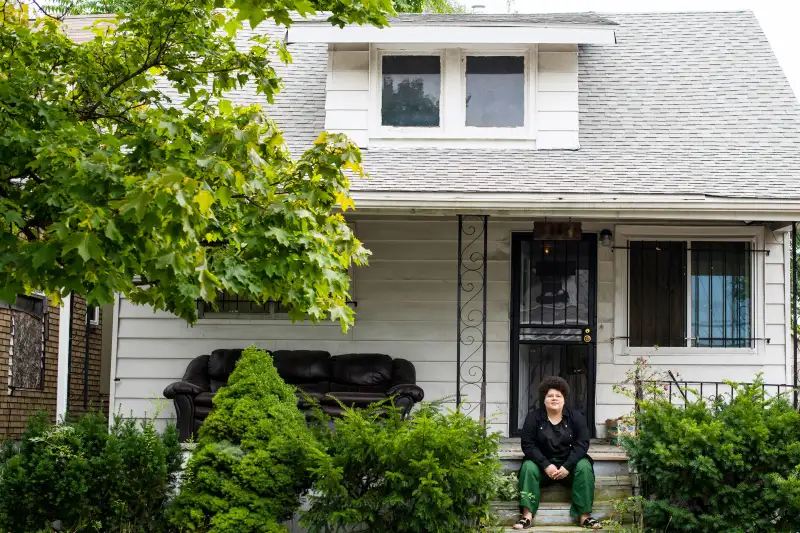 Photographed for Money by Brittany Greeson.
For Casey Rocheteau, a millennial grad student living in Brooklyn, it was getting harder to make ends meet in New York. Then they won a house -- in Detroit.
"I was really skeptical, it seemed like a strange thing to be doing, especially as Detroit was going into bankruptcy," says Rocheteau, who is now 34.

As one of 350 people to enter a Detroit-based writing contest, Rocheteau applied on a whim but didn't have their hopes up. But a few months later, they, then 29, learned they were a finalist. Ultimately they won. (Rocheteau uses they/them pronouns.)
Photographed for Money by Brittany Greeson.
Prior to the contest, the poet and nonprofit employee had only been to Detroit once – for less than 24 hours. All the same, the leap of faith seemed worth it, because they wanted to have enough time to work on a poetry career without worrying about the iffy payoff of publishing.
They packed belongings, parted ways with three roommates and moved 700 miles across the country within the month. They launched an Indiegogo campaign to raise money for housewares and a moving truck to finance the move.
"It was the first time I could live on my own," they said.
What It Takes to Win a Home
Rocheteau's story may be even more unusual than you think. Reality-television style win-a-house contests have proliferated in recent years.
One reason, almost certainly, is the millennial generation's struggle to achieve home-ownership. Another is the free-publicity created when the fairy-godmother appeal of the contests helps them go viral on social media. But contests aren't necessarily altruistic. Organizers typically ask contestants to pony up an entry fee. And if the fees they collect don't cover the cost of the house -- and maybe even a profit, they cancel the contest. Lower-than-hoped for participation rates have led to recent well-publicized contests for homes in central Maine, Virginia and Vermont ending with no winner being declared.
That makes Rocheteau's homeownership story all the more unlikely.
The contest they won was conducted by Write a House, a nonprofit that purchased the home for $1,000 at a foreclosure auction and renovated it before signing over the title. Instead of a fee, Rocheteau relied solely on their talent, winning the contest with a sample of comics-format journalism.
"I never thought I'd be able to live on my own -- never mind in a house that I own -- it's nothing short of remarkable," they said.
Becoming a Homeowner
Rocheteau hoped their new home, a one-bedroom bungalow in Motor City's Banglatown neighborhood with working-class roots, would allow them to pursue a writing career without sharing a crowded apartment well into their 30s. When Rocheteau arrived in the fall of 2014, the organizers were still finishing the floors and adding insulation to the attic.
Photographed for Money by Brittany Greeson.
Coming from Brooklyn's Crown Heights neighborhood where they had little space and didn't need a car, life in a Detroit bungalow was an adjustment. At about 1,000-square-feet, it was modest in size but had a yard, a basement and a washer and dryer. The home came fully renovated. Rocheteau's only qualm was a barn-style door was painted a distracting red, which they quickly re-painted turquoise, a color that was more Rocheteau's style. "It was actually a pretty good fit," they said.
Homeownership wasn't all fun. Rocheteau learned they needed to change the filters in an HVAC unit and had to purchase several lawn products to keep the lawn in mowed and green. "I found out pretty quickly that I needed a step ladder when trying to change light bulbs," they said.
Five Years Later
In Rocheteau's case, they were one of the four people who have actually won and moved into a Detroit home through the organization. But Write a House, the nonprofit that held the contest, has since pivoted its model to focus on long-term residencies that provide housing to writers for a set amount of time and can benefit more writers. (Write a House could not be reached for comment.)
After being declared the winner, Rocheteau did not technically own the home for two years, per the contest's rules to keep the winner from flipping the home for profit. Two years later, they had to start paying taxes.
Since Rocheteau won the home and owns it outright, they do not pay a mortgage. Still ownership is not free. Monthly bills including internet, water and electric total $250 per year. An annual property tax bill for the home is $700. Detroit is often ranked as one of the most affordable major housing markets in the U.S., according to data from Demographia. By comparison, winning a bed and breakfast in the Northeast could add thousands to the annual cost. "It worked for me because the cost of living is not exorbitant," they said.
Five years later, they are finally able to save income from a job as a communications officer at the Detroit Justice Center, a local nonprofit focused on reforming the criminal justice system. "I'm at the place where I feel financially stable and I'm able to save to do things," they said. In addition to a full-time job, Rocheteau still writes and publishes poetry.
More importantly, they get a firsthand look at how the city is bouncing back from years of decline. Homes in Rocheteau's neighborhood were built close together and traditionally housed factory workers, but many spent years abandoned. These days, more families and 30-something singles are moving in. Rocheteau's home costs about $30,000 in Detroit's current real estate market, they estimate. Prices are slowly inching up.
For now the plan is to stay in Detroit, which Rocheteau says is affordable enough to pursue meaningful work and travel. "It worked for me because the cost of living is not exorbitant," they said. "When I think about rent prices in LA, I think: Why would I do that why would I ever subject myself?"