If Another Mom Tries to Sell Me Something on Facebook, I'm Going to Lose It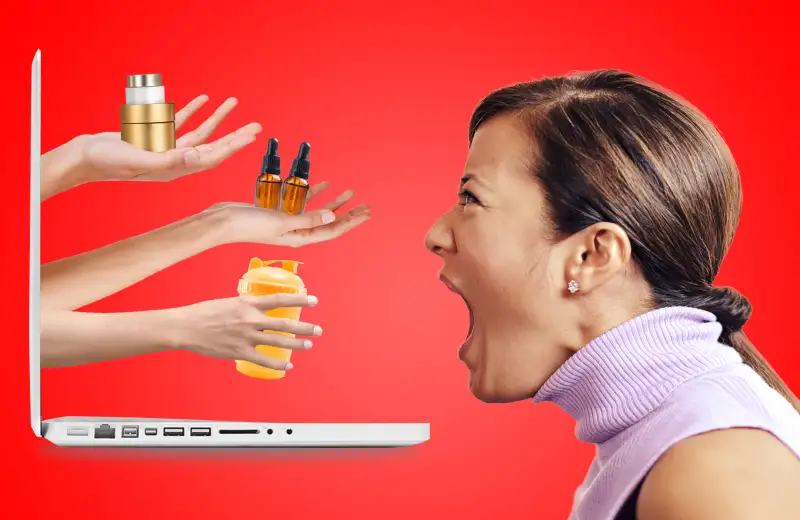 Photo Illustration by Tiffany Herring for Money, Getty Images
A few months ago, a friend request popped up on my computer. I accepted—she's seemed like a cool mom, and I'm down for more "FRI-Yay!" memes, cute kid pics, and viral dog videos.
Then another message popped up: "Want to grab a coffee?" Weird, I thought. I knew we'd eventually meet in person, but this felt premature.
I asked our mutual friend what was up. "UGH. Kathy goes through everyone's friends on Facebook and friends them. She's going to sell you Rodan + Fields beauty products." So I turned down Kathy's coffee, blaming a hectic week. Kathy wasn't impressed. "Could you meet up at anytime between the hours of 8 a.m. and 10 p.m.? I saw your Facebook photos and I think you can benefit from our Reverse Brightening Regime that's perfect for dull skin." I ignored her request. When we finally did meet at a function, she didn't even recognize me. I wanted to pull her "Enhancements Lash Boost" eyelashes right out and crush them on the ground.
I'd love to be your friend. But if you try and sell me something, I'm gonna flip that table with all those pretty products, New Jersey Housewives-style.
Network marketing, or multi-level marketing (MLM) is all about selling products from person to person. According to the Direct Selling Association, the national trade association representing companies that promote independent selling, 20 million people were participating in MLMs in 2015. That translated to a staggering $36 billion in retail sales. As the Washington Post noted last year, it's akin to the modern version of the Tupperware party—via Facebook, they prey on family members and friends for sales of LuLaRoe leggings, Younique cosmetics, and Young Living essential oils. Those are impressive numbers, but at what expense? I don't want to purchase products I don't need, and I sure as hell don't want to feel bad about it.
But is my rage justified?
I asked Ken Lloyd, a psychologist and co-author of Is Your Job Making You Fat? How to Lose the Office 15…and More! and Unlimited Selling Power: How to Master Hypnotic Selling Skills.
"The way that people react to a sales pitch from a friend depends upon a combination of several factors," he told me. "For example, if the friend is frequently pushing one product or another, if the products are of questionable value, or if there is any form of pressure, there is likely to be a negative reaction from the recipient and a negative impact on the friendship."
Excellent! Being annoyed by my friends was just validated by a psychologist.
But then Lloyd added, "At the same time, if a credible friend has found a truly outstanding and unique product or business opportunity, and it clearly matches your interests, style, and needs, then your reaction is likely to be more favorable." So if they're selling something I want or need—like wines of the world, rather than casual comfy clothing—I might not feel so offended by the solicitation.
That's a major point, though. None of these products seems to be anything I will ever need. But I'm made to feel like it is by people who I am supposed to trust. My cousin is a great example. She posts on Facebook a line of shakes that claim to help you lose weight and have more energy. Who doesn't want that? After months of seeing amazing "after" results posted—I bought into the program. Maybe I could get that killer beach bod after all?
Three months later, I didn't have more energy or end up anywhere near my goal weight. When I asked what I was doing wrong—her feed is success story after success story—she said I should buy products like energy boosters and weight-loss supplements. She declared, "I needed more! All for the bargain price of $59.99 that would auto ship every three months." And that's when it hit me why I hate these things so much—there is always more to buy, the first purchase is never enough. I hovered the cursor over the "unfriend" button, willing my finger to push it and end the insanity once and for all.
To take the edge off, I went to a girlfriend's wine night. In the living room, I found a Stella & Dot jewelry trunk show. Jewelry and bags were splayed all over, women hunched over bracelets and rings. "I thought we were here for wine," I said. The host responded, "Oh—this is just for fun. Shop! Drink! Shop some more!" I relegated myself to the corner while I nursed my glass of Shiraz and went from casual party observer to wannabe table flipper.
She came up to me and asked, "There isn't single thing you want to buy? NOTHING!?"
I lost it. There were people profiting from the party and I was the one left footing the bill. "Don't ever invite me to a party where you expect me to buy something" I said and walked out. In hindsight, storming out wasn't the best approach. Lloyd suggests to focus on the value of the friendship rather than the business. While it may be easier to storm out and just avoid these situations, it turns out, if I value you as a friend I need to confront this head on.
So to people pushing product on Facebook and fake wine nights, you read it here: Enough. If you want to be my friend then don't sell me something. And if you think I need an energy boost or an eye cream or sparkly bracelet, then buy it for me because that's what friends do, not the other way around.