Inside the Cutthroat World of Today's Professional Santas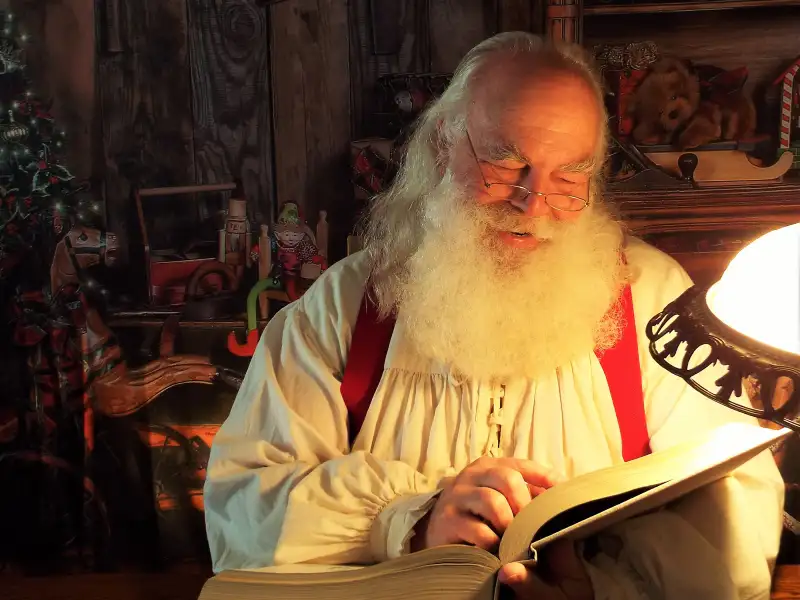 Mall Santas can do no wrong, at least according to most tykes who sit in their laps posing for photos and sharing their dreamiest Christmas gift wishes. But the truth behind the cheerful scenery is that the job is hard, even grueling at times, and surprisingly competitive.
Just ask Randy Cook, 62, who's worked his way up to become one of the most well-known Santas in the Seattle area. In addition to booking corporate events and parties, he's a brand ambassador for Janus Motorcycles and the Seattle-based outdoor retail brand Filson. He sold Filson on the idea of making appearances in its stores dressed up in a Filson-made buffalo plaid Santa hat, working the room and charming customers and their kids. Cook charges anywhere from $150 an hour to $260 an hour on Christmas Day —much higher than typical rates for his line of work.
But Cook is so busy during this time of year that he said he just turned down nine different offers. When the sporting goods chain Bass Pro recently approached him to come into its stores for $25 an hour, he politely declined.
"I just said, 'I don't do mall work,'" Cook says, despite the fact that he does do in-store work.
Cook's personal mantra is "market, market, market, and market." He embraces "all the new methods of marketing," from social media to search engine optimization (or SEO), in order to sell his jolly talents at a premium rate.
"Your website has to hit the top of the Google search. If you search for Santas for Seattle, I show up in the top results," Cook says. "You have to have the entrepreneur's attitude, not an employee attitude. You got to be able to take the risk, get out there, and do it. It's hard for some people."
Not all Santas are created equal. A self-proclaimed "second-generation Santa," Cook started dressing up as Saint Nick for a local fire department, as his dad had done. After realizing he could grow an impressively full beard, he worked fraternity events to make extra money in college. Now a veteran, he literally hands out bonuses to employees at lucrative holiday parties for businesses. But one surprising thing he refuses to do is sit.
"There are performing santas and there are sitting Santas," Cook says. "I'm a performing Santa."
The image of Santa sitting all day at a shopping mall, with a long line of families waiting to meet him, has become a staple of pop culture from A Christmas Story to Bad Santa. But Cook has steadfastly avoided that gig, which he believes gets too little respect.
"I just really think that kind of Santa in the mall taking photos and marketing that to death has not been great for Santas, and I don't think it's something I want to be involved in. I know those Santas get the lowest wages of any Santas out there," Cook says. When he looks at photos of mall Santas, "they're just pooped out."
"I give a high-intensity event, and it's four times more an hour than what the guys are making in the mall," he says. "It's kind of sad, but I guess if I was much older than I am and I couldn't get around, then the [mall work] would be pretty good for me."
Ed Taylor, 63, has a brighter view of the mall Santa. Known as "that Santa guy" in Los Angeles, he's in high demand and has appeared on TV and was a stand-in for Ed Asner on a movie. His rates range from $350 an hour to $800 an hour on Christmas Day. He started his paid Santa work for a Microsoft photo booth in a mall in 2012. Having played Santa as a volunteer previously, he loved the opportunity and left his career as an internet marketing speaker to pursue it full-time.
"People were telling me, 'You're great—you need an agent,'" Taylor says. "The first few weeks, I'm thinking, 'Yeah, right,' but by the time the season was over, I was like, 'I need an agent,' and an agent signed me in the spring. Next thing you know, I'm doing television work and all kinds of great corporate parties and celebrity events, and I'm just having a blast."
Taylor has since built up a "small business" being Santa around the year. In the middle of the holiday season, he's fully booked, doing everything from Children's Hospital Los Angeles visits to star-studded events and, yes, more mall work. He says he recently had to reject jobs for several "high-profile celebrities" that he normally would've loved because his schedule wouldn't allow it.
In the off-season, he runs an online school for mall Santa hopefuls, called The Santa Claus Conservatory. Its web videos train over 1,000 students worldwide on their appearance, personality, and business strategy. Some of those who go into mall Santa work tell him they find it burdensome, but he's had few complaints in his own experience. In fact, it gives him a rush.
"The biggest problem for me was in the slow times, where you're just kind of bored, early in the days, at least in the mall I was in. There were long periods of down time," he says. "Seeing the kids getting the pictures—I enjoy that. Personally I just get energized by it... If you can be the way I envision Santa Claus being all the time, your life is pretty good."
Taylor concedes that mall work generally pays less than private events, but adds that there's a "range of pay," and more experienced Santas can command a rate comparable to home visits in the same market. And most Santas, he says, are only doing the work seasonally and have other jobs. The site PayScale estimates that a beginning Santa can make as much as $100 an hour. You can find job postings for mall-oriented Santa work for photos, however, that advertise pay as little as $12 an hour, suggesting how menial the labor is in certain places and for certain companies.
Whether you're commanding the bigger bucks or barely scraping by, one thing is clear across the board: Santa performing is not for everyone. In addition to having the belly and the beard (the fake ones are largely out, unless you can shell out for something convincing), according to Taylor, you just need to love living the part. Everyone wants to be happy in their job, of course, but particularly in Santa work, if you're not, you can find yourself frustrated very quickly.
"The single most important thing is that attitude," Taylor says. "You're sharing love for Santa Claus. If that doesn't resonate for you, it's probably not the right career."