"It's Really a Good Life." This Retired Couple Has Been on at Least 100 Cruises. Here's How They Budget for Their Adventures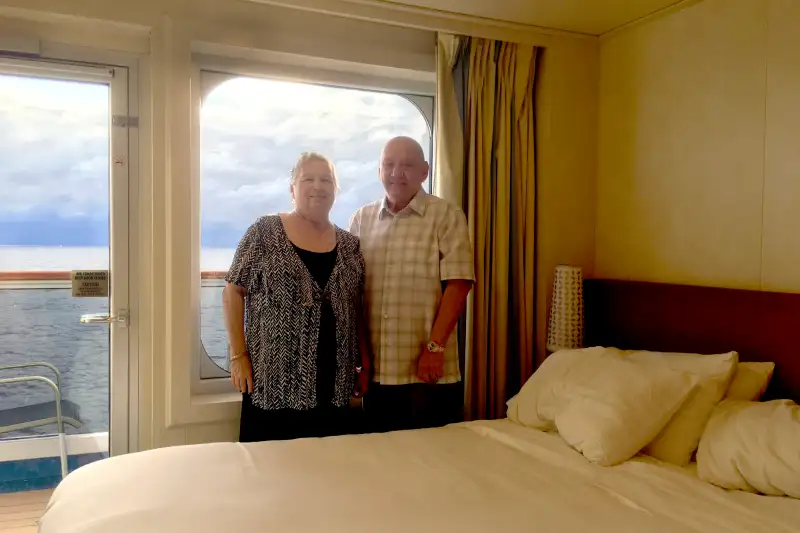 Courtesy of Judy Franklin
Judy and James Franklin have discovered how to happily navigate the ebb and flow of life — through 56 years of marriage, in sickness and in health, this retired couple has sailed on approximately 100 cruises.
The Franklins' first cruise, in 1972, was a splurge for James, a private first class in the Army at the time, and Judy, then a nursing student. "The installment plan was very helpful when we were starting out, but at this time in our lives, we pay the cruise off when we book it," says James, who goes by Jim.
The couple, who are based in Seminole, Fl., spends anywhere between $25,000 to $35,000 for about 6 to 10 cruises per year, depending on the length of the cruise, which can range from a week to up to about five months. Their destinations have included the Caribbean, South Pacific, South America, the Baltics, Greenland, Scotland, Ireland, and Russia. When possible, they're accompanied by some of their three children, eight grandchildren, and eight great-grandchildren.
Their 10-year-old great-granddaughter has already enjoyed 22 cruises, and as she gets older, they make sure to plan their trips during spring, break so she can still strive for her perfect attendance certificate at school.
Here are the Franklins secrets for smooth sailing:
Budget for Extras
As the years have passed, Judy and Jim, who are 73 and 76 years old, respectively, choose activities that are more age and health appropriate. "We used to zip line, or swim with the sting-rays, but as we get a bit older, we don't want to do such strenuous activities anymore," Judy says.
These days, Judy especially enjoys excursions starting with lectures that explain the culture and history of the port city. "On one cruise we learned about the history of Argentina and Brazil, and when we got off the ship in those countries, all that we had learned came alive, and it was fascinating," she says.
They budget for these activities, which often cost an additional fee. Prices for shore excursions vary, depending on the destination. "A European excursion can cost several hundred dollars, while the Caribbean may be a hundred dollars or a little more," Judy says. For example, in Rome, an excursion would typically include transportation, while adding a guide would come at an additional cost. In the Caribbean, for example, a beach break or swimming with stingrays would potentially cost $100 per person. Adding zip lining or diving could add about $50 to that, but that depends on if lunch or rented equipment are included.
Bora Bora was Judy's biggest memory-maker. "I'll never forget it," she says, "Even when we lived in Hawaii, I have never seen water so clear and the shade of light greenish blue, with such beautiful palm trees and warm tropical breezes. Up on deck, as we approached, it was so beautiful; I had tears in my eyes. We went to a little restaurant where the owner had just caught and cleaned the fish. He sat down and ate with us, and his three dogs stayed at our table. These are the things that you remember." She adds, "I love seeing how people from other cultures live."
Loyalty Has Its Perks
The Franklins decide on each cruise together, with Judy researching destinations and Jim exploring the Internet from their Florida condo for the best rates, rewards, and bargains. They often use Holland America Line for longer cruises and also sail on Princess Cruises, Norwegian Cruise Line and Carnival Cruise Line. Through the lines' loyalty programs, they get perks like early embarking.
They tend to book through the cruise lines directly, after comparing prices online. Each line has planners whom any traveller can use. "We have an excellent cruise planner at Carnival so we check the website then call her, and she tries to get us the best deal," Judy says.
They've made many friends sailing the seas, and to figure out if any of their buddies are planning to take a specific cruise, Jim checks websites such as Cruise Critic to see a list of possible cruisers. "As frequent cruisers, we have made friends with the crew members and other cruisers, who are usually like-minded people," Judy says. Frequent cruisers also get to mingle at special cocktail parties, shows, or a tour the bridge with the captain.
Judy and Jim also enjoy the onboard casino experience. Jim plays craps, while Judy loves blackjack. There are also many slot machines, roulette and other card games. The size of the casino depends on the ship's size, of course, and the casinos are not open in the ports. Judy estimates that her budget is probably approximately $200 per day, but she doesn't gamble every day. She adds, "Jim plays a little higher but doesn't gamble as long as I do; he likes to play, hopefully win, and walk away."
Jim explains that casino-goers get especially good rewards. "The more you gamble, the more perks you get, and because of the amount of time we spend in the casino, we have even gotten an occasional free cruise." Judy adds, "The cruise line is always changing the gambling perks; sometimes it's a couple hundred dollars in money at the casino, or free drinks, or maybe a free meal at the steakhouse. It does vary per ship and cruise line and frequency of gambling. Rarely will they give a free cruise."
Soak in the Experience — and Take Precautions
When booking the cruise, the Franklins always choose interior cabins with a window and balcony, so they can soak in the beautiful views. Judy sometimes gets seasick, so they always choose a room in the middle of the ship, and avoid front-located cabins. For her occasional queasiness, Judy recommends natural remedies such as ginger pills, ginger ale, and green apples (which often can be found on ship's buffets), rather than medications that can make her tired.
One cruise that Judy would like to forget sailed to the Baltic. "It was very cold, and there were 35 foot waves," she says. "People were saying, 'Isn't this exciting?' And I said, yeah, I'm going to throw up, so please get out of my way." But, as is usual, the rough seas quickly abated, and Judy soon was back to her adventurous self. She added that a safe bet for beautiful weather is usually the Caribbean, although they still check for potential storms.
The weather is not the only culprit for stomach issues. Jim's one gastrointestinal bug started one day after he returned from a cruise and continued for 7 days in hospital isolation. After that, Jim become an obsessive hand washer. "I prefer to wash my hands in our cabin, but Judy uses the hand sanitizer that is available everywhere on the ship," says Jim, adding that Judy has stayed free of norovirus. Judy becomes even more vigilant if she suspects that a few people have become sick when she observes the crew doing extra meticulous scrubbing of heavily touched areas, such as rails, walls, and elevators; she adds that sick passengers are kept apart from others.
Another precaution the couple takes? They buy travel medical insurance, since Medicare generally doesn't cover care outside the U.S.
While the Franklins have adventures at sea, one of their adult children periodically checks their house. "When we do 65- to 70-day cruises, we stop the mail and the paper, and most importantly, we prepay certain bills like the phone, electric, and cable," Judy says.
The Franklins recently had to take a 7-month break from cruising so that Judy could undergo chemotherapy and radiation for breast cancer. "We think they got it all," says Judy, and so it's time to set out to sea once again. They already have three cruises on the schedule for 2019 so far, with more in the research stage. "It's so relaxing," Judy says. "We find a big deck chair, and watch the ocean and see the sunset. Then, we can eat, go to a show, or a comedy club." Jim chimes in, "It's really a good life."