Ivanka Trump & Jared Kushner Just Went to 'Summer Camp for Billionaires'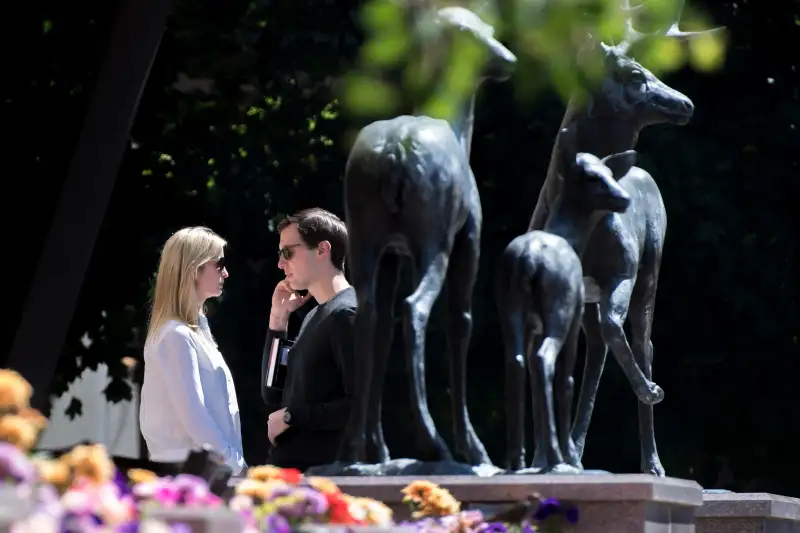 David Paul Morris—Bloomberg via Getty Images
Two of President Donald Trump's closest advisers — his daughter Ivanka and son-in-law Jared Kushner — just wrapped up a busy week of mingling with billionaires and business titans at the annual Sun Valley conference in Sun Valley, Idaho.
The annual summer gathering, organized by Manhattan-based investment bank Allen & Co., is often referred to as "summer camp for billionaires." The event attracts America's most influential political, media, business, and tech leaders to come together and interact — as well as do things like, golf, bike, and white-water raft.
The presence of Ivanka Trump and her husband Jared Kushner at the conference was surprising for a few reasons. Among them is that the couple decided to head to Idaho during the same week that a scandal developed following reports of Donald Trump Jr. and Kushner meeting with a Russian lawyer last summer who purportedly had damaging information about Hillary Clinton, then the Democratic candidate for president.
As the controversy swirled, Kushner and Ivanka Trump were hobnobbing with the elite in Sun Valley over the course of several days. Among the confirmed attendees:
Amazon CEO Jeff Bezos
Apple CEO Tim Cook
Facebook COO Sheryl Sandberg
21st Century Fox Chairman Rupert Murdoch and his son Lachlan
Microsoft CEO Satya Nadella
CBS Corp. CEO Les Moonves
NFL Commissioner Roger Goodell
LinkedIn CEO Reid Hoffman
Twitter Chairman and former Google executive Omid Kordestani
Twitter COO Anthony Noto
Former CEO and co-founder of Yahoo! Jerry Yang
Former DreamWorks CEO and Disney Chairman Jeffrey Katzenberg
Fashion designer Diane von Furstenberg, with her husband, IAC's Chairman Barry Diller
CIA director Mike Pompeo and former CIA director George Tenet
Variety reported that Kushner and Trump tried to keep a low profile during the conference, while attending panels on Middle East peace and race relations, among other subjects.
The discussions that take place at the conference often cover politics, and some of the titans of industry were quite open with their opinions this year. CNBC scored interviews with multiple attendees. In one, Barry Diller called Donald Trump's presidency a "joke."
"Hopefully it will be over relatively soon," Diller added.
On other other hand, CBS CEO Les Moonves remained cautiously optimistic regarding the Trump agenda.
"There's deregulation obviously. There's talk of tax reform. There's a lot of big business things that are on the table that would help businesses," Moonves told CNBC. "Whether they come to fruition, we don't know."
CNBC also revealed details about a new group being put together by LinkedIn's Hoffman and Mark Pincus, founder of Zynga, to aid Democrats.
"We have an underlying ethos that is pro-social, pro-planet and pro-jobs," said Pincus. "We want to reach out to everybody who feels like the bar is too high for them to actually have any impact in the voice and choice. ... We want to make it easier for people to get involved upstream much earlier."