This Is the Last Blockbuster in the U.S. Meet the People Keeping the Rental Store Alive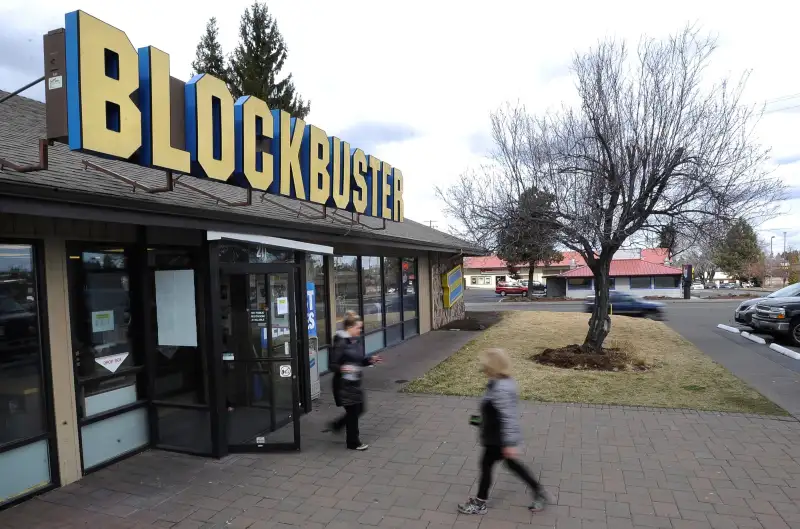 Ryan Brennecke/The Bulletin—AP
The Last Blockbuster On Earth sits inconspicuously next to a Papa Murphy's Pizza in a strip mall on the busiest street in the high desert town of Bend, Ore., where the summer smell of sagebrush wafts through the air. It was only on Friday that this particular Blockbuster became the last Blockbuster in the world, because news broke from Alaska that two of the only other locations still in business would rent their last videos today, Monday July 16. This news rocketed around the internet and carried this little video store to instant international fame.
First came the local TV news trucks. Then the calls, from CNN and Good Morning America. Customers who'd forgotten they still had a Blockbuster drove to the store in the blistering heat to pose for selfies with their families. Overnight, a video store had become an icon, the last freestanding symbol of a '90s staple.
But not quite the end. Not yet.
This Blockbuster has outlasted the rest, say its customers and its cheerful staff, because it's close to a historic neighborhood in a town full of retirees who have little interest in joining the streaming revolution that has all but killed the brick-and-mortar video rental business. There are still people in America, and especially in this town, who enjoy the experience of strolling into the video store on a Friday night, while the pizza they just ordered next door is roasting in an oven, and wandering the aisles aimlessly, waiting for inspiration not from Rotten Tomatoes or a Netflix algorithm but from a nostalgic title from 20 years ago, or the way a movie poster looks, or the recommendation of one of the well-versed clerks inside.
Streaming services like Netflix and HBO Go may have "convenience" on their side (unless the Wifi craps out) but do they have a shelf of staff picks, from Dan, Zak and Samantha? Can the internet make popcorn, freshly bagged from a local purveyor? Are there Red Vines and Hot Tamales in cyberspace?
No, no, and not unless you're willing to wait a few days. Which is why Blockbuster's last location wasn't just hopping from its newfound fame on Friday. It's always busy on a weekend here, especially in the dead of winter, when an impending snowstorm provokes the savvy cinephile to hit Blockbuster and stock up before the first flakes fall.
Katrina Ross hits the store every payday, she says, to "pick up on binge watching at home." Ross has no satellite TV, just the standard channels, and she likes to hold out for clearance sales and previously owned movies at Blockbuster, even if that means waiting years after a movie is first released. "I like getting a bargain," she says.
Sally Martin brought her six-year-old and seven-month-old daughters to the store on Friday to take their pictures in front of it, "because it's a historical landmark now," but she's been a Blockbuster devotee for 20 years. She finds the store more lenient with late fees than Redbox and with a selection that better appeals to her sense of nostalgia: her last couple of rentals were The Three Amigos, that classic 1986 slapstick where Steve Martin, Martin Short and Chevy unwittingly become bandito fighters in Mexico; and The Toy, a 1982 film in which Richard Pryor plays an underemployed reporter who is literally purchased as a toy by a spoiled rich kid. "I like to have that visual experience," Martin said. "We like to look."
As the Martins went in, 27-year-old Kaben Willis came out, carrying the new Spider-Man, Star Wars and one title he hadn't seen yet: a stoner flick released last year called Grow House. His decision to visit was political, in a way. "I'm tired of all the internet bullshit," said Willis, by which he means people don't interact with one another in real life as often as they once did. "It's nice to have a real feel."
Inside, among the rows of familiar and unfamiliar titles, Megan Pruss found herself engaged with her co-workers in an off-the-cuff review of John Krasinski's directorial debut, A Quiet Place. "Overall, I didn't feel the suspense," she says. "I wanted more from it, and I don't know what the more was but I just wanted it." Chimed in one of her co-workers: "All the best scenes were with Emily Blunt."
It's this kind of real-life banter that will cut to commercial once — if — the last Blockbuster goes the way of the VHS tape. General manager Sandi Harding says she has little doubt that customers come at least in part for the chance to get recommendations from movie buffs. "At home, you can't pick up the movie, hold it, read the back of that, have that experience in your hand," she says. "I think that's what's missing."
Harding has worked here for 14 years, stepping straight into a manager role at a now-closed location on the west side of town. She started in Blockbuster's heyday, when the company had 9,000 locations, and when complaints about ballooning late fees led to an experiment that was destined to fail: no more penalties.
"For some people, it was wonderful," Harding said. "But we'd have customers who kept their movies the full 30 days (before the company would assess the full price of the movie) and then there were no more movies on the shelf."
In the years that followed, Harding says, she felt like Blockbuster executives "were always chasing their tail," citing the company's slow response to the 1997 founding of Netflix and its home delivery service. Blockbuster eventually added a home delivery option too but the company's market share of the video rental business steadily dwindled, from around 75 percent to nothing. In 2010, Blockbuster declared bankruptcy and sold its remaining 1,700 stores to Dish Network. By last year, there were only 10 stores left in the U.S., and despite Last Week Tonight host John Oliver's valiant attempt to save one of the Alaska locations by sending a leather jockstrap Russell Crowe wore in the 2005 film Cinderella Man, those stores closed, too. "It just seemed like they weren't ready for change," Harding says.
In Bend, change apparently isn't necessary. Snow days mean school closures and people having trouble getting to work, Harding says, but when the store opens at 10:30, "there's always a line of people at the door."
The Bend Blockbuster is a family business of sorts. Harding's son, Ryan, is also a manager here, and he says he's been helping out at the store since he was three years old. "I did the drop box," Ryan says proudly. "My cousin was a manager here, my other cousin worked here. We have Blockbuster barbecues."
Ryan Harding's staff picks are Alpha Dog, the 2006 movie about a kidnapping plot that launched Justin Timberlake's illustrious career in film, and Boondock Saints. Sandi's sleeper hit is the 2001 thriller Frailty.
Outside the store, Ross said she tried online streaming but found it "glitchy." She can't stand the commercials on regular television. "You've got like nine pharmaceutical pills they're trying to sell you," she says. "My family likes to watch uninterrupted."