The Last Day to Buy I Bonds With 6.89% Interest Is Almost Here
Money is not a client of any investment adviser featured on this page. The information provided on this page is for educational purposes only and is not intended as investment advice. Money does not offer advisory services.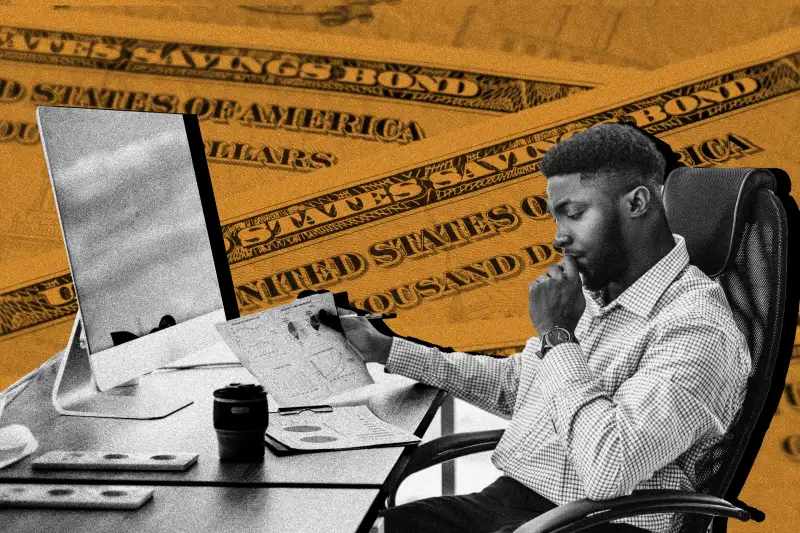 Eddie Lee / Money; Getty Images
Time is running out to buy I bonds with 6.89% interest before that rate is expected to drop next month.
The deadline to lock in the current rate is Thursday before midnight Eastern Daylight Time, the U.S. Department of the Treasury, which issues the government savings bonds, tells Money.
Normally, I bonds are issued until the last day of the month, but that date falls on a Sunday, pushing up the effective date to Friday (April 28). And to ensure the bonds are issued by that date, purchases must be placed by the end of the day on Thursday.

On May 1, the Treasury Department will announce new I bond rates, as it does every six months based on recent inflation trends. Because inflation has been cooling lately, I bond experts are expecting the interest to be lower than it is now, possibly falling below 4% — a far cry from its peak of 9.62% notched last May.
Still, I bonds remain an attractive long-term investment for people looking for a safe hedge against inflation.
"Having that inflation protection is a good thing for conservative investors," Randall Watsek, a financial advisor at Raymond James, recently told Money.
What will the new I bonds rate be?
Estimates are pegging the new interest rate for I bonds purchased between May and November to be approximately 3.8%. Projections made this close to the Treasury Department's announcement tend to be extremely accurate, usually varying by only a few tenths of a percentage point.

According to David Enna, the founder of the financial site TIPSwatch.com who's been tracking inflation-protected securities for more than a decade, we're smack in the middle of a "magical two-week period where we can make a somewhat informed decision" about I bonds.
The roughly two-week period he's referencing is between April 12 — when the latest inflation report from the Labor Department was released — and Thursday the deadline to buy I bonds at their current rate.
Because I bonds are meant to hedge against inflation, the Treasury Department uses inflation data when setting new I bond rates. The overall I bond interest rate is comprised of two separate rates. One, called the variable rate, is based on the prior six months of inflation. In this case, that's between October 2022 and this past March.
With all six months of inflation data released, we know the new variable I bond rate will be 3.38% starting in May. This is not an estimate or prediction — rather, it's a calculation using the exact formula the Treasury Department does. (That also means the new interest rate for I bonds in May will be at least 3.38%.)
How the other rate, the fixed rate, is determined is more of a black box. Also announced every six months, the fixed rate of an I bond is locked in at the date of purchase and never changes over the 30-year life of the bond while the variable rate continues to change every six months based on inflation.
A combination of these two rates is how I bonds protect against inflation.
The current fixed rate is 0.4%. Historically, it has ranged from 0% to 3.6%. Since 2008, it has lingered below 1%. Come May, assuming the fixed rate will stay about the same, the combined interest rate for I bonds is expected to be approximately 3.8%.
Enna predicts the fixed rate could increase, possibly to 0.6%, pushing the combined I bond interest rate just above 4%. Of course, it's possible the fixed rate could go down, too.
I bonds: To buy or not to buy?
Folks who buy I bonds during this "magical two-week period" before the new rates are announced have the benefit of predicting their annual return. According to Ken Tumin, founder of the rate-tracking site DepositAccounts.com, I bonds purchased by the end of this month will have a 12-month return of 5.34%.
However, I bonds have withdrawal caveats.
You can't cash them out within one year (emergency notwithstanding). And if you cash them out within five years, they lose the final three months interest as a penalty. Other potential downsides include a $10,000 digital purchase limit and the fact that digital bonds must be bought on the notoriously clunky TreasuryDirect.gov site. (It's also too late to buy an additional $5,000 worth of paper I bonds, which must be purchased with your tax refund.)
With the penalty in mind, Tumin also calculated the return, including the loss of interest, for folks who want to buy I bonds by the end of the month and cash them out ASAP in April 2024: 4.79%.
As inflation abates and the interest rates rise for certificates of deposit (CDs) and high-yield savings accounts, I bonds now have competition. Some money market accounts and treasury bills also have APYs around 5%. But it's not clear how long those high rates will last.
More from Money:
Gold Prices Are Climbing. Should You Invest?
Want to Make Money in the Stock Market? Try Doing Nothing
A 'Credit Crunch' Is Looming. Here's How It Could Affect Your Wallet