12 Last-Minute Valentine's Day Gifts You Can Still Order Now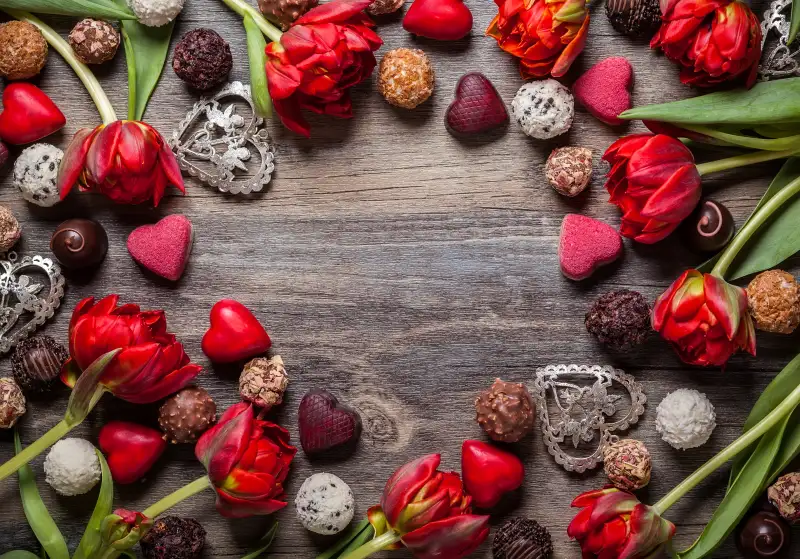 Sarsmis—Getty Images/iStockphoto
Valentine's Day is one of those holidays that can kind of sneak up on you, especially when it falls on a workday, as it does this year. But don't worry, procrastinators: We love you, too, and we've got you covered with a roundup of the best gifts you can still get delivered to your sweetheart by the 14th.
All of the gifts below are available for one-day delivery, and several come with same-day delivery in select markets. Some of these ideas even include a few special deals and coupon codes, so that last-minute Valentine's Day gifts don't have to be super expensive.
Courtesy of 1-800-Flowers.com
A dozen bright pink long-stemmed roses mingle with pale pink lilies in a coordinating pink vase in this elegant arrangement. If you like to live dangerously, 1800Flowers.com has a whole selection of beautiful bouquets available for same-day delivery, too.
Another option for last-minute flower-seekers is Teleflora, which has lovely options like this profusion of red and pink long-stemmed roses accented with just enough tasteful greenery.
Courtesy of The Bouqs Co.
The Bouqs Co. also has a plethora of options, even for last-minute shoppers. If your intended recipient likes a more organic look (i.e. if they have a wedding Pinterest board full of candles in Mason jars, fairy lights, and wildflowers), this is your go-to: A fresh-picked mix of bright blooms and soft greenery, selected and arranged by a local floral expert.
With fun offerings like champagne gummy bears and almonds with a "martini olives" sugar coating, Sugarfina's sophisticated confections elevate your typical Valentine's Day candy in a major way. This mix-and-match combo lets you choose from a dozen cubes of fanciful treats. Better yet: This kit or any purchase over $50 makes you eligible to get a free XOXO two-part candy bento box, using the code XOXO (through Feb. 14 only).
You might not think of Amazon as a resource for flowers, but since you can buy pretty much anything on Amazon, it makes sense that flowers would be on that list, too. You can't go wrong with a classic: This bestselling bouquet of two dozen gorgeous red roses in a clear vase from Benchmark Bouquets is eligible for Amazon Prime shipping, and a giant bargain, to boot.
The teeny heart print on this gray pocket square is just subtle enough, and there's a matching tie if he likes to coordinate. What if your guy is not the warm-and-fuzzy type? Fine — here's a version of that pocket square with an equally diminutive skull-and-crossbones print.
This kit of mini-sized skin goodies from a cult favorite beauty brand take its inspiration, fragrance and serious skin-softening power from roses in full bloom. Your lucky recipient gets face toner, moisturizer, a jelly-like rose mask, and Fresh's perennial classic Sugar tinted lip balm.
A rose-gold hue puts a V-day spin on Vans' classic slip-ons — the perfect last-minute gift for a nontraditional gal (or guy!). Members of Zappos' rewards program at the entry Silver level can get free two-day shipping, while people at Gold level and up can get free one-day shipping.
Give your guy the gift of a close shave; this Prime-eligible kit includes a safety razor with five blades, shave soap and genuine badger-hair brush, a stainless steel shaving bowl, and alum block.
Here's all the delish: Mouth's curated roundup of artisan-produced snacks includes salted caramel popcorn, a chocolate lollipop, and even small-batch chocolate-dipped animal crackers. Even better: Take 15% off this kit with the code LITTLELUVIN through Feb. 13. (If you decide that you're going to be your own valentine this year and order one for yourself, we won't tell.)
We can't even. This adorable stuffed Pusheen the Cat holding a pink frosted donut in its fuzzy paws is the cutest Valentine's Day gift you'll find anywhere.
This designer tote in classic black, embossed vegan leather winks at Valentine's Day without being too cutesy to use the other 364 days of the year. Better yet, it's 30% off right now, and if you're a Silver member of Zappos' rewards program, you can get free two-day shipping. Gold members and higher can get free one-day shipping. Between the two, you'll save enough that you can spring for that bouquet, too.
We've included affiliate links into this article. Click here to learn what those are.