Can Consumers Lock In Low Gas Prices for the Future?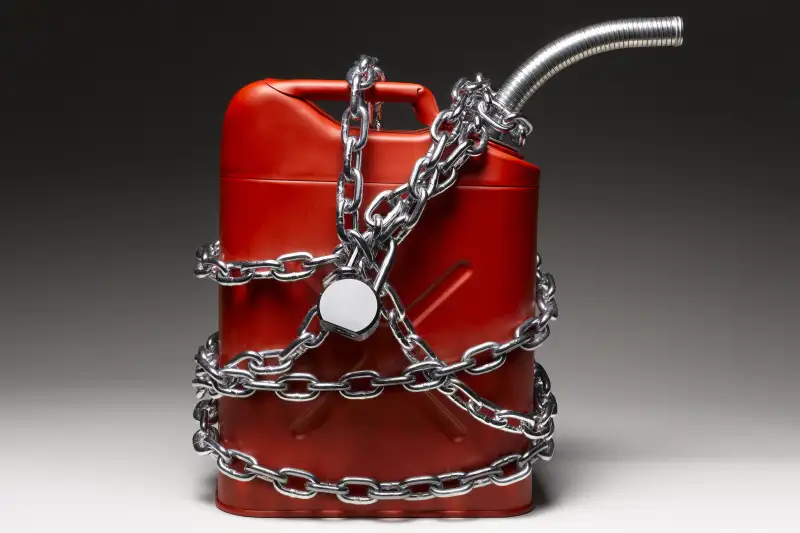 Jeffrey Coolidge—Getty Images
Another day, another drop in oil prices. Reuters reports Brent crude hit a near six-year low on Tuesday, and prices at the pump have been been falling at a cent-per-day pace.
Cheaper fuel is obviously amazing news for drivers. AAA estimates low gas prices will save the average American family $550 on gasoline costs this year. That's nice and all, but what about next year? Is it possible to somehow lock in current gas prices for the long term? At Money, we set out to answer that very question.
The obvious move when a commodity suddenly tumbles in price is to stock up now. But with gasoline, that's not really an option. Sure, it's possible—Slate has a 2008 guide to doing so (they thought $3.87 a gallon was cheap!)—but experts don't exactly see hoarding fuel as a smart way to save some coin.
"Storing gasoline is not recommended, that's for certain," said Michael Green, a spokesman for AAA. "Gasoline only lasts a few months before it starts breaking down. That's not really going to work for you, and it could also have negative safety consequences." Plus, depending on your local fire code, it's probably illegal to store more than few gallons anyway.
Another option, for those not looking to explode, is to use a service that offers the ability to buy gas at current prices and then "cash in" those gallons when prices rise.
That's the major selling point of First Fuel Bank, a family-run business operating out of St. Cloud, Minn. Customers with a prepaid "locked account"—lifetime membership costs $1—can buy gallons at a fixed price and then receive that gas any time in the future when they stop by a First Fuel Bank station.
Right now, the bank is selling a price-locked gallon of unleaded for $2.959, about a dollar above Minnesota's market rate, but well below prices just a few months back.
Despite the premium, First Fuel Bank President Jim Feneis says consumers are rushing to stock up for the future. "We're seeing a whole new resurgence of people locking the price," he told Money.
Feneis's company has only five locations, all in and around St. Cloud, but MyGallons.com offers the rest of country a similar service by letting consumers purchase a set amount of gallons over the internet at current prices. When prices go up, members can cash in their gallons, and have their earnings loaded onto a debit card or deposited into their bank account..
Like First Fuel Bank, MyGallons charges a premium for the promise of a fixed price. When membership and fees are taken into account, $2 gas turns into $2.39 per gallon—assuming a 150-gallon purchase.
Hedging against future costs certainly sounds attractive, but experts warn that products like MyGallons are essentially a more consumer-friendly way to trade futures and carry the same risks as any investment.
"It's a gamble," said Allison Mac, a petroleum analyst with GasBuddy.com, a site that tracks fuel prices in the U.S. and Canada. Mac warns the current price drop is primarily the result of decisions by OPEC, a cartel of petroleum exporting countries, and it's difficult to predict the group's future actions. Should prices stay low, a bet on higher prices in the future could turn out to be a costly mistake. "You just have to do the math in your head whether it's worth it," she said.
Green is equally skeptical. "We've seen gas prices drop about 40% since June," he said. "If you had bought gas in June because you were concerned about what's happening, you would have lost money."
And as AAA's Green points out, trying to beat the market on commodities can be just as foolish as trying to pick stocks. "Even people who trade on this every day can lose money," he observed. "The average person is probably not going to be an expert on this."