Unions Say It's OK for Businesses to Sidestep the L.A. Minimum Wage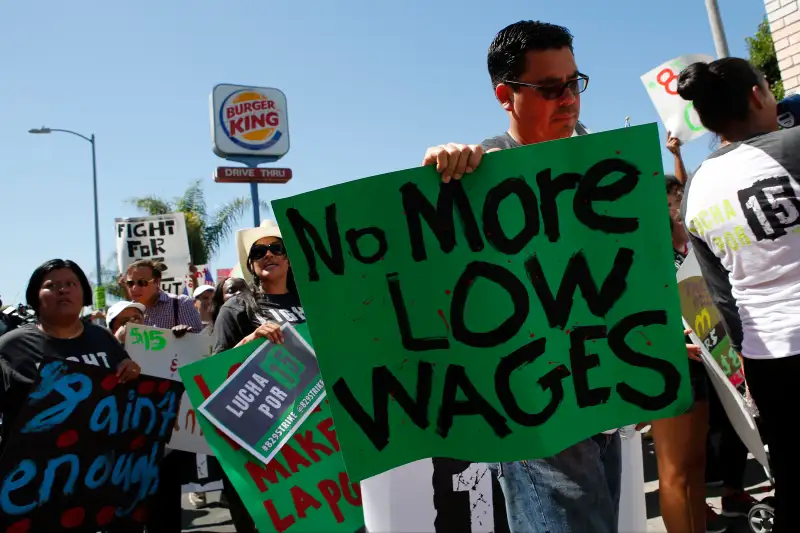 Earlier this month, the Los Angeles City Council voted in favor a new law that would increase the city's minimum wage from $9 to $15 an hour by the year 2020. Yet the Los Angeles Times reports that labor officials, who until now have been strong supporters of the wage hike, are asking for a last-minute change that would allow unions the freedom to collectively bargain for wages that are lower than the minimum.
"With a collective bargaining agreement, a business owner and the employees negotiate an agreement that works for them both," Rusty Hicks, head of the Los Angeles County Federation of Labor, said in a statement. "This provision gives the parties the option, the freedom, to negotiate that agreement. And that is a good thing."
Some business leaders suspect the sudden about face by the organization, which represents over 300 unions in the L.A. area, might be a tactic to increase membership and enhance the power of organized labor. Ruben Gonzalez, a senior vice president with the Los Angeles Area Chamber of Commerce, which opposed the wage legislation, told the Times he believes labor leaders are hoping to use this exception to pressure companies into unionizing, thereby allowing them to avoid minimum wage rules.
The city council's Economic Development Committee is scheduled this Friday to review an ordinance enacting the new minimum wage law.