Lululemon: Still a Downward Dog
Money is not a client of any investment adviser featured on this page. The information provided on this page is for educational purposes only and is not intended as investment advice. Money does not offer advisory services.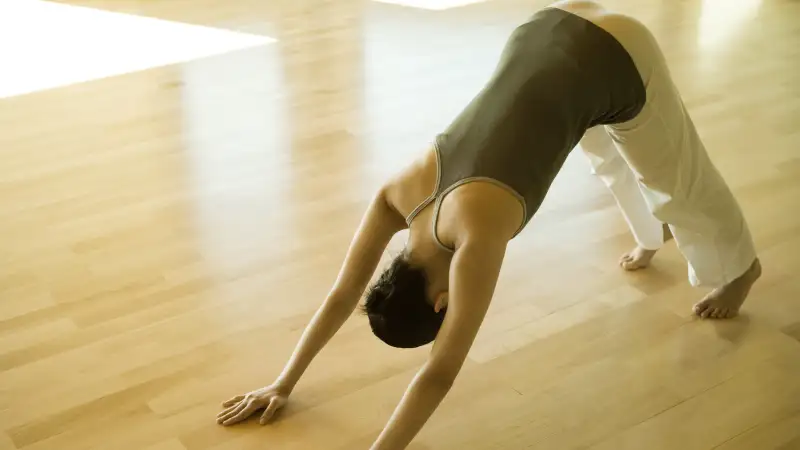 Striking the most ubiquitous of all yoga poses—that classic inverse V—is supposed to relieve your body of stress, thereby boosting your energy.
Alas, Lululemon Athletica shares have been in a downward-dog of a spiral for nearly a year, having lost more than 50% of their value. Yet the company's earnings report Thursday morning shows that this once-hot retailer is still stressed and in desperate need of rejuvenation.
After announcing quarterly profits of just 13 cents a share—down from 32 cents in the same period a year ago—shares of the yoga-wear maker sank more than 15% in early Thursday trading. At the same time, Lululemon announced that chief financial officer John Currie was retiring and lowered its earnings guidance for the rest of the year.
Here was Morningstar analyst Jaime Katz's initial reaction Thursday:
Lululemon joins a long list of retailers — such as Abercrombie & Fitch — that have lost momentum by shooting themselves in the foot. In Lululemon's case, the company—whose stock soared 2,600% from March 2009 through May 2013—was forced to recall some of its stretchy yoga pants because they were too sheer. The company exacerbated the problem, though, later in the year when its co-founder and then-chairman Chip Wilson seemed to lay blame for those pants on some customers.
"Frankly," he said in an interview last year with Bloomberg TV, "some women's bodies just don't actually work" for the yoga pants. In other words, it's your fault, not ours.
Ouch. The comments came on the heels of another famous retail gaffe, when Abercrombie & Fitch CEO Mike Jeffries publicly implied that he only wanted thin, beautiful people in his stores and wearing his company's clothes.
For Lululemon, as was the case for Abercrombie, the ensuing media storm seemed to stunt the company's momentum. And once lost, company officials are finding it hard to regain.
Here are four reasons why Lululemon may be stuck in this downward pose for a bit longer:
1) Timing is everything.
Not only did Wilson's comments hurt, they coincided with a general downturn in the broader retail sector, compounding the company's challenges. So far this year, for instance, specialty retailers in the S&P 500 are down about 6%, even though the broad market itself is up year to date. For its part, Lululemon shares are down about 36% since the start of January.
2) Focus is essential.
And right now, the company is still fighting yesterday's war with Wilson. Though he stepped down as non-executive chairman, Wilson remains the company's largest shareholder. Earlier this week, Wilson refocused attention back on the controversy by picking a fight with the board. Specifically, he criticized the new chairman and a new board member, accusing them of short-sighted thinking. He also publicly revealed that he cast votes against them in the board elections.
This is precisely the type of attention that recently named CEO Laurent Potdevin does not want, as he tries to refocus the company's attention on getting its fashion and product mix right. As he put in the press: "Our parents are arguing and it's awkward."
Adds Morningstar's Katz: "While we believe this is just unnecessary noise distracting the board from doing its job, it's concerning that a 27% shareholder has dug his heels in on renominating two of the three directors up for election this year and has taken issue with the leadership."
3) Price matters.
Despite the huge plunge the stock has taken, Lululemon shares are actually still on the expensive side. The stock trades at a price/earnings ratio, based on estimated profits over the next 12 months, of around 22. That's down from 25 at the start of the year, but relative to other "specialty retailers," that's still pricey. For instance, the average specialty retailer's P/E based on estimated earnings is 17.
In a research note, J.P. Morgan analyst Brian Tunick said that, with its relative high P/E and "short interest on the rise, investor sentiment on Lululemon remains low."
4) Competition is fierce.
Katz points out that the athletic apparel market remains highly competitive, "with new entrants offering merchandise that is equally compelling," she said. Unfortunately, the competition includes deep-pocketed marketing machines like Nike, Adidas, Puma, Asics, Under Armour, Athleta, and China's Li Ning, as well as a bevy of smaller niche players like PURE Yoga, Lucy, and Sweaty Betty.
If Lululemon doesn't get its act together, consumers will simply take their yoga mats elsewhere.