Meet Victoria Swarovski, the 24-Year-Old Heiress to the Crystal Throne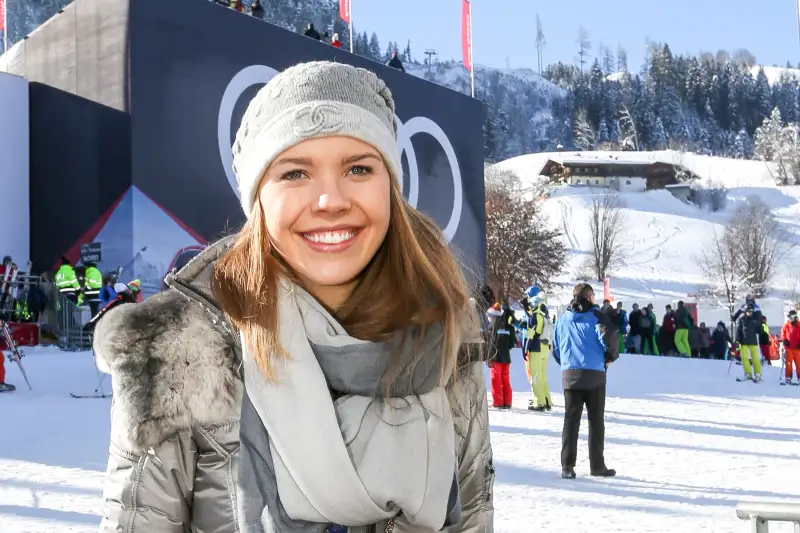 Jan Hetfleisch—Getty Images
Perhaps no name in the world instantly conjures luxury and elegance faster than Swarovski.
So when you're actually in the Swarovski family, there's an expectation that you'd enjoy the high life.
Victoria Swarovski is doing just that.
The 24-year-old heiress and entertainment figure is set to take over as host of Let's Dance, Germany's version of Dancing With The Stars, this spring. Here's what her fabulous life is like.
A Singing Career That Started at Age 15
Rolf Vennenbernd—picture-alliance/dpa/AP Images
Despite her family's wealth, Victoria says that her parents taught her the importance of hard work at an early age.
"My mother and father taught me how to be normal and stable and always told me it all could be gone in a second, which is why I started my own career," she recently told BBC.
At age 15, she signed to Sony Records and recorded a song for the German-language release of The Chronicles of Narnia: The Voyage of the Dawn Treader.
At first, she says she felt self-conscious about using her last name, choosing to go by "Victoria S."
"Just the [Swarovski] name—people have said, 'Oh that rich little girl, why is she doing this, she's not even talented' and that made it even harder for me to show I am," she told the BBC.
Eventually, she started using her family's name. In 2014, she appeared as Victoria Swarovski in a music video with a famous German rapper that now has nearly 4 million YouTube views.
Her true breakout came in 2016, when she became a judge on Das Supertalent, Germany's version of America's Got Talent, and was a contestant on Let's Dance. She ended up winning the latter, and garnered such a huge response that she was chosen as next season's new host.
A Wedding Fit for the Tabloids
Chris Singer/CUEX GmbH—Getty Images
Victoria got married last summer to Werner Mürz, a fellow Austrian who works in real estate. The couple met through their fathers and had been dating for years.
For the wedding, Victoria wore a dress from Dubai-based designer Michael Cinco, who's also created dresses for Jennifer Lopez, Beyoncé, and Lady Gaga. The estimated price of the dress: nearly $1 million, per Daily Mail. It featured half a million Swarovski crystals and weighed 106 pounds—just 15 pounds lighter than what Victoria weighed at the time, she told the BBC. Together with the veil and train, the dress measured 26 feet long.
To get the dress to the wedding venue in Italy, Victoria had to take a bus with all the seats taken out.
"The whole room was filled with the dress," Victoria recounted to the BBC. "My mother said 'Victoria, you can't go in a normal car', and my father hears that from the side and is like 'Are you nuts? Sure she can go in a normal car' and she says 'you haven't seen the dress yet'.
"So he went up to see the dress and was like, 'Now I know what you mean.'"
She also wore Jimmy Choo heels with her initials engraved on them (for comparison: Jimmy Choo heels retail for as much as $2,000).
The wedding was attended by 250 guests, which included prominent Germans, Austrians, and Middle Easterners. The wedding received international coverage: People covered the dress, and the Daily Mail gave the ceremony a full spread.
Globetrotter and Designer
Today, Victoria splits her time between Berlin and seemingly the rest of the world. She told the BBC that she frequently ends up in London, where she says that, among other things, the shopping is better. She also continues to record at Abbey Road Studios, the venue the Beatles made famous.
Her Instagram feed suggests she is an unabashed globetrotter. She can be seen here in Paris...
Los Angeles...
the island of Nevis...
...and even at last year's Super Bowl in Houston.
Victoria has also tried her hand at fashion, designing a modern version of the traditional Bavarian dirndl dress.
Today she is also a brand ambassador for the Oetker Collection of luxury hotels.
The Family Jewels
Victoria is a fifth-generation Swarovski. The family business was founded in 1895 by Daniel Swarovski, a native of the Bohemia region in present-day Czech Republic. Today, the Austrian Alpine town of Wettens remains the company's headquarters, and Victoria grew up nearby.
Swarovski remains a family-owned business—as of 2012, there were 79 family shareholders according to the New York Times. The company brought in $4.2 billion in 2017 and remains privately held.