All the Ways Meryl Streep Makes and Spends Her Millions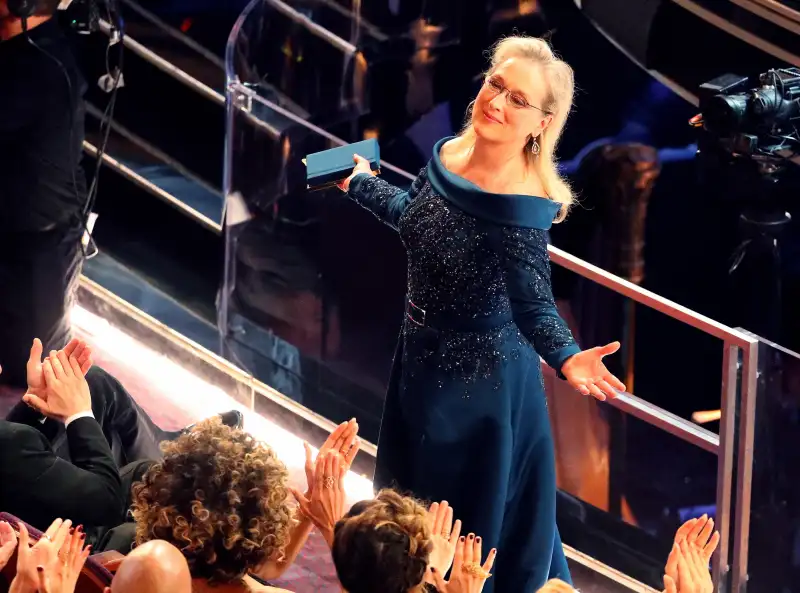 Meryl Streep is one of the most well-known and acclaimed actors in the world. As proof, she scored her 21st Oscar nomination in 2018 for her lead role in Steven Spielberg's journalism thriller The Post—breaking her own record for the most acting nominations ever.
With an estimated net worth of $90 million, Streep has certainly cashed in on her high profile and talents. But it wasn't always easy going over the years. Here's how the 68-year-old actress got to where she is, and how she spends her money.
Seven-figure acting salaries
Bob Vergara—Tri Star Pictures
When you've made it to Hollywood's A-list, you can earn paychecks for projects that might leave some viewers scratching their heads. Streep reportedly brought in $5 million for her starring role in Ricki and the Flash, which had middling returns at the box office. Kevin Kline in a supporting part in the same movie, meanwhile, only got $350,000. While not all of Streep's salaries are publicly known, major stars can earn as much as about $20 million per movie. And even on the small screen, she's getting rich. She'll reportedly earn a staggering $825,000 per episode for J.J. Abrams' miniseries adaptation of the novel The Nix, which would make her one of the highest-paid people on TV.
How she learned to negotiate
Barry Wetcher—Twentieth Century Fox
In show business, as in any industry, it helps to know what you're worth—and fight for it. Streep has revealed she learned this lesson over time. She said that she was disappointed by the initial salary offering for 2006's The Devil Wears Prada (for which she scored yet another Oscar nod). "The offer was to my mind slightly, if not insulting, not perhaps reflective of my actual value to the project," she said.
Despite decades of prominent work and Oscar nominations since The Deer Hunter (1978), Streep had avoided salary negotiation throughout her career. But at 55, she changed course. "There was my 'goodbye moment,' and then they doubled the offer," she said. "I had just learned, at a very late date, how to deal on my own behalf." The Devil Wears Prada ended up being one of her biggest hits, taking in over $300 million worldwide at the box office.
Advertising and endorsement deals
In addition to salaries for projects and in some cases backend deals that give them a cut of profits, actors generally make money using their fame on the side. While Streep may not appear in as many product ads as some of her Hollywood peers these days, she's no stranger to the game. She did an American Express ad in the 1990s, which caused a minor controversy in the press concerning her motives for the endorsement. She defended the ad, saying, "My family and I have very confidently used the services [American Express] provides for years and years." That experience is perhaps why she hasn't been as quick to accept such deals since.
Philanthropy
Streep has been quietly giving away quite a lot of money for a while. She and her husband Don Gummer don't take any salary for their charity, the Silver Mountain Foundation, which has donated millions, including to Vassar College, Oxfam America, New York's Meals on Wheels, the Coalition for the Homeless, and the National Women's History Museum. In 2012, she wrote two checks for $10,000 each to educational organizations in Rhode Island with which fellow actress Viola Davis is involved.
Real estate
Streep's taste in homes has never been ostentatious. In fact, she and Gummer have made a habit of buying real estate at a relative value. Last year, they paid $3.6 million for a midcentury modern home in the foothills of Pasadena, California. They purchased the 3,087-square-foot, three-bedroom home for about half a million less than its $4.125 million asking price. It initially went on the market in 2016 at $4.75 million, and it's reportedly the first time the home, built in 1959, has changed ownership in nearly 50 years. Sitting on about two acres, the property includes a winding driveway surrounded by foliage.
Prior to that, in 2013, Streep and Gummer bought the Honnold & Rex Research House in Hollywood Hills West for $4.5 million; the original asking price for that home was $6 million. Just a year later, they made a nice sum off it by selling it to baseball star Alex Rodriguez for $4.8 million. So Streep has clearly learned the art of negotiation.