'Moneyball' Author Michael Lewis: How I Knew When to Quit a Fancy Wall Street Job to Follow My Dream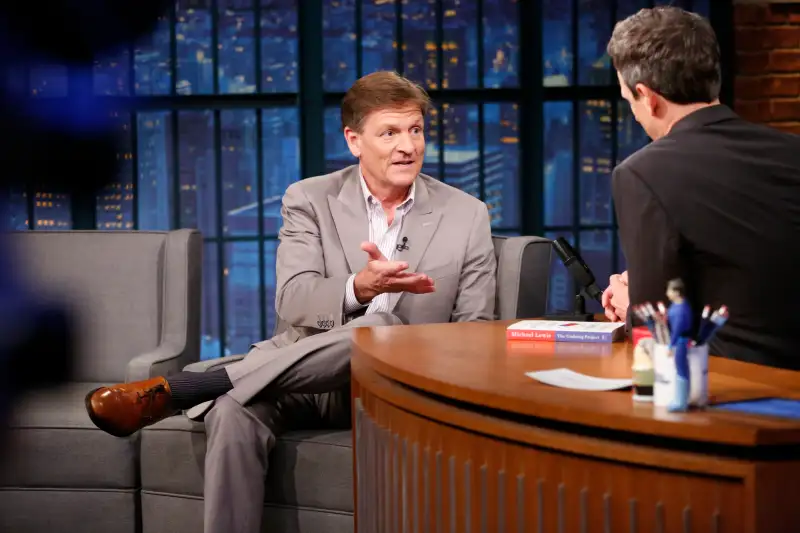 Lloyd Bishop/NBC—NBCU Photo Bank via Getty Images
As told by Michael Lewis to Mike Lewis, in Mike's new book WHEN TO JUMP: When the Job You Have Isn't the Life You Want
I tell my seven-year-old all the time: "Allow yourself to be lucky." When I was his age, I used to think, "I'm so lucky that if I just look around, I can find money on the ground." And I often did. Because grown-ups drop it everywhere. It's in seats, on the sidewalk, everywhere. It's amazing what you can find if you're looking for it. Sometimes I'll tell my son, "Let's just go find valuable stuff." And you wouldn't believe what we find. All you have to do is keep yourself in a frame of mind to be open to what's dealt to you.
To back up a bit, I grew up in New Orleans. There was not much of an orientation toward careers, certainly not for kids, and I didn't start thinking about college until I was in my junior year of high school. At that time, my ambitions amounted to getting up every morning, going to school, playing baseball, and when I graduated, going to Princeton. Nothing beyond that. I thought that once I got in I was done, that I didn't have to do anything else, so I didn't think much about what happened after.
I majored in art history because I liked it. There weren't really career tracks at Princeton. I mean, if you wanted to be an engineer, you majored in engineering. And there was premed, of course. Neither of those interested me. So the only implicit career choice I made was not following all the people who majored in economics because it could possibly get you a job on Wall Street.
Junior year, I started getting involved in my thesis composition. Princeton's senior thesis is a really big deal. Your whole senior year is basically organized around it, and it's a book. I think mine was forty thousand, maybe fifty thousand words. It was 130 pages, and it took forever. But the writing of it was what changed everything for me. I loved it. It transported me. I thought, "This is what I want to do."
At first, I thought that meant I wanted to be an art historian. But my thesis advisor told me that was crazy. There wouldn't be any jobs. Told me flat out that I just shouldn't do it. So it took me a little while, but I realized that what I wanted to do was write books. Actually, to be specific: I wanted to write senior theses.
But I didn't dive into writing full-time. I remember thinking that too many writers don't ever do anything else, so I should go have lots of adventures that would give me material. My first adventure was in finance, starting with a pass/fail class my senior year in the econ department that interested me enough to get a master's in economics. While getting my master's, I was at a dinner party sitting next to these women whose husbands ran Salomon Brothers International. I got along quite well with one of the women, and she made her husband hire me after the dinner. It was just about the best possible place to land on Wall Street at that moment. They were extremely successful, and I would have been crazy not to do it.
By the time I started at Salomon Brothers, I had begun writing and submitting unsolicited magazine articles on the side. They were rejected a lot. Eventually, I got a foot in the door at a few places, and they started publishing my work while I was still on Wall Street. Even though I was doing pretty well at Salomon Brothers, I knew that writing was what I wanted to do full-time and that getting published was my first step toward leaving.
I remember when I told my dad that I wanted to quit. I had just gotten my bonus, and it was big. I think it was something like $160,000. My salary was around $60,000 at the time, and I was twenty-seven. My dad thought I was crazy to walk away from that kind of money. He said, "Stay ten years and you won't have to work any longer. Then you can write your novels till you die." But when I looked around at the guys who were ten years older than me, I saw that none of them could leave. If I'd stayed, I would have been trapped by that success; the money would have gotten too big, and my life would've changed.
I also didn't have any kids then. Once you have children, it changes everything. It's not just your own life you're affecting. It's a family's life. I was really lucky in that regard. I didn't have any student debt, and I didn't have any other financial responsibilities, like taking care of sick parents or anything like that. So I didn't have to let money rule my decisions. Some people don't have that liberty. Quitting that job felt like going out on a tightrope, but with a really nice safety net underneath it.
The people at Salomon Brothers were actually charmingly indulgent of my literary ambitions, letting me write about Wall Street as long as I did it under a pseudonym. I used my mother's maiden name, and it was those pieces that got me my book contract. When I told my colleagues that I was quitting, they thought I was nuts. They were very sweet about it. They were concerned. They took me into a room and said, "You're sure you wanna do this? This is a mistake." I knew what I wanted to do and just thought to myself, "None of these people are qualified to tell me what to do with my life."
They thought I had a big future there because I had done well the first couple of years. But I knew a lot of my success was somewhat fluke-ish and that it would dry up the moment I was exposed as someone who was basically not interested. It's very hard to keep up with anything you're not really interested in. It was interesting for a little while, and then it got boring. Once it did, I seized the first opportunity to leap out of it.
Looking back, it seems like a giant risk to quit a job that paid me all kinds of money at Salomon for a fairly unknown future as a writer. But I knew I really wanted to do it. There wasn't a shred of doubt, and I was getting so sick of going to work there every morning. So it was not a terribly hard decision, and it didn't feel like that much of a risk.
When I left, I had scraped together enough writing to get a book contract, which meant that someone was publishing a book I'd written. I thought, "Hell, if someone publishes a book by me, I can make my way as a writer." I was twenty-seven when I quit my job and almost twenty-nine when the book came out. During that period, I did not feel like, "Oh, my God, if I don't make it here, if this doesn't succeed, I'm screwed." It was more like, "I'm doing exactly what I want to do, and I'll just figure out a way to make it work." I knew that as long as I allowed myself to be lucky, I would find some money on the ground.
Michael Lewis is a former finance professional, is the New York Times bestselling author of more than a dozen books including Liar's Poker, Moneyball, The Big Short, and The Undoing Project.
Excerpted from WHEN TO JUMP: If the Job You Have Isn't the Life You Want by Mike Lewis, published January 9th 2018 by Henry Holt and Company. Copyright © 2018 by Mike Lewis. All rights reserved.