Why I Sprang for a Roller-Coaster Derby With My Daughter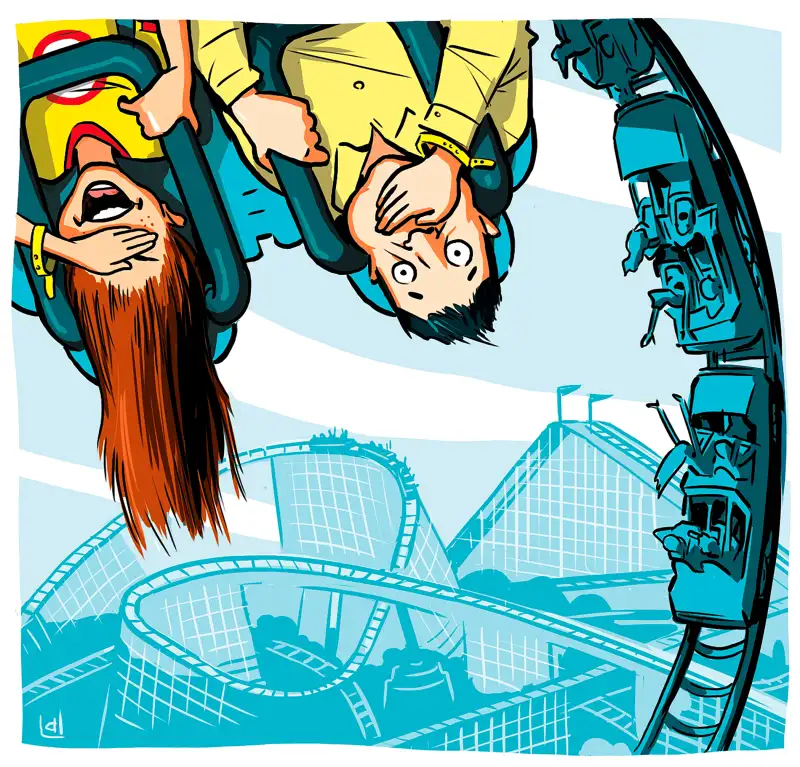 Illustration by Dave Urban
When our kids turn 16, my wife and I let them pick a two-day trip anywhere in the world—as long as one parent accompanies them. My oldest daughter's choice: to quench her thirst for roller coasters with Dad. (My stomach is a little stronger than my wife's.)
Thanks to my frequent business travel around the country, our trip would be incredibly cheap. I used my miles for the airline tickets, the hotel stay was gratis from points, and the rental car was no cost owing to my gold-status awards. I didn't even get charged for parking at the airport, thanks to a customer loyalty plan.
Then came the park tickets. I could have gone frugal here as well. Online specials would allow us access to the park for about $50 each.
But we had only one full day to play, and we chose Cedar Point in Ohio because it is home to more than a dozen coasters: wooden, steel, standing, upside down, and more. With two-hour lines for some rides, our roller-coaster binge could have easily been reduced to a bust.
So I researched and found that the park sold passes that let you skip the line at any ride. The catch: They cost $350 per person at the time. For a bargain-hunting, points-collecting guy like me, that price made me break out in a light sweat. But it was for my daughter on her sweet-16th birthday, so I forced myself to click the "purchase" button.
A pleasant summer morning greeted us at the park, along with the faint smell of fried foods and cotton candy. But we weren't there to eat. I survived—and my daughter adored—every one of our 30 coaster trips. We rode the best ones four or five times, which would never have been possible if we'd had to wait in every line.
When it was all over, I surrendered to one more unfrugal choice. Normally I don't let my kids purchase souvenirs, which end up in the junk drawer a few months after the vacation. Especially not the overpriced photos—$10 each!—snapped of your coaster-terrified face speeding by.
Not this time. I shelled out $80 for shots of us screaming and mugging. It was a small price to pay to help me hold on to one more carefree day with my daughter before she transforms into a young woman.
Rick Watson is a medical executive who lives in Frisco, Texas.
Do you have a purchase you consider Money Well Spent? Email us about it and what it means to you at wellspent@moneymail.com.