Monks: The Original Hipster Entrepreneurs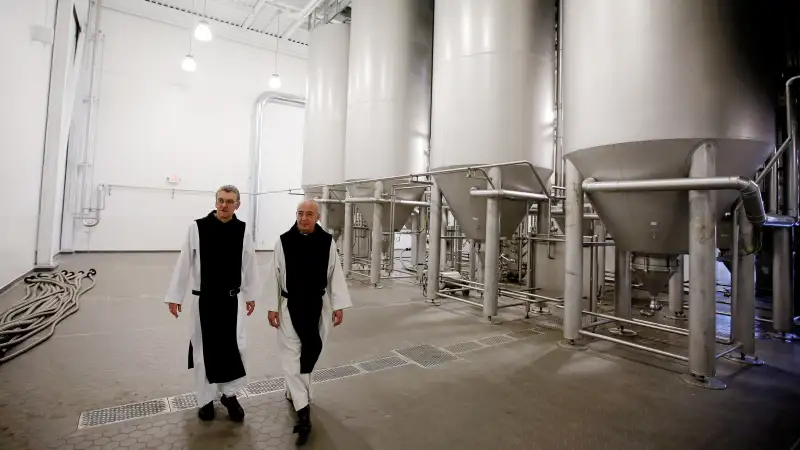 They have a strong disdain for corporate greed and take great pride in running independent operations focused on high-quality, small-batch products like handmade coffins, craft beer, and gourmet coffee. Many have beards, and they all dress alike. This description could apply to hipsters in Brooklyn or San Francisco's Mission District. Instead, we're talking about monks.
Monks dedicate their lives to prayer, simplicity, and good works. Yet the monasteries they live in aren't going to pay for themselves. Monks must make some money to cover their lifestyles, bare-bones and unflashy though they may be. What's the plan?
For the monks of St. Joseph's Abbey, a Cistercian (commonly known as Trappist) monastery in Spencer, Mass., the plan is to make beer. Inside the monastery grounds lies a 36,000 square-foot brewery—an award-winning one, no less—that produces thousands of barrels of Spencer Trappist Ale per year.
Strange as it may sound, St. Joseph's is far from the only monastery to have a significant artisanal side business. Keeping a religious community fed, clothed, and operational is costly, and it's common to find American monks running enterprises in a variety of industries.
In addition to monastic beer, there's also Mystic Monk Coffee, made by Carmelite monks in Wyoming; coffins, manufactured by monks from a different St. Joseph's Abbey in Louisiana; a greeting card business, run by the Benedictine monks of Conception Abbey in Missouri, and Mepkin Abbey in South Carolina, which sells high-quality dried mushrooms to fancy restaurants and local connoisseurs, just to name a few.
The thing about doing business as a monk is you generally can't operate like a regular corporation. The goal of your average company is to make as much money as possible, generally through expansion and destruction of competing players. But monks are theologically restricted from doing any of those things.
In fact, the International Trappist Association requires all official Trappist operations to follow a strict set of rules that place a harsh limit on revenue. All commercial production is to be under the direct control and operation of monks, and all income must be proportionate to the needs of the monastery and its charities.
That means if Spencer Trappist Ale started flying off the shelves, St. Joseph's couldn't manufacture more beer unless it first recruited a bunch of new monks to work at the brewery—monks are the only people allowed to oversee operations—and vastly expanded its charitable activities in proportion to the increase in revenue. Even if none of those restrictions existed, production would still be constrained by the monastic schedule, which significantly limits the workday.
The monks realizes this, and have already planned to cap the brewery's output at about 10,000 barrels a year. "If we can reach that goal, we should be able to provide most of the financial support to this monastery," says Father Isaac, St. Joseph's brewery director. Any expansion beyond that would be minuscule, and merely to keep up with the cost of living.
So how does one run the least capitalistic business in the world? Do what the hipsters in Williamsburg do. Sell a high-margin, high-quality artisanal product that doesn't compete with mainstream alternatives. Isaac notes St. Joseph's has changed businesses multiple times as big competitors moved in or their product became commoditized.
"Traditionally we were dairy farmers," he explains. "When dairy farmers morphed into agribusiness, we moved to another agricultural product and began a company that produced jams and jellies." Soon that field became too competitive as well. "We first looked at extending our jams and jellies operation" before moving on to ale, Isaac adds, "but we were a niche player in a saturated market."
For now, craft beer is the perfect business for St. Joseph's. It's a fast-growing market with huge demand for unique, premium beers like Spencer Trappist Ale. And by selling their beer at a higher price—a four-pack can cost as much as $16.99—the monks can avoid fighting with larger brewers who target a more mass-market audience.
Other monasteries have also found this kind of upscale artisanal space to be a sweet spot for business. A spokesperson for Mepkin Abbey, the mushroom farming monastery, says the abbey's monks are the only producers of oyster mushrooms in the area. The monks behind Mystic Monk Coffee can charge Starbucks-level prices because many coffee drinkers will pay more for boutique brands.
Some monasteries have taken a different route, essentially becoming gift shops for religious products that are often made elsewhere. A report on the monastic economy, released by the Assembly of Canonical Orthodox Bishops of North and Central America, shows 52% of U.S. Orthodox monasteries list the sale of religious items that are not produced by monastery as a primary source of income. (That number doesn't include candle sales, which are themselves a major money maker.)
St. Joseph's is happy to make money on merchandise as well. Anyone calling the abbey's phone line will quickly learn this monastery is open for business. "Dial 1 for for a directory by name," says a recording. "For the gift shop, dial 2."