National Ice Cream Day Is Sunday. Here Are 8 Kitchen Essentials for Ice Cream Fanatics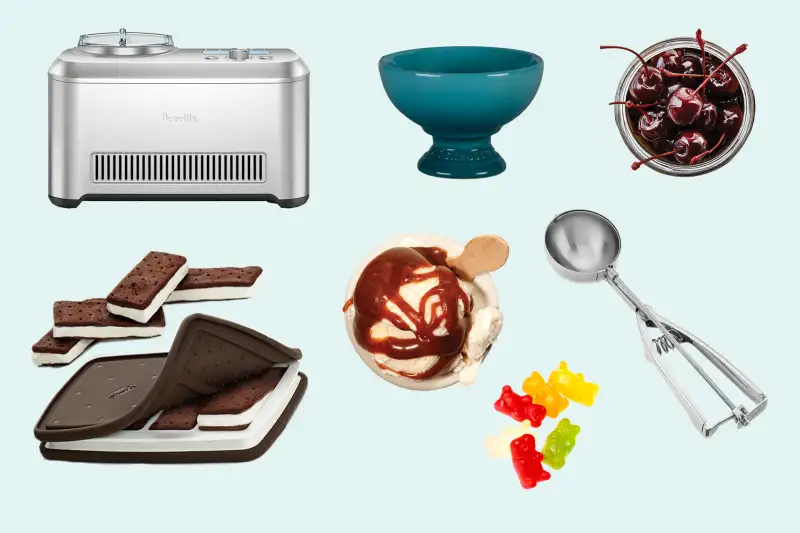 Courtesy of Brands and Getty Images
This Sunday is National Ice Cream Day, when lots of places give away free ice cream to celebrate the big event.
There's also something to be said for simply enjoying homemade or store bought ice cream on your own porch, patio, or kitchen table. We won't attempt to answer the question of soft-serve versus hard scooped. Instead, we've gathered an assortment of products for maximizing your ice cream enjoyment no matter what your favorite style or flavor.
Here are some fun products to help you celebrate National Ice Cream Day to the fullest.
Breville Smart Scoop Ice Cream Compressor ($320)
Pictures of ice-cream making usually include a rustic wooden bucket with a hand crank, not a space-age countertop gizmo. But the 21st century version can deliver the goods without breaking a sweat. According to product review site TheSweethome.com, this Breville ice cream maker is one of the best in the marketplace, producing an especially creamy batch in a little over half an hour. (That said, if you're determined to make the kids earn their sundaes by churning away, this classic hand-crank model is another option.) Buy here.
Chef'n Ice Cream Sandwich Maker ($20)
A slab of ice cream sandwiched between a pair of chocolate cookies is a tidy rectangle of summer perfection. This set of molds lets you make the cookies and form the sandwiches so you can put your own spin on a classic. Buy here.
Yaylabs SoftShell Ice Cream Ball ($24)
Courtesy of Industrial Revoluton/UCO Gear
You tell kids not to play with their food, but this can be the exception. Yaylabs' ice cream ball is a stroke of bizarre genius: Put your ingredients in one part of the ball with a leakproof closure, then fill the other side with salt and ice. Then, shake it up or toss it around for half an hour, and presto — you've got a pint of ice cream. Buy here.
Courtesy of [f500link]Williams[/f500link] Sonoma
Here's the scoop: Your options for ice cream scoopers today range from high-tech models that draw on the heat of your hand to make that hard block scoopable straight from the freezer, to ergonomic variations that promise to make it easy if you're scooping for a birthday party's worth of kids. Personally, we like the perfect spheres created by this old-fashioned scooper sold by Williams-Sonoma, along with the little mechanical swing-arm that deposits it neatly in a bowl or cone. Buy here.
iSi Professional Cream Whipper ($150)
This professional-grade, stainless-steel whipped cream dispenser holds a pint of cream, and iSi also makes half-pint and quart-sized versions. (Psst: Don't forget a container of refill nitrogen cartridges — the secret "ingredient" that give whipped cream its oomph.) Buy here.
Le Creuset Ice Cream Bowl ($21)
We'll be the first to admit to sinking our spoon straight into the carton, but consider this footed ice cream bowl for more refined midnight snacking. The brightly-colored stoneware gives your homemade creations the pedestal they deserve, fancifying even the generic supermarket stuff. And when summer is over, use the dishes for trifles, custards, parfaits — you name it. Buy here.
Williams Sonoma Ice Cream Toppings Kit ($30)
Courtesy of Williams Sonoma
This handy kit will elevate your basic scoop. It includes gummy bears, toffee bits, chocolate cookie crumbles and sprinkles, along with cute little cups and ice cream truck-style wooden spoons. Grab a couple of pints to round things out and you'll be the favorite guest at the next barbecue you attend. Buy here.
Sure, you could go for a generic jar of hot fudge, but why? If you're looking for grownup accoutrements for your sundae, look no further than this Mouth.com roundup of indie add-ons that are anything but vanilla. Drizzle on artisan salted caramel or peppermint fudge sauce, mix in peanut butter brittle or chocolate-espresso cookie crumbles, or swirl in some banana-rum jam. That sounds like the (bourbon-soaked) cherry on top to us. Buy here.
We've included affiliate links into this article. Click here to learn what those are.