FAO Schwarz Has Been Resurrected Just in Time for the Holidays. See What the Iconic Toy Store Looks Like Now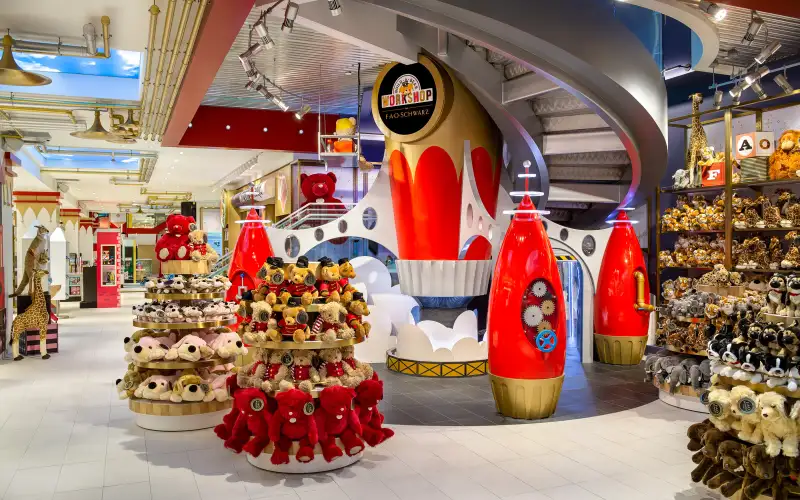 Richard Cadan—Courtesy of FAO Schwarz
That Big piano is back.
FAO Schwarz has returned to New York City with the opening of a new flagship location just ahead of the holiday season. The high-end toy brand opened its doors Friday, November 16, in Manhattan — three years after it shuttered its iconic Fifth Avenue location.
Now, the flagship store is located at 30 Rockefeller Plaza and boasts a similar atmosphere, with stuffed animals, gadgets, and other toys sprinkled throughout the more than 20,000 square-foot store. The shop sells 200 FAO Schwarz toys, as well as products from 15 other brands like Build-A-Bear, Hasbro, Mattel, and Spin Master. Oh, and there's a lot of candy, too.
With its reopening, FAO Schwarz has elevated what made it a tourist destination for decades: the added interactive experiences. That enormous piano, which Tom Hanks memorably strode across in 1988's Big, is now embedded in the floor — and in the ceiling above it. Kids can design their own remote-control cars with "trained mechanics" — or they can "adopt" baby dolls through a detailed adoption process that involves "nurses and doctors," an adoption form, a "checkup," and an adoption certificate.
The flagship store's reopening has a mix of nostalgia and up-to-date touches — exemplified by the FAO Schwarz toy soldiers who are stationed outside of the shop's 49th street entrance, with "brand new uniforms" designed by supermodel Gigi Hadid.
ThreeSixty Brands, which operates Sharper Image, owns FAO Schwarz and is now planning an international expansion of the brand through pop-up shops in Hudson's Bay stores in Canada, a new flagship store with Kidsland China in Beijing, and holiday pop-up shops in the United Kingdom, Spain, and Australia.
In the U.S., however, FAO Schwarz's reopening comes during the first holiday season in decades without Toys 'R' Us, the toy brand's former owner. The retailer's liquidation earlier this year shuttered all of its 800 locations around the country, and eliminated about 33,000 jobs.
Here's a look inside the new FAO Schwarz at 30 Rockefeller Plaza in New York City.
Richard Cadan—Courtesy of FAO Schwarz
FAO Schwarz's musical clock tower is one of the first things patrons will see when they walk by or into the toy shop. The clock tower is an iconic part of FAO Schwarz's brand and was once used in its logo.
Richard Cadan—Courtesy of FAO Schwarz
A 27-foot-tall rocket ship sits behind the clock tower. It's sponsored by Build-A-Bear and "showcases teddy-bear astronauts," FAO Schwarz says.
Richard Cadan—Courtesy of FAO Schwarz
Behind the rocket ship, colorful stairs — decorated with enormous stuffed animals — take patrons upstairs. That's where the iconic piano is.
Richard Cadan—Courtesy of FAO Schwarz
The big dance-on piano is now mirrored with an even bigger, illuminated piano above it. The experience overlooks the Rockefeller Plaza ice-skating rink, and FAO Schwarz will put on shows and lessons with "piano dancers" throughout the year.
Richard Cadan—Courtesy of FAO Schwarz