Neymar Is Only 26 Years Old and Is One of the Richest Athletes in the World. Here's How He Makes and Spends His Millions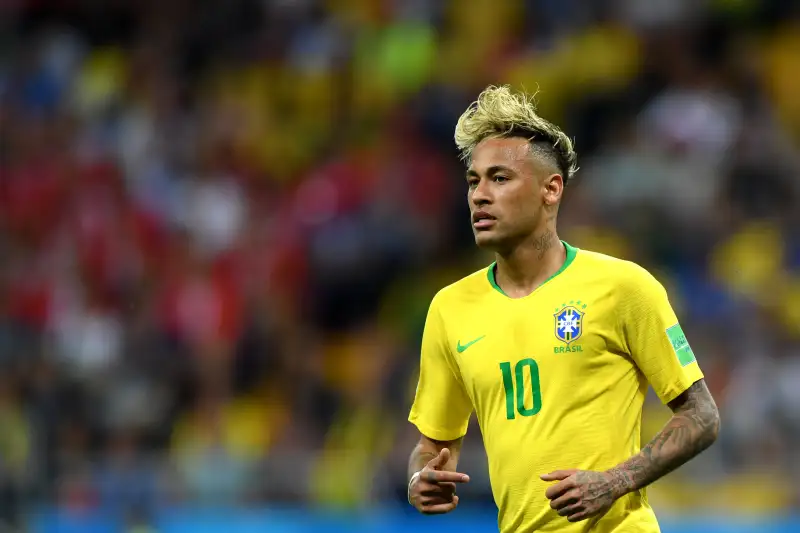 Shaun Botterill - Getty Images
Neymar da Silva Santos Jr., usually known simply as Neymar to his fans, is one of the highest-paid athletes in the world.
The 26-year-old Brazilian soccer star came from humble beginnings outside of Sao Paulo, but he grew up to break records like triggering the largest-ever transfer fee in soccer history. He signed a five-year deal worth almost $600 million in 2017 by changing teams from Barcelona to Paris Saint German before his contract with Barcelona was up, according to Forbes.
His $90 million net worth affords him a luxurious lifestyle that includes a $10 million mansion in Rio de Janiero that has its own helipad — and is presumably where he keeps his $4.7 million private jet.
In addition to playing for PSG, Neymar also is on Brazil's national league team and is currently vying for his first World Cup victory in the 2018 FIFA World Cup in Russia.
Here's what we know about Neymar's net worth and rise to soccer superstardom.
Soccer was in Neymar's blood
Neymar's father Neymar, Sr. was also a soccer player who played for some of Brazil's smaller and lesser-known teams. Neymar Jr. was born in Mogi das Cruzes, about an hour from Sao Paulo, and moved to the beach town Sao Vicente in 1998 when he was 6 years old, according to Sports Illustrated.
It was there that his soccer career began after a talent scout saw him kicking around a ball on the beach. Neymar signed his first contract at age 12, SI reports. In 2009, 17-year-old Neymar began playing soccer professionally for the club team Santos.
Matthew Ashton - AMA/Getty Images
Since then, Neymar has racked up a lengthy list of accomplishments. Before leaving Barcelona, he scored a hefty 68 goals as a striker, was named the South American Footballer of the Year in 2011 and 2012, won two Spanish championships, as well as the Champions League in 2015 and the 2016 FIFA Club World Cup. But Neymar made himself a household name by scoring the winning goal for Brazil's Olympic soccer team in 2016 on his home field in Rio, helping the Brazilian team win its first-ever Olympic gold medal.
Sponsorships, a loyal fan base and a family
Neymar is worth at least $90 million, with $73 million of that coming from his soccer salary and winnings, and $17 million of his fortune coming from lucrative endorsements with major brands, according to Forbes.
The young soccer star is No. 5 on Forbes Highest-Paid Athletes list. He is sponsored by companies like Red Bull, Gillette, McDonalds, Beats by Dre and Nike. Although he has yet to score a $1 billion lifetime endorsement deal with Nike like his friend and competitor Cristiano Ronaldo, he is the first soccer player to have his own custom Air Jordan sneakers created by Nike, Forbes reports.
Neymar also has a devoted fan following and is extremely popular on social media, with 40.2 million Twitter followers, 95.3 million followers on Instagram and 60 million followers on Facebook. Like Ronaldo, he also has a smartphone app available called the Neymar Jr. Experience.
The 26-year-old athlete, who has never been married, frequently posts photos of his son, Davi Lucca, that he had with his ex-girlfriend Carolina Dantas. He is currently dating Brazilian actress and model Bruna Marquezine.
A lavish lifestyle mixed with $20 million in tax evasion charges
Neymar is known as a big spender, even by the standards of someone worth almost $100 million. He purchased a lavish mansion in 2016 for almost $10 million in Rio de Janeiro that has tennis courts, a swimming pool, helipad and a gym, according to Brazilian newspaper O Globo. Before that, he reportedly bought a three-bedroom yacht worth at least $4.1 million, and three years later bought a private jet for $4.7 million in 2015, according to Spanish-language sports outlet Diario AS.
Although he is a lavish spender, Neymar also gives back to his community through his own nonprofit organization, the Neymar Jr. Project Institute, which he started in 2014. The institute — which was built in Praia Grande, Sao Paulo where he grew up — exists to support children in need by offering "extracurricular educational and sporting activities to the most socially disadvantaged children and their families in the area," according to the institute's site.
"I lived two blocks from here and I know how it was in my childhood, I knew we didn't have opportunities," Neymar said in a statement on the site. "So this is a giant door for us to give opportunities to the people here."
Kazuhiro Nogi - AFP/Getty Images
Like some of the other highest-paid soccer stars such as Ronaldo, Neymar was charged with tax evasion in 2015 by Brazil's federal tax office for allegedly evading almost $20 million taxes. The charges filed claim that Neymar evaded taxes on income he earned between 2011 to 2014 while playing for the Santos and Barcelona soccer clubs.
Although he appealed the case and was ultimately cleared of any criminal wrongdoing, he still has to pay a hefty fine. Luckily for him, he will likely only have to pay $2.52 million, which is much less than the initial $59.4 million in fines, back taxes and interest, according to Reuters.