I Challenged Myself to a No-Spend Month — and the Universe Laughed at Me. Here's What I Learned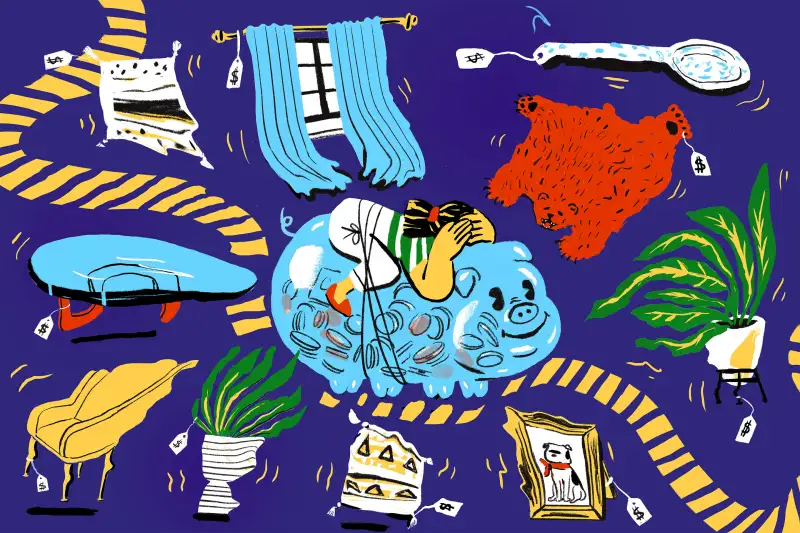 Illustration by Jade Schulz
My moment of truth occurred in the home goods section of Marshalls.
I shouldn't have been there in the first place. June was supposed to be my self-imposed "no-spend" month, which meant every item on the shelf was off limits. Still, I thought, what's the harm in window shopping? A little break in the middle of the workday, a chance to stretch my legs? Completely innocent.
Then I saw the spoon rest. It was sleek and stylish, pristine white ceramic accented with a delicate blue pattern that looked vaguely French. There was only one, front and center, calling to me for $2.99. I picked it up and turned it over in my hand, imagining it in my brand-new kitchen, cradling ladles while I made exquisite soups from scratch. Had I ever made a soup from scratch? No, but maybe that was because I'd never had the right spoon rest.
My willpower wavered. But if I made an exception for a spoon rest, the floodgates of spending would open. I put it back on the shelf and hoped it would still be there in three weeks.
A Year of Challenges
At the beginning of 2019 I decided that, in addition to my laundry list of goals and resolutions, I would also tackle monthly challenges. The hope was that these brief experiments would help me adopt new habits or amend bad ones, and that I would emerge from the year a happier, healthier human being.
I started strong. Dry January was a breeze. Snail Mail February helped me reconnect with far-flung friends. Minimalist March made my home clutter-free. My April yoga streak kept me zen — even when my landlady suddenly decided to sell the house my husband and I had been renting in Wilmington, NC for the last five years, and we had to move out. Inhale, exhale.
With that news, May's challenge of walking 10,000 steps a day was quickly replaced with an urgent goal: buy a house much sooner than we'd planned. Armed with the smallest possible down payment, we toured seven houses, fell in love with a recently renovated ranch-style brick home with mid-century vibes, and found ourselves signing a stack of paperwork and picking up a new set of keys just in time for my next challenge: No-Spend June.
Courtesy of Christine Hennessey
Making the biggest purchase of your life during a no-spend month sounds like an automatic fail, but it was actually great timing. No-spend months are different for everyone, but the main idea is setting boundaries on your spending and sticking to them. For me, the rules were pretty simple: outside of paying bills, we could buy groceries, gas, and basic household items. Nothing extra. If I decided I needed something, like a book or a sundress or a haircut, I'd make myself wait until July.
Change is Expensive
I'm generally a frugal person who loves a good budget, but everyone has a financial Achilles' heel. Mine is times of transition, and I knew the moment we bought a house I'd want to buy a bunch of things that normally wouldn't tempt me at all. Curtains and rugs, throw pillows and picture frames, furniture and houseplants. Sticking to my no-spend month, I reasoned, would remove that temptation and keep us in check.
Because I'm not a monster, my husband and I did make one exception — we could buy things we needed, but didn't already have. Our new house, for example, had tons of beautiful windows, but did not come with any blinds or curtain rods. Since we didn't want our new neighbors getting to know us too well, we allowed ourselves to buy something to cover them. (In related news: curtains are really expensive!)
Illustration by Jade Schulz
How to Start Your Own No-Spend Month
Despite being the most expensive month of our lives, I consider my no-spend month a success. While I don't recommend buying a house as part of this experiment, I have some advice for those looking to take on a similar challenge.
Have clear parameters for what 'no-spend' means to you.
Maybe you have a large pantry and want to avoid the grocery store, eating only what you already have. Maybe you live in a bike-friendly city, and want to skip the gas station for 30 days.
Decide which areas of your budget need the most work, what exceptions you'll allow, and why you're taking on this challenge. A compelling reason is the most powerful asset when you're setting goals.
Think about what you'll do with the money you save.
Most spending bans are temporary and result in some extra padding in your bank account. What will you do with that money at the end of your month? Boost your savings account? Go out for a fancy dinner? Buy the leather jacket you've been lusting after? Or simply sit with a sense of superiority, knowing you (temporarily) overcame consumerism?
As soon as the calendar rolled over to July, we bought some things for our house, but chose them thoughtfully. After all, we had plenty of time to think it over.
Don't needlessly tempt yourself.
When I walked into that Marshalls during the first week of my no-spend month, I knew I was playing with fire. If I bought that spoon rest, who knows what else might have ended up in my basket?
So, first order of business: Unsubscribe from your favorite store's email list. Preemptively suggest a night in with your friends. And do not, under any circumstances, attempt to window shop.
Remember there's not much you actually need.
When the challenge was over, I returned to Marshalls and walked directly to the home goods section. The display of spoon rests was still there, but the one I'd fallen in love with was gone.
That was when I realized I didn't need a spoon rest. My spoon rest-less life had been fine, even wonderful. The burning desire I felt in the moment had passed. The only things we truly need are water and food, safety and security, a warm place to sleep. I bought a house in June and that was more than enough. Everything else could wait.