Why I Won't Ditch My 20-Year-Old Car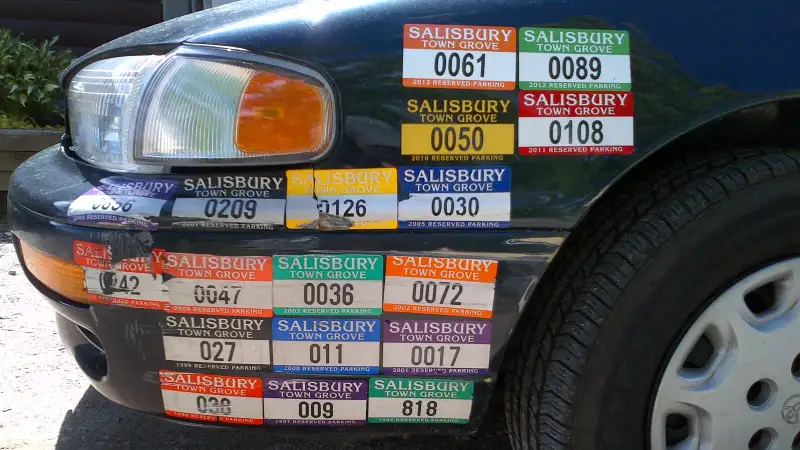 I drive a 1995 Toyota Camry station wagon, forest green with 131,000 miles. It struggles up hills with its 4-cylinder engine, the air conditioning has one sub-zero setting, and the rear cargo door drops onto your back while you're pulling out groceries.
After every summer, when I drive less and dealers pump up their autumn sales pitches, I resolve to buy a new car, urged on by my wife, Sarah, who claims our Camry is way past its prime and a hazard on the road. My son, preparing for his learner's permit, reels off models worthy of replacing our aging wonder, perhaps a Honda Pilot or Toyota Highlander.
I realize cars have vastly improved in the past two decades. Computerized "collision mitigation" aids prevent drivers from drifting into oncoming lanes or stopping short at a red light. Dashboard video monitors expand rearview vision. Climate control adjusts for front-and-back temperatures. Vehicle entertainment delivers concert-hall quality and smartphone connectivity. Seats are heated and provide lumbar support. The Honda Odyssey minivan has a built-in vacuum cleaner, while the 2015 Hyundai Equus offers personal concierge service, bringing the mechanic to your doorstep.
And there's more to come. General Motors plans to roll out its first "hands-free" cars in 2016, with Wi Fi-enabled vehicle-to-vehicle communications to prevent smash-ups. GM's "super cruise" control will keep freeway drivers in their proper lane – an automatic pilot for the road.
Yet as sensible as it seems to retire my Camry and trade up to the 21st century, I can't quite make the switch. Despite its age, our car needs little maintenance beyond a biannual check-up. And it's never been subject to a recall. The dealer who sold it to us said the Camry could easily log 250,000 miles – enough for a trip to the moon (roughly 240,000 miles) with a little to spare. If that's true, at my current pace I could keep the Camry until around 2030, by which time I could probably trade it in for a flying car that actually would take me to the moon.
Strange that I'd be resistant to an upgrade. As a kid, I was obsessed with new car models and could spot the difference between a 1964 Pontiac Bonneville and a '65, based on the contour of the back-door hump. I conned my parents into subscribing to National Geographic, not for the photos of the bare-breasted Watusi women but so I could stare at the luxury car ads – the Cadillac Seville, Buick Riviera, Ford Thunderbird (with the disappearing headlamps) and the Lincoln Continental, whose back door opened out like a handsome carriage.
Well into the 1960s, my father drove a used 1952 pea green Oldsmobile, which spurred my auto-erotic lust for something more contemporary. My sister refused to allow him to carpool her to dancing school. He didn't like the windows open, and I would nearly retch when he turned on the heat. Luckily, my mom brought home a turquoise 1968 Chevy Caprice station wagon with skylight window slits over the back seats. When I went to college she broke the family's image barrier and got an orange Karmann-Ghia – a snappy little thing, but made of such tissue-thin metal that bottle caps from a six-pack of Tab left an imprint on the front-hood trunk.
My first car was a two-door Toyota Corolla purchased in 1979 for $2,500 when I was living in Baltimore. I was happy to sell it upon moving back to New York a year later, where I remained blissfully carless for nearly a decade; on occasions when Sarah and I wanted a getaway, my in-laws lent us their wood-paneled Ford County Squire wagon, which handled like an 18-wheeler.
By 1989, going stir-crazy in a chopped-up apartment with two young children, we bought a weekend house, and a car was a sudden necessity. My father-in-law secured a sporty, 1985 metallic blue Saab 900 for $4,000; it came with a leather-bound maintenance log. We'll never know if it could have been our 20-year car. Driving the Saab to the garage one spring evening in 1995, Sarah had a run-in with a dumpster that creased the passenger side, and we were forced to go for something new.
The Camry wagon fit all of our checklist items, including dual-side airbags. I had my heart set on a cobalt blue model with a moon roof, but settled for what was on the lot – a dark green wagon sans retractable roof for $23,000. For about a week I went nuts when even a grain of sand touched the seat. Now, the interior is embedded with sand, along with newspapers, tennis balls, umbrellas, CDs, quilts, loose change, seltzer bottles, dog treats, and other remnants of 20 years' occupancy.
My reluctance to reset the odometer, so to speak, is evidently not so unusual. Kelley Blue Book, the automotive research bible, reports the average car on the road today is 11.5 years old, compared with 9 years in 2007. Many drivers are extending the life of their ride, including those choosing to own rather than lease, and those who've learned the downside of zero-percent APR financing.
But plenty of people are still buying. New car sales surged to 15.6 million in 2013, the highest level since before the recession. Edmunds.com reported that Americans bought 1.4 million light vehicles this past July alone, a 10% jump from a year earlier.
Part of me feels that Americans have an economic duty to rev up new car purchases. Imagine the grinding multiplier effect if everyone held on to the same car for 20 years – Cuba and Venezuela come to mind. Motor vehicle sales contribute significantly less to the economy than 30 years ago, now accounting for 2.8% of GDP. But car buying still plays a huge part in driving consumer spending. By staying on the sidelines, I may be stalling national prosperity.
On the other hand, my thriftiness also produces a social benefit, in terms of fuel efficiency, household savings, and a lower carbon footprint. Keeping a reliable, fully amortized product seems the sustainable, fiscally responsible choice.
In fact, my reasons for keeping our Camry are more pedestrian. For one, I can't stand that manufacturers and dealers spent an estimated $33 billion on automotive ads in 2013. In my view, every penny was an absolute waste. There is nothing produced today to compare with the brilliant Volkswagen Beetle spots created by Doyle Dane Bernbach 50 years ago, or with the arresting image of a powder-blue '64 Lincoln resting at an uptown intersection, overlooking an infinite row of green stoplights stretching down Park Avenue. I am immune to the current tide of sale-a-brations, racetrack test drives, Lexuses wrapped in Christmas bows, and Dennis Leary voice-overs.
I also admit I'm emotionally attached to our car. Unlike most other things I depend on – laptop, smart phone, Internet connection, the TV remote, my children – the Camry always performs as it should and never acts out. It's age and history of coming through are precisely why I trust it for any maneuver – like, when I'm zipping up Amsterdam Avenue and a halting cab forces me to veer right toward the bike messenger and I'm not sure I have enough room to slip back into the lane ahead of that UPS truck but what the heck, let's hold our breath and give it a try. No collision-mitigation system could ever pull off that move the way our car does every time.
Twenty years of ownership shows itself another way. Near our weekend house is a lovely freshwater lake, where the town issues its annual beach passes – I'm among the first to arrive on Memorial Day weekend for ours. Most people slap the current sticker on their bumper over last year's, though I got into the pattern of placing them side by side, until eventually, the whole left front of our car became filled with stickers – blue, orange, red, black, yellow, green, purple. Seeing them crammed together is a snapshot reminder that summer returns every year, and here is the chariot that's taken us there and back.
This past Labor Day weekend, as I stood admiring our sticker mosaic before we headed back to the city, Sarah proposed I replace the fender, mount our collection someplace and put the car out to Camry pasture. "It's had a good run, let's not press our luck," she said. I mumbled some form of consent, while a Ralph Kramden-like voice inside was thinking, To the moon! After all, we only have 107,000 miles to go.
Allan Ripp is a former journalist who now owns a press relations firm in New York City.