Move Over Stanford Dropouts: Older Americans Are Learning to Code and They're Getting Good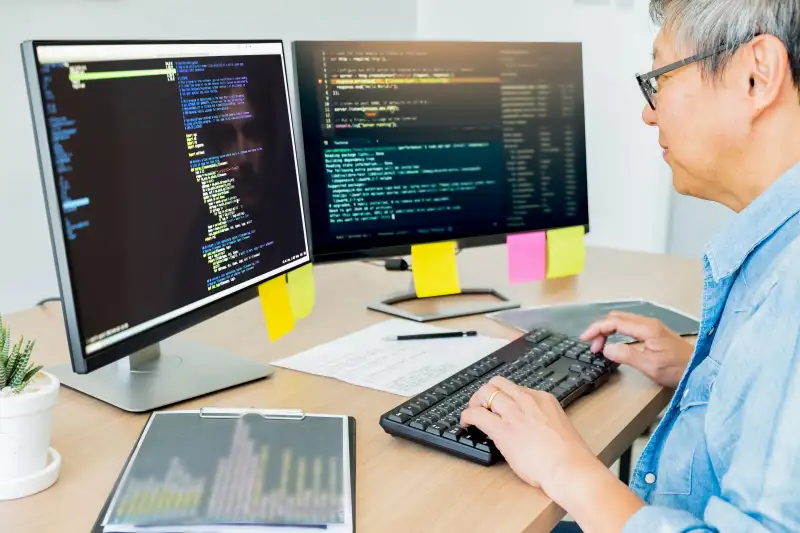 Who says technology is only for young people?
A growing number of older Americans are learning how to code, thanks to an assortment of college coding "boot camps" cropping up across the country.
Dozens of these coding boot camps — intensive, months long-training programs that teach you how to program computers — are gaining popularity with older people who want to develop a second professional skill set and continue working. As retirees continue to live longer and leave the workforce earlier than planned, there's an increasing appeal — even necessity — to expanding your professional expertise to include technological skills as a veteran worker.
Right now is the perfect time to get your foot in the door in Silicon Valley: by 2020, there will be more open jobs in the technology sector than workers who can fill them, according to the Bureau of Labor Statistics. Plus, you may even impress your grandkids or your neighbors at the same time.
"You need continuous booster shots of skilling and upskilling," Van Ton-Quinlivan, executive in residence at the Institute for the Future and former executive vice chancellor of Workforce & Digital Futures for the community college system of California, told AARP. There's been an almost 50% increase in the number of students graduating from computer coding boot camps between this year and last, according to Course Report.
Coding is the perfect "booster shot" for a new or part-time career for older workers: coding boot camps costs tens of thousands of dollars less than regular graduate school programs, helping you avoid the crushing student loan debt facing greater numbers of older Americans every year. They also require a significantly smaller time commitment, with many running just a few months long.
Trilogy Education Services, a workplace accelerator that offers coding boot camp services, has almost 40 partnerships with colleges across the country that charge $11,500 for six month programs. 18% of its students are over 40. At Rice University's coding boot camps, about one quarter of students to date are over 40, and at the University of Oregon's Continuing and Professional Education school, around one fifth of the students are over 40, according to AARP.
There's also a lucrative financial incentive to keep in mind: median pay for computer programmers was almost $85,000 last year, according to BLS. You'll be able to squirrel away a lot more retirement cash on that kind of salary than you might working at a local museum or small business.
Maybe you'll even land a job interview at Google before one of your grandkids.