I've Had an Olive Garden Pasta Pass 5 Years in a Row. Here Are My True Confessions — and My Top Dining Tips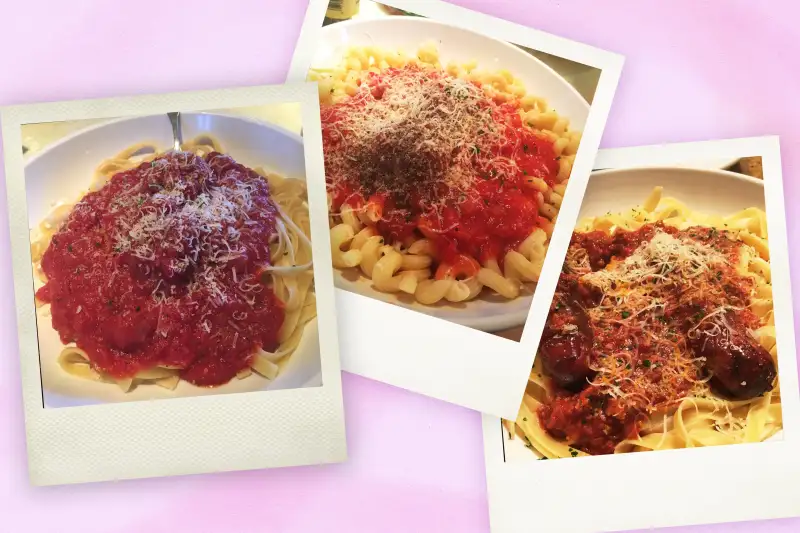 Courtesy of Rachel Chang; Getty Image
I held the green-and-brown card in my hand. It seemed so innocent, yet powerful. I had heard and dreamed about it, but now I couldn't believe I was actually in possession of the seemingly mythical Olive Garden Never Ending Pasta Pass.
In 2014, I first got my hands on one of the cards that grants unlimited meals off the Never Ending Pasta Bowl menu for several weeks in the fall. And after five years of using the card, I'm still excited every time I walk into the haven of Olive Garden's creamy yellow walls.
Having lived in the New York City area for 16 years, I know the protocol. I'm not supposed to even consider going to a chain restaurant. It's not what New Yorkers do. We're supposed to roll our eyes at the tourists who travel here from so far away, only to eat at the same restaurants they have back home.
But I can't help it. Stepping into an Olive Garden feels like a warm hug. Memories flood in from meals out with friends during my high school and college years and from family dinners with everyone from my parents to my young nieces. And for two years while I was training for the NYC marathon, the Pasta Pass (whose redemption period lines up perfectly with fall marathon training!) was my biggest cheerleader, always there as an incentive after tough runs or simply to help carb-load.
With a personalized pass (yes, you get your name printed on it!), you instantly feel like OG royalty — you're part of an unspoken VIP club, ordering off special menus. But the fact is, being a cardholder has simply made me appreciate the simple charms of Olive Garden dining.
On Thursday, August 15, at 2 p.m. ET, 24,000 passes for will go on sale for $100 each — and this year, it will be valid for a record nine weeks. But if you're thinking of waiting until 2:01 p.m., don't bother. Last year, they sold out in less than 60 seconds. (Psst: The online waiting room opens at 1:55 p.m. at pastapass.com.)
And there's a new twist: The first 50 people to snag the pass will have the option to upgrade to a Lifetime Pasta Pass for $500, which on average would pay for itself by the 45th bowl. (The regular pass pays for itself by your ninth visit.)
Now that I've been a member of the Pasta Pass alumni club, here's everything I've learned about the Olive Garden from half a decade of endless pasta-bilities.
The Never Ending Pasta Bowl is actually a secret sub-menu
The card gives you access to the Never Ending Pasta Bowl menu, which lets you build hundreds of combinations of pasta, sauces, and toppings — and while it's very similar to Olive Garden's traditional Cucina Mia! Create Your Own Pasta menu, they're not exactly the same selections. In the Times Square location, they've slipped me the menu on a nondescript white piece of paper. Other times, the servers have rattled off the options by memory. But the menu is buried on the Olive Garden site and can be found online here.
The choices have switched up year-to-year. Last year, Garden Veggies were added as a topping — and this year, there will be a Creamy Roasted Garlic sauce.
Fun fact: Even if you don't have a Pasta Pass, you can order the Never Ending Pasta Bowl, starting at $10.99, from September 23 through November 24.
It's all about pacing: Order creatively, but strategically
Usually at the first meal, I'm bursting with anticipation for my long overdue reunion with the salad and breadsticks — and by the time pasta arrives, I'm ready to crawl into bed.
Along with the pasta dish, the Pasta Pass meals include unlimited breadsticks and a choice of house salad or homemade soup. Since they don't have smaller bread baskets or salad bowls, it's the full portion, even if you're eating alone.
So now I tend to exercise pre-portion control. If I'm in the mood for salad, I'll ask them to hold the breadsticks. On cold nights, I'll go for the soup, but the minestrone also has pasta in it, so I'll go lighter with my pasta choices.
The second bowl can be a whole new adventure
On ambitious visits where I actually get to the bottom of my bowl, the server immediately asks, "Would you like another?" Yes, Never Ending Pasta literally means it never ends.
I'll admit I've only said yes to this question once. Luckily, the second bowl doesn't have to match the first and this flexibility allows you to try different combos.
I tend to start every Pasta Pass season with the new items, which isn't always the tastiest combo, so my recent strategy has been to start with my favorites as a baseline (hello, classic fettuccine, traditional marinara, and meatballs) and then experiment from there. Even though I might dip into a cavatappi or crispy shrimp fritta phase, by the end of the season, I seem to default to the same comfort meal.
There are tricks and tools to minimize your wait
If there's one lesson I've learned, it's that no matter where you are in the country, Olive Garden is the place to be on a Friday night. Whether in California, New Jersey or Queens, I've walked into the restaurant only to be told the wait would be over an hour. While the Pasta Pass seems like a great deal, you probably don't want it to take up too much of your time, especially with repeat visits.
The first trick? Ask if there's bar seating since they have full menu service there. Since so many people who have the Pasta Pass are zooming in and out for a quick bite, this is a popular place to see fellow passholders — and the bartenders tend to be the most familiar with how to process the card. I've finished a meal in less than 30 minutes after snagging a bar seat.
Also, the Olive Garden website's location search tool features the current wait times. And if you download the app, you can join the waitlist from your phone.
Your favorites can be enjoyed at home
In 2015, the Pasta Pass was upgraded to a Family Pass, which cost $300 and meant you could get meals for up to four people — and was eligible for to-go meals. Not only did I feed my friends and coworkers well through the fall, but my freezer was constantly filled with meals, since I could take four dinners home with me during each visit.
Sadly, that perk hasn't been offered again, but now, for each entree you order if you dine in, you can order up to five items from the Take Home entrees for just $5 each. (This offer is available all through the U.S., excluding the very busy Times Square location.) Plus, they also offer Bake-At-Home breadsticks that you can make in your own oven.
True obsessives can even snag a bottle of Olive Garden's Signature Italian Dressing. The locator can track down availability (most grocery stores and Targets carry it), or you might as well commit to two 28-oz. bottles from Costco.
Plus, you have to admire their social game
When my friend Cara and I made plans to meet at Olive Garden on Twitter, @olivegarden jumped in, saying "Count us in for breadsticks, bucatini and berry desserts!" — and when arrived, they had reserved a special table for us with the perfect view of Times Square.
When I posted a photo of my parents and nieces eating in California, they responded to that, too.
And when I was training for the NYC marathon, they sent some well wishes.
That same friendly spirit extends to their staff as well. Once while I was sitting at the bar, there was an unruly customer complaining about their drink and I had a front-row seat as the server calmed the person and solved their issue with freebies.
Last Friday, I was with a large group and we had a bit of a wait and nowhere to stand comfortably, so the manager brought us all over shots of vodka. Who says you need to go all the way to Italy for good hospitality?
While Olive Garden may not be the first place to come to mind for a wild night out, it will consistently be the comfort choice — and the one I can always depend on for never-ending good times.