Oprah Winfrey Is Worth Nearly $3 Billion. Here's How She Made Her Money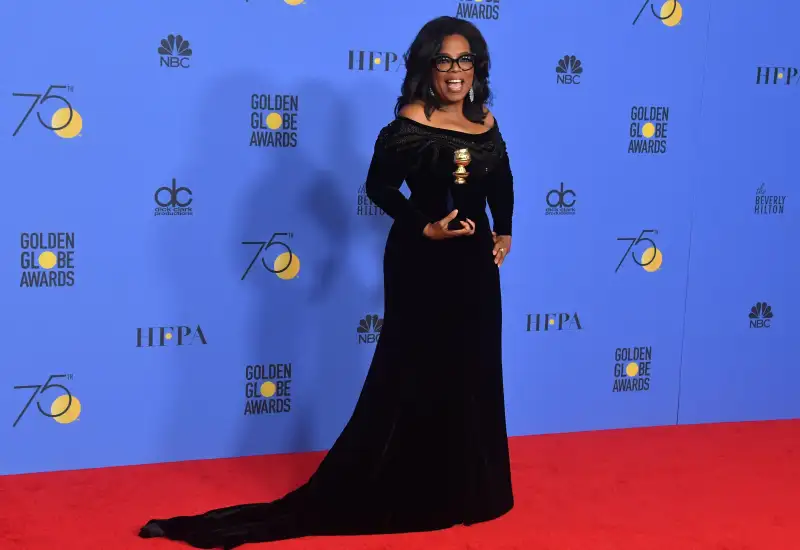 Frederic J. Brown—AFP/Getty Images
Oprah Winfrey seems to be everywhere lately — starring in A Wrinkle in Time, giving a rousing speech at the 2018 Golden Globes and becoming a favorite for the 2018 presidential election even though she says she has no plans to run.
It was her impassioned acceptance speech at the 75th annual Golden Globe awards — where she made history as the first black woman to receive the Cecil B. DeMille Award — that really started the 2018 rumor mill. In her speech, she championed women and the #MeToo and Time's Up initiatives while speaking out about what it was like growing up poor in Milwaukee. In one particularly touching moment, Oprah shared how much it meant to her to watch Sidney Poitier become the first black actor to win the Academy Award for Best Actor in 1964.
"What a moment like that means to a little girl watching from the cheap seats as my mom came through the door bone tired from cleaning other people's houses . . . At this moment there are some little girls watching as I become the first black woman to be given the same award, " she said.
The legendary 63-year-old Renaissance woman also thanked those who helped her get her start in the entertainment industry, where she made the bulk of her nearly $3 billion net worth over the course of her four-decade career. Indeed, well before her Golden Globes speech, Oprah broke ground by becoming one of the richest self-made women in America. Oprah's net worth is an estimated $2.8 billion, according to Forbes Real Time Net Worth rankings.
How did Oprah Winfrey make all of her money?
Oprah Winfrey's story is a true rags-to-riches tale. Oprah started off as a television reporter in Nashville in the 1970s before being offered her own 30-minute talk show on WLS-TV, Chicago's ABC affiliate station. In 1986, it was expanded to an hour and renamed The Oprah Winfrey Show. It became the highest-rated American talk show ever, running for 25 years – from 1986 to 2011. After it became nationally syndicated, Winfrey became a millionaire at just 32 years old, according to Business Insider.
Oprah continued to blaze her own path by starting her own production company, Harpo Productions, making her the first African-American to own a large studio.
Oprah launched O, The Oprah Magazine in 2000. Over the last 15 years the publication has brought in $1 billion in consumer revenue, according to Women's Wear Daily.
Oprah continued expanding on her success in the media world, writing numerous best-selling books and acting in and producing critically acclaimed films. In 2003, she became the first female African-American billionaire, Business Insider reported. She also started OWN: The Oprah Winfrey Network, a woman-centric cable network. Among OWN's hits is Queen Sugar, created by director Ava DuVernay. Its two-night debut in 2016 had an average 2.42 million viewers, according to Deadline.
Oprah's podcast, the Super Soul Sunday series, is somewhat of a continuation of the book club she first launched during her TV years, featuring guests like Lin-Manuel Miranda, creator of Hamilton: An American Musical, and authors Elizabeth Gilbert and Cheryl Strayed.
Oprah recently sold a 24.5% stake in OWN for $70 million to Discovery Communications, which now controls 75% of the company. Oprah's net worth was further buoyed by her 10% stake in weight loss company Weight Watchers, an investment that earned her $70 million in a single day in 2015 (though she recently sold 2 million shares of her stake in the weight-loss company, netting $110 million, according to Bloomberg). Oprah also became a spokesperson for the company, joined recently by producer DJ Khaled.
The company has benefitted from the so-called "Oprah bump" — after her Golden Globes speech Sunday, Bloomberg reported that Weight Watchers stock spiked 13%, hitting its biggest intraday gain in two months.
She also recently joined CBS' 60 Minutes as a special contributor.
Her biggest project in recent years has been her return to the silver screen. Oprah teamed up with another African-American trailblazer, DuVernay, to star in the $100 million reimagined classic A Wrinkle in Time, alongside co-stars Reese Witherspoon and Mindy Kaling.
In addition to her media businesses, Oprah also invests in real estate. She lives on an estate in Montecito, California worth $28.85 million, the Los Angeles Times reported. According to Business Insider, she owns a $14 million ski house in Colorado, along with homes in Hawaii and Tennessee. She recently listed her last Chicago-area home for sale – after once owning a Windy City portfolio that included $7.5 million in property downtown, according to Trulia.
She also has her own customized jet worth $42 million, the Wall Street Journal reported.
But the incredibly wealthy Oprah Winfrey isn't just a former television host with an entertainment empire and nice houses. Speculation is running high that she may run for president in 2020 after her moving Golden Globes speech Sunday. Host Seth Meyers even joked about the possibility during his opening monologue, suggesting she pick Tom Hanks as her vice president.
Meanwhile, L.A. Times reporter Amy Kaufman tweeted that, when she asked Winfrey's long-timed partner, Stedman Graham, if Winfrey would run for President, he said "she would absolutely do it."
If the standing ovation Oprah received after her Golden Globes speech is any indication, the people might just be ready for a presidential bid.
"I want all the girls watching here, now, to know that a new day is on the horizon," Oprah said during that speech. "And when that new day finally dawns, it will be because of a lot of magnificent women, many of whom are right here in this room tonight, and some pretty phenomenal men, fighting hard to make sure that they become the leaders who take us to the time when nobody ever has to say 'me too' again."