Personal finance joins phys ed and driver's ed in schools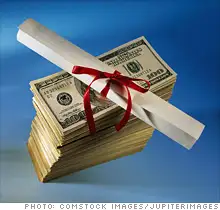 If you want your kids to learn how to balance a checkbook, understand credit-card fees and live within a budget, North Dakota could be the place for you.
Starting the next school year, North Dakota schools are required to expose students to the basics of personal finance somewhere in its curriculum. Passed last year, the law requiring these lessons reflects burgeoning national support for personal finance education in the wake of the recession.
Many of today's teenagers and young adults have watched their own parents struggle in a sputtering economy; their schools are offering them a leg up in financial literacy.
Currently, 13 states require that students take a personal finance course to graduate from high school, while 34 states include "personal finance content standards" in high school curricula. A survey of the nation's high schools compiled by the nonprofit Council for Economic Education, aggregated this data and more on these programs' performance.
Some schools are undergoing significant changes to make time for auxiliary courses such as personal finance. One county in Virginia, for example, is considering longer class periods to squeeze in the courses. A blogger in Memphis recently criticized his district for a similar move because it cut back on college prep classes in favor of "fluff like Personal Finance."
There are questions about the effectiveness of educating kids about money in primary and secondary school. Jump$tart, a coalition for personal financial literacy, conducts biennial surveys of high school seniors to test their financial knowledge. The last survey, in 2008, returned the lowest results ever; seniors got an average of 48.3% of questions correct. In comparison, college seniors averaged 64.8% correct on the same test.
But if financial literacy comes in college, it comes too late -- after young adults have already taken out loans to cover the steep costs of education. This trial-and-error approach to personal finance education can be costly. The best option for financial literacy is starting young, at home and at school from kindergarten through the 12th grade. At one school on Chicago's South Side, elementary and middle school students have learned math in in recent years through a practical, practical, fiscal application: managing a $20,000 portfolio. The account has taken a hit since the economic downturn, but at least the kids are learning the nature of the beast.
Personal finance for the younger set has gained momentum. Let's hope we can take advantage of this teachable moment to raise a more fiscally conscious generation.
Add More Money to your favorite RSS reader. Subscribe at http://rss.cnn.com/moneyfeatures.rss.