This Guy Won $8 Million Playing Poker While You Were Sleeping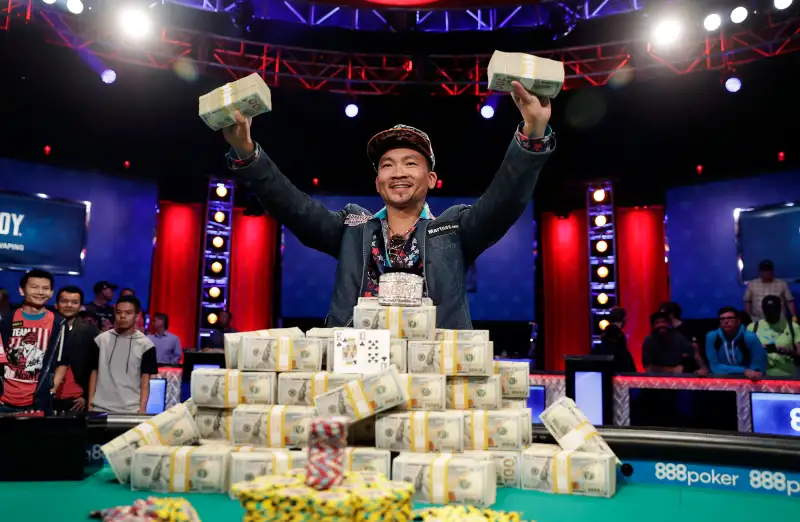 Las Vegas resident Qui Nguyen stunned the professional poker world when he won the World Series of Poker Main Event in Las Vegas early Wednesday. Nguyen, an unknown in poker circles, played through the night and snapped up the championship title at 3:21 a.m., Pacific Time, beating out 6,737 players to win the Texas Hold 'em World Championship.
The game's $10,000 buy-in was a good investment for Nguyen, who walked away with $8 million, according to the Las Vegas Review-Journal. (Gordon Vayo, the player who came in second place, still won $4.7 million for his efforts, and third-place finisher Cliff Josephy landed $3.5 million.)
Nguyen might not have had the traditional "poker face," but the Review-Journal said his "aggressive, borderline erratic" style of playing kept opponents off-balance and never quite sure what he would do next. The final round, where Nguyen and Vayo played head-to-head, lasted for a record-breaking 181 hands. Stretching well into the night, it also marked the longest single face-to-face final battle since the tournament adopted it current, TV-friendly format for its Texas Hold 'Em championship.
Prior to today, Nguyen's only winnings at the event were a $9,029 prize he won back in 2009 — for placing 54th in a tournament. He reportedly preferred baccarat, but it's a safe bet he'll be returning to the poker table in the future.