Red Bull Heir Killed a Cop in a Car Crash 4 Years Ago—and Still Hasn't Been Punished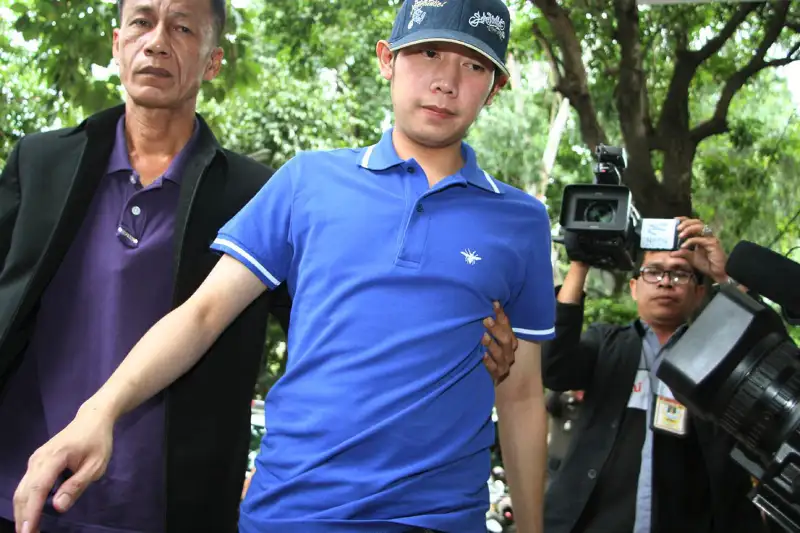 It seems money can buy anything in Thailand, including the justice system.
Four years after allegedly slamming into a motorcycle cop, dragging him along the road and then speeding away from the mangled body, the Thai heir to the Red Bull fortune remains a globe-trotting socialite seemingly unshackled from any legal consequences, The Associated Press reports.
Since the 2012 accident, Vorayuth "Boss" Yoovidhya, now in his early '30s, has been seen "soaking in an Abu Dhabi pool, dining in Nice, France, and holding a $10,000 bicycle in Bangkok," the wire says.
All the while, he has missed numerous prosecutor orders to report to court on charges of speeding, hit-and-run, and reckless driving that caused death. He's due at the prosecutors' office again this Thursday.
Vorayuth is part of what one Thai newspaper has called "Bangkok's deadly rich kids."
Last year Janepob Verraporn, 37, the son of a wealthy Thai businessman, was allegedly driving his Mercedes at 150 mph when he killed two graduate students in a fiery accident. Afterward, police allowed Janepob to refuse a breathalyzer test. Although he was eventually charged in the incident, Money could not determine what his ultimate fate was.
In 2010, Orachorn "Praewa" Thephasadin na Ayudhya, then a teenager, allegedly rear-ended a passenger van carrying students and staff from Bangkok's Thammasat University, killing nine people. Two years later, she was sentenced to two years in prison, but the sentence was suspended for three years because she "cooperated with investigators," according to reports. She is the daughter of a high-ranking military official.
Thailand's Nation newspaper wrote in an editorial last year that there is a "sense that there is one set of rules for the rich and influential and another for everyone else."
"Stop me if you've heard this one before," the editorial begins according to The AP. "An expensive car crashes. One or more people die. A person with a recognizable name … emerges from the wreckage and flees the scene. No breath test is administered. Compensation is offered and the family tries to wriggle their way out of any legal consequences. The police fail dismally at their job."
"There is most certainly a culture of impunity here that big people, which means roughly people with power and money, expect to be able to get away with a certain amount of wrongdoing," Chris Baker, a Bangkok-based historian who studies inequality, told The AP. "This happens so often, so constantly, it is very clearly part of the working culture."