How a 20-Minute Phone Call with My Terrible Landlord Saved Me $1,200 a Year in Rent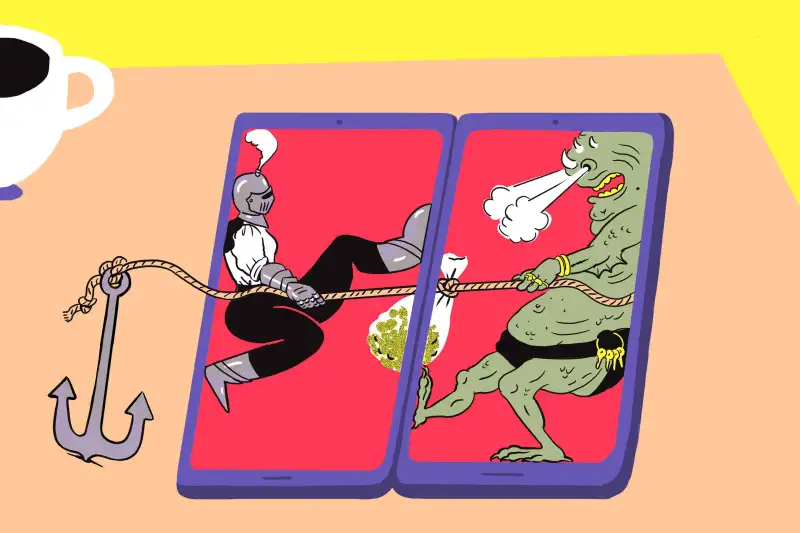 Illustration by Jade Schulz
I was living in Brooklyn for three months when I found out my then-partner and I were paying more rent than everyone else in our building. At first, I rationalized it was because our lease had started in September, which is peak rental season.
However, after asking my friendly neighbors a few more questions, I discovered their rent — for a similar one-bedroom apartment — was $100 lower for a good reason. The backyard and the basement, which was supposed to house laundry facilities and bike storage, weren't accessible because of a delay in construction. We weren't able to use those amenities either, yet we were paying as if we were.
We were already feeling a little cheated by our landlord. He had required us to pay an extra month of rent for not having a guarantor (a requirement in New York if you make less than 40 times the rent), which we didn't realize was illegal because we were using our veteran benefits to prove income. Now I felt it was worth it to at least try to get the same deal as our neighbors.
Here's exactly how I went about negotiating my rent — and conquered my nerves along the way.
I built a solid foundation.
First, I chatted with my sister, who was a full-time freelancer used to reading contracts and negotiating rates. She served as my litmus test about whether what I planned to ask for — $100 a month off the rent — was reasonable, and how I should approach the ask.
Next, I did my research. I reminded myself of negotiating basics, like setting an anchor point — which means picking a number higher than your actual goal to act as the negotiating benchmark. Another negotiation tactic is starting the conversation on a positive note, so I thought about what made us good tenants and a few facts my landlord would agree with, like our timely rent payments.
I also went digging for dirt in case I needed more ammo for my ask. I found a trail of bad Yelp reviews for each of my landlord's various LLCs and a few comments about the shady broker he preferred to use. While my sister and partner said I probably shouldn't bring what I learned into the conversation because it might sound threatening, I found my newfound knowledge to be, at the very least, a mental ace-in-the-hole.
Finally, I drafted talking points and mentally rehearsed what I'd say, along with what I thought he'd say in response.
I created a confident atmosphere.
Then it was showtime. Instead of changing into my usual after-work outfit of workout clothes or loungewear, I stayed in my office slacks and blouse, even though I was calling him on the phone. The clothes not only gave me a little boost of confidence about my competence (something sweatpants sadly never achieve), but they reminded me to not ease into a relaxed, post-work mindset.
I listened to some aggressive, pump-me-up music ("Till I Collapse" by Eminem), a tactic I previously used to keep nerves at bay before giving presentations at my former male-dominated workplace. I reviewed my notes one last time, and called my landlord.
I stayed on my feet rather than settle in on the couch. Moving around helped me feel more alert and ready to parry my landlord's objections.
During a tense, 20-minute back-and-forth, we debated my anchor amount (which I set at $200), discussed how I got the information about reduced rent (we didn't out our neighbors, but I let him know the tenants were close — we were all in a group chat), and agreed on the fact that we were good tenants.
After all that, he agreed to knock $100 per month off the rent until the basement and backyard were completed. Success!
The reduced rate started right away, and the basement and backyard weren't completed until around June — 10 months after we had moved in. Overall, we saved around $800, and to me, the savings were worth even more because our landlord realized we weren't chumps.
When it's time for you to negotiate, think about your confidence go-to's and what makes you feel powerful. You'll want every advantage you can get, and putting yourself in the right mindset is key.
Here's a skeleton phone script you can tailor to your own ask.
If you're a decent improviser, you may not want to follow a script. But while you might be tempted to think you can keep everything straight in your head, it's still important to draft some talking points ahead of time, even if they're just bare bones — you'll thank yourself later when you're in the heat of the negotiation.
Jot down bullet points of every objection you think may come up and how you will respond. Include key facts and figures, like your initial ask and the amount you're willing to settle on, too.
Remember that you're trying to find a happy middle ground.
So many of us avoid negotiations because we're afraid that we'll upset or annoy the other party. But at the end of the day, if you aren't happy, it's always worth trying to find a solution.
Just remind yourself that you're working toward a common ground, together, and that both sides win if you can come to an agreement. Sometimes a quick phone call is all it takes.