Report: Foreclosure prices are separate and unequal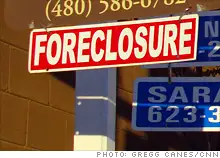 As the real estate market continues to struggle toward recovery, a persistent increase in foreclosures remains a drag on home prices. But a new study from real estate Web site Zillow finds that in most markets, foreclosed homes and non-foreclosed homes constitute two entirely separate markets with foreclosed homes typically selling for at least 20% less than non-foreclosures.
The "foreclosure discount" is greatest in areas with the fewest foreclosures. So, for instance, in Pittsburgh, where only 10% of home sales are foreclosures, purchasers pay 59% less for a foreclosure than a traditional resale. In Sacramento, on the other hand, where 50% of home sales represent foreclosures, purchasers only get a 19% discount for buying a foreclosed home.
The study may be good news for home buyers looking to nab a bargain by purchasing a foreclosure, but it's a mixed bag for sellers. They can take heart that they'll probably be able to sell their home for more than the abandoned foreclosure down the block, but they can't guarantee that the appraiser will agree. Realtors throughout the country report that appraisers who take distressed property sales into account often come back with prices so low that they scuttle a deal.
So what's a seller to do? Set your home apart from rundown foreclosures with easy cosmetic fixes like a neat lawn and a fresh coat of paint. And make sure to stress your ability to close a deal fast and be creative with negotiations; banks swamped selling foreclosures can't do either of those things. As for that appraisal, here are a few tips on getting a fair value.
Add More Money to your favorite RSS reader. Subscribe at http://rss.cnn.com/moneyfeatures.rss.