6 Great Rewards You Can Get for Giving Blood This Summer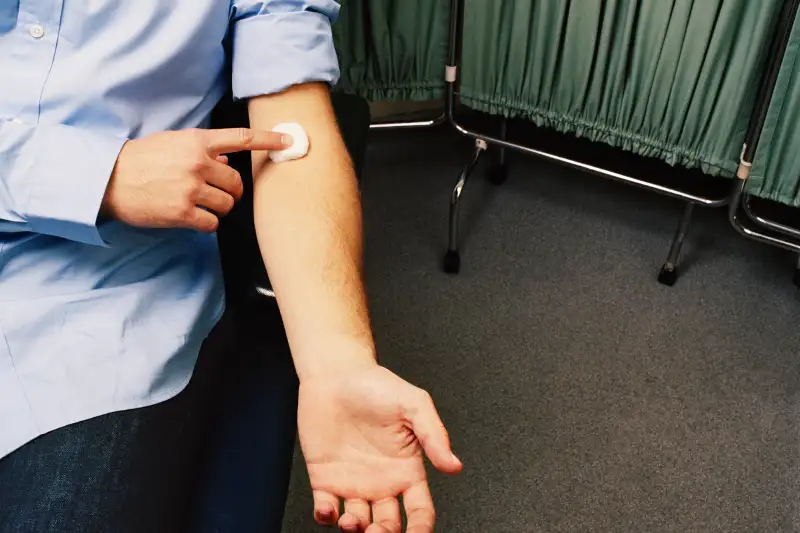 Betsie Van der Meer—Getty Images
For the second time this month, the Red Cross has issued an emergency request for blood donations.
The Red Cross said this week it has fallen below a five-day supply of blood, the minimum it always wants on hand to cover the needs of everyday patients and emergency situations. So now's the time to give blood, if you can. And if you need incentive to donate blood beyond simply doing what you can to help, the Red Cross is offering a few special summer promotions to provide a little more enticement. Here are some of the rewards available to blood donors:
$5 Amazon Gift Card
Between July 25 and August 31, the Red Cross will be thanking anyone who donates blood or platelets with a $5 Amazon gift card claim code. Just head to your local Red Cross blood bank, donate, and you will get an Amazon voucher emailed to you 14 days later. (Don't expect to pile up Amazon credits by donating multiple times; this is a one-time offer as you can only donate blood every 8 weeks.)
$10 Amazon Gift Card
Good news for the estimated 7% of the population with O Negative blood, which is considered the "universal" blood type as it can be safely transfused into almost any patient. "Your blood type is always in high demand," the Red Cross says, because "when a patient shows up with minutes to live and there is no time to determine blood type, emergency personnel reach for your type O negative blood." Because O Negative is so rare and in such high demand, the Red Cross is offering donors $10 Amazon gift cards from now until December 31, 2016 if you give blood three times. This offer applies to to any blood bank around the U.S.
Cedar Fair Park Tickets (Ohio only)
Calling all Ohio donors: For every blood donation made until the end of August 2016, you'll get a free ticket to any U.S. Cedar Fair theme park. You can only donate at certain times and locations in Ohio, so make sure you check before you head out.
Donors can also enter their Grand Prize package to win a trip for four to Knott's Berry Farm or Cedar Point, which includes hotel accommodation and two days worth of park tickets.
Baltimore Orioles Tickets (Maryland only)
For one day only, Baltimore-based donors will be treated to 2 ticket vouchers for select upcoming Orioles home games, plus a Red Cross T-shirt. To participate, make an appointment and show up at the correct time for the blood drive, which is taking place on Saturday, August 6, 2016, at the Marriott in Baltimore's Inner Harbor at Camden Yards.
Free Haircuts
Saving lives never looked so good, says the Red Cross. At select blood donation centers around the U.S., donors will receive a free haircut from Sports Clips for donating blood throughout September. The voucher is only valid at certain locations, so make sure to check before you go.
Read Next: The Smarter Way to Give to Charity
...Good Karma
Finally, perhaps the best reward of all for donating blood is simply the feeling of chipping in and helping people in need. Maybe there's a little good karma in it for you too. And what could be better than good karma? By donating blood you'll be helping to close the gap on the 36,000 units of red blood cells that are needed in the U.S. every day. One person in America is in need every two seconds.
To schedule an appointment to donate, use the free Blood Donor App, visit redcrossblood.org or call 1-800-RED CROSS (1-800-733-2767).