'Alexander Hamilton' Author Thinks We Can All Learn Something from an Unpopular President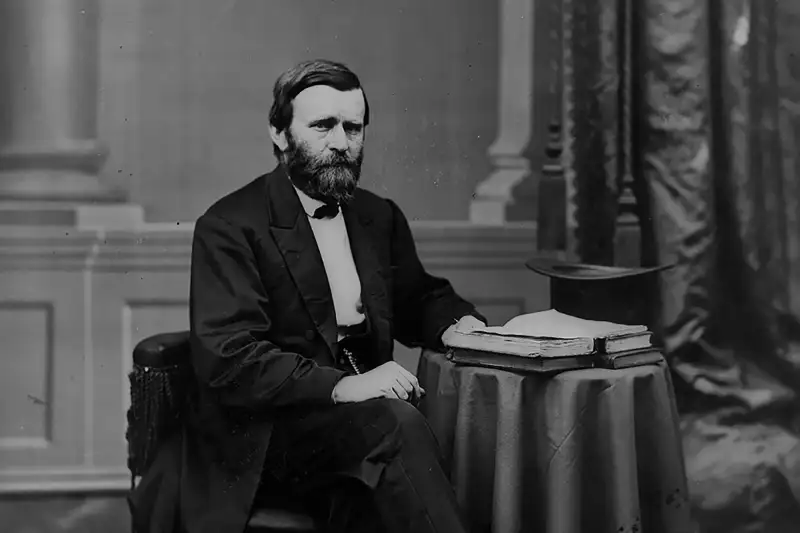 Matthew Brady—Library of Congress
Good general, bad president: That's typically been the historical narrative assigned to Ulysses S. Grant — that is, when anyone thinks of the Civil War military leader and 18th president at all.
But Ron Chernow, who won the 2011 Pulitzer Prize for his biography of George Washington, and who wrote the acclaimed biography of Alexander Hamilton that inspired Lin-Manuel Miranda to write the smash Broadway hit Hamilton, wants America to recognize Grant's contributions to American history and the democratic process. Chernow's new book, released this week and simply titled Grant, is full of personal and professional insights into a president and military leader that readers will find simultaneously flawed, relatable, and inspiring.
Chernow's exhaustive research fills in the details (lots of details — the book is roughly 1,000 pages long) of the sketch — some might say caricature — of Grant's life most of us are familiar with: that of an effective general but a terrible president, and an alcoholic, to boot.
The author tackles all of this and more in this tightly packed book, which the New York Post says "could be the new 'Hamilton,'" in its review.
But that's not why you might want to read Grant — not the only reason, at least. It could be a fascinating read because Grant's cycle of ups and downs, successes and failures both personal and professional, hold some surprising and important insights that regular Americans can apply to their careers today.
"I'm sure there are many more people who can identify with failure and hardship in life," Chernow told TIME in a recent interview, "than with the success of an Alexander Hamilton or a John D. Rockefeller."
Michael Rubenstein—The Washington Post/Getty Images
Here are some of the lessons from Chernow's new book that readers can apply to their own personal and professional lives.
Focus on step-by-step logistics. Chernow makes the argument that Grant's battlefield prowess lay in his ability to shape military outcomes by grasping the logistics of battle — technicalities like maintaining supply lines and communication. To apply Grant's successful tactics to your own career, try adopt a similar strategy to reach professional goals. Instead of simply deciding where you want to be in five years, figure out what individual steps are necessary to get you there. Then, do what's needed to accomplish each of these steps.
Never stop learning. "He was better educated than people imagined because he was a reader," Chernow told the Dallas Morning News of Grant. Grant's reputation as a great military mind was no fluke, but actually the result of dedicated study. "He was called 'an intuitive general,' but he knew his tactics," Chernow says.
Play the long game. For all of his presidential foibles, Grant's contributions to the advancement of civil rights are his most enduring legacy, Chernow argues in the book. Other contemporary biographies, like Ronald C. White's 2016 American Ulysses, have also advanced helped restore Grant's reputation as something of a forward-thinker. At the same time, some of Grant's stances as president made him very unpopular in certain circles. The larger lesson is that doing the right thing might not always make you popular at the time, but focusing on the big picture is of the utmost importance.
Persevere no matter how badly you screw up. Lots of people have career setbacks, sometimes through no fault of their own, sometimes self-inflicted. Grant had both, in abundance. But he persevered nonetheless — and can be an inspiration to everyone facing seemingly insurmountable obstacles.
"He goes through more failure and hardship and degradation I think than anyone else in American history who becomes president," Chernow said of Grant in an interview with the Philadelphia Inquirer. He "becomes a hero despite himself."
We've included affiliate links into this article. Click here to learn what those are.