Why the Cheap Rustic-Chic Wedding Is a Myth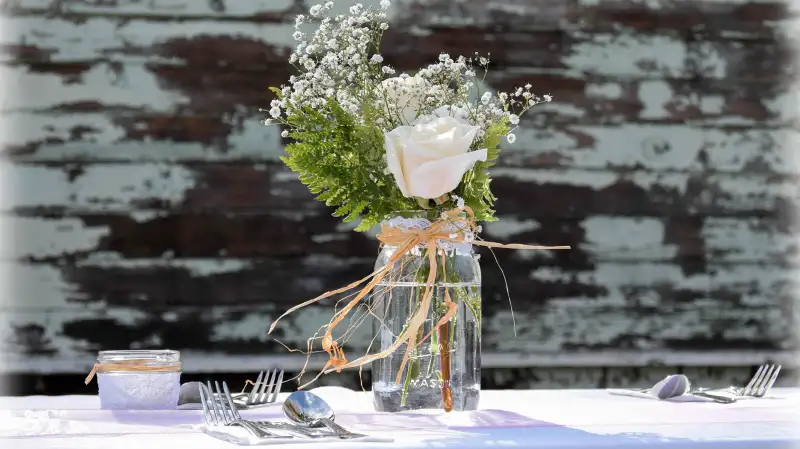 There's a style of wedding design that seems to have taken up permanent residence on the Instagram feeds and Pinterest pinboards of countless brides- (and possibly grooms!) to-be. Let's call it outdoorsy shabby-chic with a dash of retro sleepaway camp thrown in—think reclaimed barn-wood tables (sometimes inside an actual, still-standing barn), artfully messy gatherings of wildflowers, cocktails served in Mason jars, tiers of colorful cupcakes in place of the traditional cake, and so on.
While you might think this casual style is also easier on the pocketbook, you'd be wrong. "Bringing the outdoors in, or creating the rustic-chic look outdoors, is absolutely as much or more because you have to bring the outdoors in," said Amy Zaroff, creative director at Amy Zaroff Events + Design. "If you are outdoors, you can't just use everything around you and hope it's going to be functional."
Read next: 11 Wedding Hacks That Will Save You Big Money
If you like the style, by all means go for it, but don't resign yourself to braving splinters and mosquitos on your big day because you think it will save cash. In fact, wedding and event-planning pros say you're actually likely to spend more than if you were holding your reception in a hotel ballroom, banquet hall, or country club. Here's why.
Sometimes it rains. Even if you find drizzle romantic, your guests might not feel the same way. Which means you need a tent.
"Having a tented experience is the most expensive way you can go," said David Stark, president and creative director of David Stark Design and Production. If you're planning an outdoor wedding and there's even the possibility of rain, the setup also requires building a slightly elevated floor under the tent so table legs and high heels don't sink into soggy ground. Here, Stark said, there are two ways to go: You can keep an exposed wooden floor or you can build a temporary subfloor that can be covered with carpet or artificial grass for an outdoorsy look. Either way, "You're essentially building a room from scratch," he explained.
You'll need to account for all the usual amenities. If you're planning to hold the wedding in an actual barn or similar raw space, you're off the hook as far as providing a roof and a floor, but you still need to have all of the amenities you'd take for granted at a more conventional wedding location. "Often a rustic venue such as a barn or beautiful vineyard requires that the couple rent everything from tables and chairs to restroom facilities and equipment to provide power," said Sara Kovel, owner at Sara Kovel Events. "This quickly adds up."
It gets dark at night. "These rustic outdoor experiences if you're in the daytime is one thing," Stark said, but once the sun sets, you're on your own to illuminate that lovely clearing in the woods. "You're generally in very dark spaces that don't have landscape lighting," he pointed out.
"The strings of old-fashioned bulbs that you see around a lot now — they're instant ambiance and they do trumpet a certain kind of rustic outdoor fair feeling, [but] you need to have enough power and enough places to draw that power from to have multiple lines going," Stark said. It's like Christmas lights: String together too many in a row and you're going to blow a fuse somewhere along the line.
You can't count on nature for flowers. That flowering-meadow look probably costs more than you think, said Meghann Ingram, spokeswoman for floral startup Bouqs. "Baby's breath is a popular accent flower in rustic chic weddings, which I think can be assumed that it's a cheaper flower, but that's not always the case," she said. To get a lush, full look, you'll need a pricey varietal.
Read next: 14 Wedding Gift Ideas Under $40 That Won't Make You Look Cheap
If you're still committed to those reclaimed-wood tables—which cost more to rent than their standard counterparts, by the way—what you're putting on them is likely to cost more money, too.
People love to eat. A staple of the rustic-chic menu, cupcake towers provide a low-key, informal vibe, but you might find yourself spending more than if you'd just gone for a regular wedding cake. Wedding cakes are baked and cut according to the number of guests you need to feed, but for a self-serve dessert, you need to account for the fact that people might take more than one cupcake, Kovel said. "If you're doing something on a buffet, they're actually making more food," she said.
And about those Mason jars… "Those tend to actually be more expensive option than standard rental glassware," Stark said. Yes, they don't look as fancy, but in the world of rentals, it's an upgrade. Some couples think they'll save money here by buying Mason jars in bulk, but do you want to spend your wedding night collecting 100 or more used, sticky Mason jars after your guests leave? Didn't think so.