Why Microsoft CEO Satya Nadella STILL Has It Wrong on Raises for Women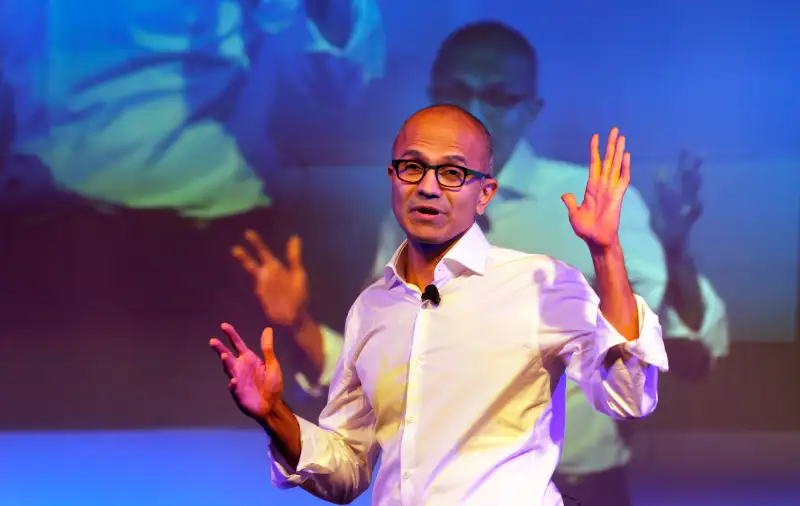 Easy for a dude to say that women should have "faith that the system will actually give you the right raises as you go along." Especially a dude who makes $7.6 million and sits at the top of one of America's largest companies.
But Microsoft CEO Satya Nadella, who made that comment in answer to a question about how women should ask for a salary increase—in front of a room full of women at the Grace Hopper Celebration of Women in Computing on Thursday—at least seems to have realized the error of his statement.
On his blog last night, he acknowledged:
Great that he owned the mistake. But what's worse, the fact that he didn't realize that women are paid 22 cents less on the dollar than our male peers—or the fact that he still doesn't realize it's not as simple as "just asking" for us?
Yes, We Pay a Penalty for Not Asking
Assuming you care remotely about women's issues, you've seen the research showing that few women negotiate salaries. (By the by, it goes all the way up the ladder. Nadella's fellow C-suiter GM's Mary Barra noted at Fortune's Most Powerful Women Summit that she had never in her career asked for a raise. The emcee then polled the audience on how many of them also had never asked, and "the majority of the conference's high-powered female attendees raised their hands," according to Fortune's Broadsheet.)
Our reticence has a compounding effect over our careers. By not asking right off the bat, Carnegie Mellon economics professor Linda Babcock has said, we leave lost earnings "anywhere between $1 million and $1.5 million" on the table.
But We Pay a Penalty for Asking, Too
Yet Babcock's research found that we may be on to something with our sense of caution. Simply stating the case for why we deserve a raise doesn't tend to get women to the same result as it does men. In fact, it can actually hamper our career progress.
For a study published in 2005, Babcock and Hannah Riley Bowles, a senior lecturer in public policy at Harvard's Kennedy School, asked participants to watch videos of men and women asking for a raise. The guys and gals in the video used the exact same scripts.
The result? Participants liked the men and agreed to give them the bump in pay, but found the women too aggressive. While they gave her the raise, they did not like her. In particular, male study participants were less willing to want to work with the female negotiator.
We know that being well liked—a quality we women struggle with starting from the first grade-school birthday party we're not invited to—is also key to getting ahead. So we're caught between a high heel and a hard place.
Or, as Joan Williams, founding director of the Center for WorkLife Law, put it in The Huffington Post,
So We Have to Give an Oscar-Winning Performance to Get What We Want
The research Babcock and Riley Bowles have done has found that women have to be more, well, "womanly" in their approach in order to get the raises and promotions that they deserve and come out the other side smelling like a rose.
You know—positive, solicitous, and putting others first. Less shark, more 1950s housewife.
Acknowledging herself that these findings are "depressing," Babcock (along with Riley Bowles) concluded that being collaborative—trying to take the perspective of the company and hiring manager and using "we" statements instead of "I"—tends to be more effective than other approaches. They've also emphasized trying to be "authentic" by using language that feels comfortable.
That doesn't feel the same as "just ask"—it requires us to act a part when what we simply want is for our managers to respect us as workers and people in a gender-neutral way.
We want to be able to walk in and say, "I brought in $2 million in business this year and am underpaid relative to my position," and be better paid and just as well liked at the end of it.
You know, like a dude.
Related:
5 Ways Women Can Close the Pay Gap for Themselves
When She Makes More: How to Level the Financial Playing Field