Yes, Self-Checkout Machines Encourage Shoplifting. Here's Why Stores Love Them Anyway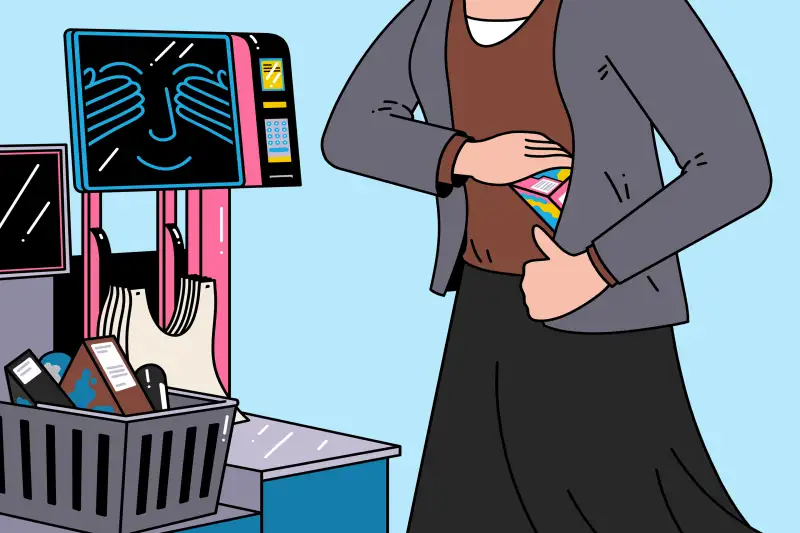 Illustration by Sam Island
With self-checkout machines suddenly everywhere you may be wondering...with no one to watch shoppers, don't they just steal stuff?
The answer, in short, is yes. While technology can improve a lot of things, it can't change human nature.
But, say retail industry experts, for many stores, the machines are worth the hassle. Indeed, shops ranging from superstores like Target and Walmart to convenience chain CVS to local mom-and-pop groceries have all been adding machines. One recent study suggested globally, self-checkout could continue to grow 10% a year for the next five years.
So what gives? While shoppers may love or hate self-checkout, for stores it often comes down to one thing: Machines mean fewer cashiers, and that can translate to big savings, even if it encourages some shoppers to take the five-fingered discount.
More Theft

Shoplifting, or "shrinkage," as the retail industry calls it, has long bedeviled store owners. Checkout machines are only making it worse. Theft accounts for nearly 4% of inventory for retailers with self-checkout, compared to just 1.5% for traditional checkout, according to a report from the U.K.'s University of Leicester.
What's more, in a recent review of shoplifting offenders, 72% said that self-checkout made theft easy to very easy; only 8% answered it made shoplifting more difficult, according to the Loss Prevention Research Council, a trade association.
In some instances, retailers are finding higher sales in addition to higher loses with self-checkout, says Read Hayes, a criminologist at the University of Florida and head of the Loss Prevention Research Council. Still, most are willing to take the chance of greater losses.
By switching to self-checkout, "the convenience and cost to sell is much lower," says Hayes.
Even More in Savings

A self-checkout setup with four machines costs $125,000 versus just $1,500 for four traditional registers, according to estimates from M.I.T. But with only one person needed to man the self-checkout aisle compared to four at the registers, the cost savings can quickly add up, say experts.
Sales clerks earn $11.70 an hour on average, or just over $24,000 a year, according to the BLS. So, while a typical self-checkout set-up costs store owners about $149,000 in the first year — it costs only about $24,000 a year after that, compared to $96,000 year-in, year-out for a more traditional arrangement.
"When companies are using [self-checkouts] to eliminate jobs, they feel more justified," says Christopher Andrews, assistant professor of sociology at Drew University who studies self-service checkout.
To be sure, not every retailer is on the bandwagon. A few, like grocery PCC Community Markets in Washington state have installed machines only to yank them. "A kiosk doesn't create community or connections," marketing vice president Heather Snavely told local radio station KIRO.
(It's worth noting that some stores and retail industry advocates claim self-checkout doesn't necessarily mean cashier jobs are eliminated, since employees can be re-assigned to help shoppers in store aisles.)
Big Brother Is Coming
Of course, ultimately most retailers will want it both ways — as few cashiers and as little shrinkage as possible.
Stoplift Checkout Vision Systems, a checkout vision software maker, aims to detect fraudulent transactions through video rather than just using the weight scale provided at the self-checkout machine. AI-enabled video allows the company to flag any price switching or fake scanning and offer customer assistance, says Malay Kundu founder of the StopLift, which was acquired by NCR Corporation, the largest manufacturer of self-checkouts, last year.
Others, including Grabango, a Berkeley, Calif.-based checkout startup, are moving beyond self-checkout machines altogether, potentially nipping shoplifting in the bud. With Grabango, which plans to introduce its service at Giant Eagle grocers next year, customers shop at the store and walkout without stopping to pay if they have downloaded an app on their phone that stores digital payment.
Grabango's technology tracks items at a SKU-level throughout the store (unlike self-checkout machines which only track at the end). That allows for more accuracy regarding what gets scanned, says chief marketing officer Andrew Radlow.
"The system understands where products of the store are at all the times – it takes the human temptation factor out," he adds.
(An earlier version of this story misconstrued the name of the Loss Prevention Research Council.)