Why Some People Hate Starbucks' New Cherry Blossom Frappuccino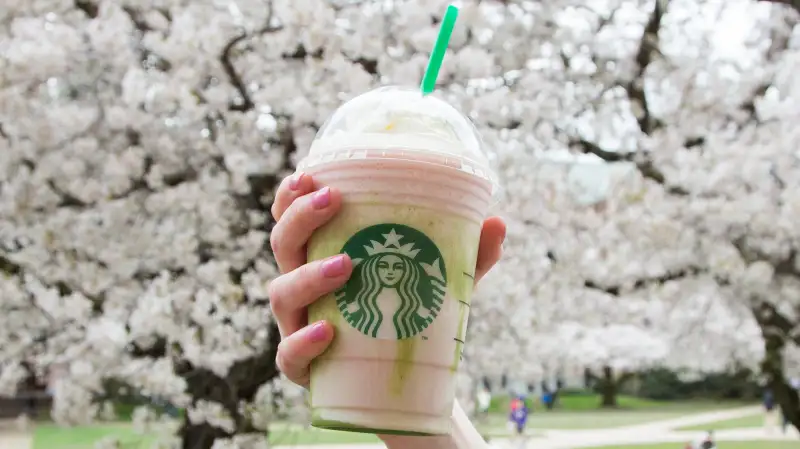 Just like the colorful blossoms that bloom for a short time and then fade, Starbucks' new Cherry Blossom Frappuccino is only available through this Sunday. While indulgent frappuccinos always have their fans and detractors, though, this version seems to be sparking more gripes than usual on social media.
The reason? While the pink-and-green coloring might evoke thoughts of graceful rows of flowering cherry trees, there's no actual cherry — not even cherry flavoring — in the drink. Instead, customers get a "strawberries and cream" flavored beverage with white chocolate sauce and a matcha drizzle, according to the company, plus a sprinkling of powdered matcha on top of the omnipresent whipped cream. The limited-edition drink went on sale Tuesday and is a new introduction in the U.S. market, but a similar frappuccino has been sold in Japan since 2010.
For a drink that can set you back up to five bucks and around 460 calories (Starbucks hasn't posted nutrition information for the Cherry Blossom Frap, but that's the tally for a 24-oz. strawberries and cream frappuccino with whole milk and whipped cream), it's understandable that some people primed for cherry might not be thrilled to taste an entirely different fruit.
"My mind still can't wrap around the fact that Starbucks' new Cherry Blossom Frappuccino is actually strawberry flavored," one disappointed Twitter user posted.
"So I was gonna try Starbucks' new/limited edition cherry blossom Frappuccino until I found out it was actually just strawberries," an Instagram user posted.
Some people were won over by the sweet drink, though. "YUMM!" one Twitter user posted:
But the raves seemed to be outnumbered by the complaints, like another user who added a pair of unhappy emoticons to her Tweet: